Boat People
04/01/2007 01:00AM ● By Joe Carberry
Spring-Summer 2007:
Boat People
by Joe Carberry
The Doctor Is In - Dr. Kerry Hart takes over a budding Colorado Mountain College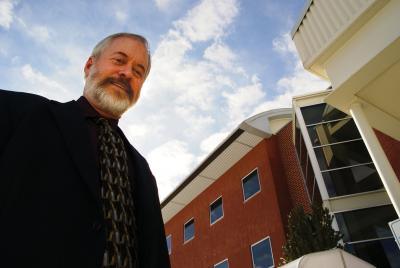 Leading with the Hart: Dr.Kerry Hart sees blue skies in CMC's future. Photo courtesy of Joe Carberry.
With blue eyes blazing in thought, Dr. Kerry Hart, the necampus dean at Colorado Mountain College Alpine Campus, looks out his windofrom Bristol Hall. "There's an unbelievable amount of potential here," he says. "That's really what brought me to Steamboat Springs."      Kerry relocated here with his wife, Jaqueline, from Laramie, Wyo., where he was the dean of arts and humanities at Laramie County Community College. The potential he sees stems from the well established CMC resort management program, as well as the ski-snowboard business school and budding engineering department. "It's all exploding," Kerry says. "We can definitely build on the growth." He also sites the vibrant Steamboat arts community as another reason he and his wife moved to the Yampa Valley.    Jaqueline is an expert weaver in the Native American tradition, and Kerry is a concert musician who taught music in the southwest Colorado public school system for six years at the start of his career. Jaqueline's tapestries are based in the Navajo style and she has become world-renowned in her art. "She uses a tool called the draloom and is one of only 200 who use this technique," Kerry says.    A reserved man, he's quick to deflect praise for his work and even quicker to praise the community college system. "I'm a huge advocate," he says. "Community colleges fill a niche with four legs: transfer courses, vocational, personal interest and workforce development. They add so much to a town."     A student of religion and philosophy, Kerry models his leadership style after Ghandi and Dr. Martin Luther King. But he falls short of designating himself the big man on campus. "The big people are the students," he says. "Anything I do to help them be successful makes my job worthwhile." 
Linda Casner - In Her Own Words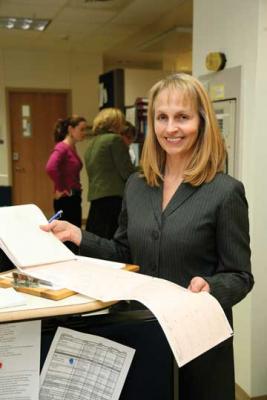 Casner's Anatomy: Linda leads a talented nursing staff at a bustling Yampa Valley Medical Center. Photo Courtesy of Corey Kopischke.For Linda Casner, the lifecycle is her life. As the chief nursing and patient safety officer for the Yampa Valley Medical Center, she has witnessed humanity's beautiful – and not-so-beautiful – nuances during a 33-year career. She tells us her story.   "I met my husband in Michigan and we were married in 1975. We moved out to Colorado so I could attend graduate school at the University of Colorado. For our honeymoon, we lived out of a tent at Cherry Creek Reservoir until we could get settled.
    In '77, we moved to Steamboat Springs and I worked at the old Routt Memorial Hospital near Soda Creek Elementary School. There's a picture of the staff in the Tread of Pioneers Museum.    You knoyou've been in Steamboat a long time when you make it in the museum.
    Health care has changed dramatically. Years ago, people stayed in the hospital for muchlonger with much more minor illnesses. A nurse could easily be in charge of 10-12 patients.Four to five are more common now. Plus you had to be careful walking home at night in the fall because the bears were everywhere. Some things never change.    I became the chief nursing officer in 1993. Previously, I was the emergency room manager for nine years. I love emergency work. You see so many different things every day and that variation is challenging. I guess nursing as a whole has always been my passion.    I volunteered during the Hurricane Katrina aftermath and was stationed in Gautier, Miss.,
just a mile from the Gulf Coast. The devastation was unbelievable. It was definitely an eye-opener. The government took a lot of flack for their response, but I don't think you can be so critical. Any time there's a disaster of that scope with so many relief organizations  responding, communication is going to be difficult.    I was so amazed at hodifferent the health behaviors were between regions. People in Steamboat have a different idea of what health is. There were actually places to smoke in the hospitals down there. 
    I believe strongly in physical health and I love to exercise. I like to do triathlons and participate in the Steamboat Springs Running Series. I use the Glenwood
    Triathlon as my 'goodbye to summer.' In my next 50 years, I hope to write a book (I'm a founding member of the Wordsworth Book Club) and volunteer in the U.S. or around the world. I took up the cello in my 50s and I'd like to get good enough to play in the
Steamboat Orchestra. I just want to continue to learn.
    Linda lives in Steamboat Springs with her husband, Hark. Her two daughters, Elizabeth,
28, and Blythe, 25, live in North Carolina and Boulder, respectively.Peter Boniface and David Pepin - Working to Play    Earning a living in a ski town is a tall order. Unless it's a pastrami onrye with sauerkraut and mustard. David Pepin and Peter Boniface, owners of Backcountry Provisions, hear those sweet words every day as they've created a niche in Steamboat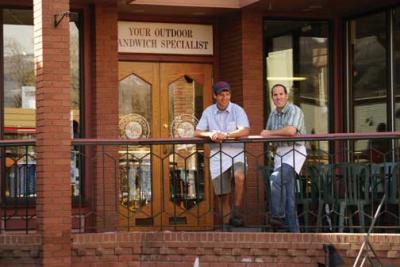 Kings of their playpen: Peter and David reflect on life. Photo Courtesy of Joe Carberry.   Springs to match their active lifestyle. Backcountry Provisions – located at Seventh and Lincoln – is one of Steamboat's only full-service sandwich shops. The name references the essential contents of a backpack loaded for a day in the backcountry.
    "I came out here from Boston in 1991 to be a skier," Peter says in a nobarely detectable NeEngland accent. "The powder was awesome, so I knethis is where Iwanted to be."     A high school friend was traveling to Colorado, so he threhis gear in the friend's Jeep and found Steamboat after skiing other resorts in the state, living the dirt-bag lifestyle.
    After toiling in the local restaurant scene, Peter convinced David to relocate to Steamboat and open the shop with him in 1999. The two greup together in Massachusetts and devised their menu from childhood snacking. "Basically, our sandwiches come from when we'd raid my mom's fridge and get creative," recalls Peter.
    They both thought Steamboat lacked a good sandwich hub and they wanted to bring real Boston flavor to the Routt County market. "No one was doing sandwiches," David laments. "And it's the best food to take skiing."    David brought experience from larger restaurants to the table, which helped on the business side. Personally, he knew Steamboat would be a healthier place to raise his family than the craziness of the eastern seaboard.    Backcountry Provisions worked so well in Steamboat Peter and David decided to expand and figured another ski destination was ideal. Their second shop in Jackson Hole, Wyo., opened in 2005. "We kneseveral fly fishing guides up there, and we make lunches for outfitters here," Peter says. "It was a natural fit."    Owning your own business in Steamboat means you rarely miss a powder morning or evening dry fly hatch, something not lost on these two entrepreneurs. Says David: "It's all about quality of life."