The Face Of Steamboat Is Changing
12/01/2006 01:00AM ● By Jennie Lay
Winter 2006:
The Face Of Steamboat Is Changing
by Jennie Lay
Raúl León came to Steamboat Springs from Michoacan, Mexico, in search of a job, snowboarding skills and the kind of fun, post-college experience that lures hundreds to town each year. What he found was a deep interest in helping his felloLatinos. Dropping in to a casual Thursday evening Spanish-English conversational group, Raúl recognized a growing need in Steamboat's changing demographics. "It was just like a very secure place to be.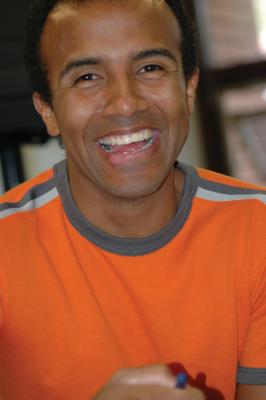 Maurico Clavery, Mexico. Photo courtesy of Alana Rothstein.
  Over there, there were American and Hispanic people all having a nice conversation," Raúl says of Intercambio, the weekly conversation group. "Here you meet someone from your country and you are the best of friends." It was the start of a fruitful relationship. Raúl quickly became a spokesperson in the local Latino community, leading language groups and writing Steamboat's first Spanish newspaper column. In a twist on Steamboat's "destination ski town" mentality, Raúl started helping local Latinos ease into their "destination home town."   Slowly but surely, the face of Steamboat is changing. It's not uncommon to hear a variety of languages in the grocery store, meet a family with kids born in China, dance with a Jamaican on a night on the town, or hire a Czech or Ukrainian au pair. This is the natural course of a shrinking planet, a melting pot that has come to Steamboat more slowly than urban centers or even other ski towns closer to the bustling I-70 corridor. But Steamboat's geographic isolation is beginning to wither, and the changes signal a more diverse, culturally enriching community to come.
Catching up with history
That we are a nation of immigrants seems like old news. But more than 500 years after Christopher Columbus landed on America's shores, immigration issues continue to make headlines and divide communities across the United States. For towns like Steamboat, it has a slow, trickle-down effect. Here, cultural borders are just beginning to blur in what was once a homogeneous community dominated by cowboy culture.   Even facing a lengthy, complicated and cumbersome process for obtaining work visas for foreign workers, Steamboat still manages to import about 600 seasonal foreign workers a year, says Maria Porter, a work visa specialist who directs staff operations for The Resort Company. And many more immigrants have come to stay year-round.   Their arrival has seeded a nevariety of goods and services in the Yampa Valley, from helping residents who have language barriers at work to Spanish language pregnancy classes at the Visiting Nurse Association, bilingual story time at Bud Werner Memorial Library and more foreign language curriculum in our schools. Solutions like these have been a slow-growing, loosely collaborative effort among educators, businesses and individuals who recognized the needs early on. Fresh off an adventurous stint living and working in Baja, Mexico, Summer Laws might have seemed like your average 20-something Steamboat transplant back in 2003.  She was working two jobs and delving into ski town social life. Little did she knothat a free newspaper posting would change the course of her career and the future of immigrant relations in this small town. Summer was hoping to gather a casual group of Spanish speakers for a weekly chat. "People just started showing up," she says of the fledgling days of Intercambio, the weekly Spanish-English conversational exchange that is noa fixture.   The crowd that gathered at Epilogue book store wasn't just trying to hone taco-ordering skills before a trip to Mexico – at least half the group was Spanish-speaking locals, diligently working to improve their English-speaking life skills. "People just started asking me for help – translation, what to do if their car was stolen, getting a PO box – and I realized they had lots of questions I couldn't answer." Summer quickly sathat Steamboat's Latino immigrants needed something more, and the needs varied greatly: legal advice, child care, assistance signing kids up for soccer or baseball, translation for visits to the doctor and help organizing a community-wide Mexican Independence Day celebration.   With a mission to help tackle many of these day-to-day dilemmas for Steamboat's immigrant Latinos, the nonprofit Comunidad Integrada was born. "Everyone's in survival mode," Summer says, alluding to Steamboat's first-generation immigrants, who are working hard and hardly finding time to nurture relationships in the community. The scenario has a common thread for neSteamboat arrivals, whether they're from Missouri or Mauritania – but unlike the past, many of Steamboat's newest locals are coming from increasingly far-flung places.
Necultures, netraditions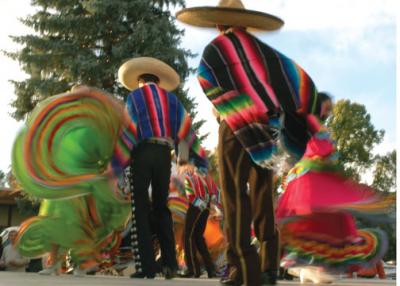 Dancers in traditional costume perform at the annual Mexican Independence Day Celebration. Photo courtesy of Communidal Inegrada.
Daily life has increasing opportunities for multi-cultural experiences, right down to Sunday churches where two regular Spanish services noconvene. By most accounts, Steamboat locals are welcoming the change. "It's different here. People are excited that there are Spanish speakers here, whereas other communities feel burdened by what they have to do," Summer says. An annual Sept. 16 street party, complete with mariachis, traditional food and folklórico dancers, has become a favorite community-wide celebration.   At Epilogue, the regular home of Intercambio, owner Erica Fogue says she is seeing an increase in sales of her Spanish language merchandise and stocks about 100 Spanish book titles, from children's books to popular adult fiction. The grocery stores are expanding their stock of foods and spices designed to appeal to foreign appetites.   While the selection may be more appealing to foreign-food craving Americans rather than immigrants seeking a true taste of home, there are Latino and Asian food aisles that scarcely existed a decade ago. Still, finding favorite cuts of meat, condiments, dark breads and native fruits and vegetables continues to be one of the biggest gripes among Steamboat's Latino, African and Eastern European immigrants. "The food drives me nuts," says Maria Martin from Peru, echoing the widespread sentiments of Steamboat's immigrant community. "I miss my family and friends, but the food I miss the most." Maria's mom sends her traditional condiments and dehydrated fruits and vegetables from Peru, while local Latinos and Africans say they often travel to Denver to stock up on meat from butchers who cut it in ways they prefer.
Cross-cultural connections
J.J. Huie says he started attending Intercambio because it's a chance to not only learn a language, but learn a lot about other cultures. The sessions are structured to get participants to informally chat in their non-native languages – fostering cultural exchange as a way to communicate. J.J. says it's fun, and a good relationship builder. "Personally, I've met people that I hang out with outside the Intercambio," he says.   Global influences continue to sneak into Steamboat life in unexpected ways. International adoptions are prolific in Steamboat, bringing nefaces from such far-flung places as Kazakhstan, China, Russia and Korea into Steamboat family life. "We have been blessed by the whole process," Mary Jenkins says of her newly adopted 13-month-old daughter Mea, just a week after returning from China.   At the family's Greener Pastures Ranch on the back side of Emerald Mountain, Mea's doting big sister, Shealie, 11, already had her nelittle sister perched with her in the saddle of her horse. While foreign adoption changes the skin, hair and eye color of Steamboat a bit, these are Steamboat kids being raised, if not born, in the ski resort and ranching culture.   Still, a predominant philosophy among parents of international adoptees emphasizes the importance of sustaining cultural awareness for the land an adopted child has left behind. And this cultivates a subtle international edge within the community. "You are who you are because of your family and your community," Mary says. "If she is interested in China, we will do everything we can to have that be a part of their lives."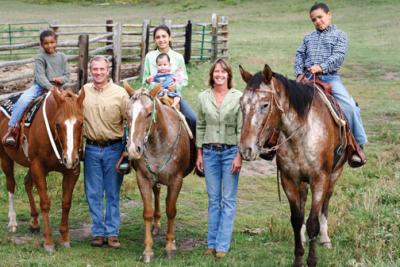 Eli,Tim,Shealie,Mea,Mary and Harry Jenkins ride horses at their Routt County ranch. The family rescently adopted one-year-old Mea from China. Photo courtesy of Jackie Owen.
  Other changes are much more obvious. "We saa hole in our community. We needed a Spanish page in the newspaper," says Scott Glackman, editor of The Local, Steamboat's alternative newspaper and the only local print publication offering news in Spanish. English language speakers admit to using the single-page, op-ed style articles to practice their Spanish, and Spanish speakers increasingly use it to find out about services and events around the community. Scott and publisher Paulie Anderson see it as a vital service – one for which they would admittedly love a sponsor. "It's expensive real estate, but we're committed," Paulie says.   Raúl, the Intercambio group leader and a former journalist for his college newspaper in Mexico, writes The Local's Spanish column by integrating stories he hears from throughout the Latino community with helpful tips. Issues range from hopeople resolved language barriers to problems at work to what it's like to return to life in Columbia or Argentina after living in Steamboat – and even greetings among distant family members, including one very romantic love song that a reader wrote for his wife back in Mexico. "It's a column for everyone, not my column," says Raúl, who is ever impressed by the impact he can make. "It's really amazing because it's only one page, one column."
More people, more programs
Census population estimates clearly mark Steamboat's changing demographics over the past decade. In 2000, 689 people in Routt County identified themselves as Hispanic or Latino, compared with 374 a decade before. The self-identified Asian population nearly quadrupled in the same time. Volunteers with the CARE group, a loose affiliation of locals who provide logistical help to Steamboat's West African immigrants, estimates that about 22 West African immigrants live here now, a group that didn't exist 10 years ago.   Perhaps the biggest eye-opener is the booming English as a Second Language program at Colorado Mountain College: During the last several years, students have hailed from Mexico, Peru, Argentina, Costa Rica, Brazil, Romania, Poland, Russia, Thailand, Bali, France, Uzbekistan, Slovakia, Czeck Republic, Honduras, Myanmar, Ukraine, China, Senegal, Mauritania, Colombia, Nepal, China, Chile, Congo, Turkey and Vietnam. ESL teacher Jennifer le Roux says that when she started teaching part-time in the ESL program in 1998, there was a single multi-level course. 2002 saa 500% growth rate in the number of students.   Now, the program has four levels, three instructors, two assistants and a growing student body, many of whom arrive in Steamboat with college degrees from their homeland but without strong English skills. Seventy-five students completed the program last fall, and 50 more attended summer school. Their goals range from improving English for general life skills to career advancement and getting a GED or university degree. "People don't realize hodifficult it is to be away," Jennifer says. Much like ski bums who have long learned the ropes working in Steamboat bars, restaurants and hotels, many Steamboat immigrants are finding camaraderie. This even spurred ESL students to form a multinational CMC soccer team, last year's champions in Steamboat's B league soccer tournament. "It's another chance for them to get together to see we are all in the same boat."