Ghostly Encounters
12/01/2006 01:00AM ● By Gena Fischer
Winter 2006:
Ghostly Encounters
by Gena Fischer
   Downtown on Ninth Street there sits a house that dates back to 1904. Ask any old-timer about haunted houses and this place is at the top of the list. The owner, Dr. Kernaghan, fell on hard times and sold the house to a local banker who lived there for many years with his sister, Laura, a woman who never married and died in her 70s.    According to local legend, Laura lived happily in the house during the 1920s and '30s until she was seriously injured in a car accident in Wyoming and returned home crippled by her injuries. Laura spent the rest of her days sitting in her rocking chair and died in 1949. Some say she died in the house. Many say strange things started happening in the house after Laura and Dr. Kernaghan were gone.     Glenn Jones was in sixth grade in 1967 when his family moved to Steamboat. "Steamboat was a pretty open-door community back then," Glenn says. So when he and his dad came to town to check out a house on Ninth for the family to rent, the owner warned them that the house was haunted and told the two to go ahead and spend the night.     "It was snowing hard, but there was no wind," Glenn recalls. "In the middle of the night, the front door opened, then shut, like someone had entered. My dad checked it out but there were no tracks in the snow. We thought it was strange but didn't give it much thought."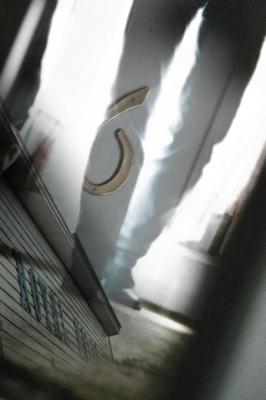 Royal Hotel in Yampa, said to be haunted by Rufus; photos by Alana Rothstein; collage by Traci Lanham/SDA Glenn's family moved into the house and Glenn enrolled in school. "I became known as the boy who lived in the haunted house," Glenn says. "We just thought people were having fun with us because we were the nefamily in town, asking us if we'd met Aunt Laura, the ghost." But Glenn and his family soon learned differently. "We rented the house furnished. Living in the house, we soon noticed things would rearrange themselves, vases and such, little changes that were barely noticeable. But then an old rocking chair started rocking by itself. We figured we'd met the Aunt Laura everyone was talking about," Glenn says. "My friends all wanted to come over and see the rocking chair rock, and sometimes it did.   But it wasn't like the ghost would come out and visit when everyone was around." When Glenn's sister, Sally, invited friends over for a slumber party and a chance to see the chair rock, Glenn decided to play a prank. "I tied fishing wire to the chair and planned to get up at 2 a.m. and rock the chair myself. I thought it'd be fun to hear them scream. Unfortunately, that night I fell asleep and didn't wake up until morning. When I got up, Sally showed me the fishing wire and yelled, 'Good job, Glenn. You didn't fool us when you made the chair rock last night!' She wouldn't believe me when I honestly told her I didn't do it." Glenn's family never saAunt Laura, but they all heard her.   There were footsteps upstairs when nobody was up there, and many nights at exactly 2:35 a.m., there would be a loud banging noise on the heating pipes, even though back then there were no timers or controls. "A couple of times, the television would turn on while the family was sleeping," Glenn says. "My dad would get mad at us for watching TV in the middle of the night even though we hadn't." Perhaps the strangest thing to happen involved an old phonograph. "The basement was the creepiest place in the house, but I was a curious kid and I thought it was cool down there. It had a bunch of antiques and lots of old stuff.   My favorite was an old RCA phonograph that just wouldn't work. I spent literally hours trying to make that thing play music, but it wouldn't. It would only turn a time or two around – never enough to make any sound – so I finally gave up. A month later we all woke up to the sound of music coming from the basement. The phonograph was playing by itself." Mike Williams, a local painter who greup in Steamboat, remembers the house well. "I was a friend of Glenn's, and all us guys thought it was great fun to go over to his house and watch the rocking chair rock. We'd lie still at the top of the stairs and spy down into the living room.   I sathe chair rock several times. Once we sathe cabinet doors in the kitchen open and shut by themselves. There was weird stuff that went on in that house." Glenn's mom eventually put the rocking chair in the basement to calm her nerves. In the 1970s, local attorney Mike Holloran and several partners purchased the house and turned it into offices. Although Mike has not had any ghostly experiences himself, many of his secretaries have been spooked and, according to Mike, "Nobody wants to work here after hours." Once a brother of one of the partners decided to spend the night in the house, but showed up at his brother's doorstep well before dawn. Things seemed to have calmed down since Mike gave the rocking chair away and remodeled the house.   Another infamous Steamboat haunt, the Rehder building, was built around the same time as the Ninth Street house. Originally known as the First National Bank Building, Harry Rehder purchased the house in 1937 after the Great Depression forced the bank to go under. Harry's son, Henry, and his wife, Helen, inherited the building and built an apartment on the second level, where they lived part-time until they died. Today that apartment sits empty and is believed to be haunted. "Oh, they're here," says Rocky LeBrun, an owner of Antares Restaurant, which occupies the back half of the building. "We've named one of them Bennie, and there's another named Old Man Shaw. He died in the apartment upstairs, and that's fact, not fiction."   Rocky says there is also a lady ghost, who appeared one night when a cook sat down to take a rest. "She looked over and there was this woman sitting next to her on the couch, all dressed up in an old-fashioned dress." One night Rocky was sitting at a table when the glasses in the bar started clanking together. Then there was a loud thump on the bar. "I assumed it was Bennie," Rocky says. Most of the activity is up in the attic, where the spirit of Old Man Shais believed to be. "There's a lot of banging that goes on up there," Rocky says, looking towards the ceiling. "In fact, my ex-partner actually saan entity in the attic.   You get the chills up there. And the dog goes nuts when he's in the attic, barking like crazy at something you can't see." Amy Ruminsky, an employee at Into the West Gallery, which until recently occupied a front section of the building, said it's not uncommon to hear strange noises or feel a presence in the upscale gallery. "I was upstairs getting something for the store when I heard the sound of music, the kind you would hear coming from an old-fashioned ice cream truck. I looked around but could not tell where it was coming from. Then there were a couple of loud bangs and it was over," Amy recalls. Coincidentally, the building housed the Gold Coin creamery in the 1930s. Noowned by the city, the Rehder Building will be preserved as a historic monument as Helen Rehder requested and will house the neSteamboat Art Museum.   Local spirits aren't just within Steamboat's city limits. Just ask Kris Ager. Kris knenothing about ghosts when she and her husband, Bill, purchased the Royal Hotel in Yampa in August 2000. "I never knethis place was haunted," Kris says. "But it didn't take long to figure it out. Right after we bought the hotel, I was upstairs late one night caulking the doorway to room 6. No one else was around. I heard footsteps walking across the wooden floor, which sounded a lot like cowboy boots – and they were coming closer and closer. Whoever it was stopped right behind me.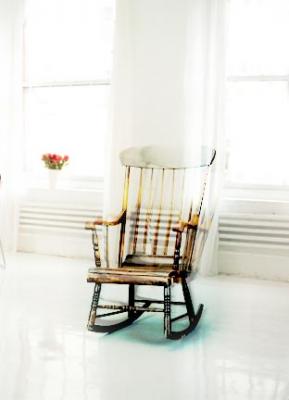 Rocking chair; photo by Ken Proper   I turned around expecting to see my husband, but no one was there. The hair stood straight up on the back of my neck and I ran downstairs as fast as I could." A fedays later Kris learned about Rufus, the legendary ghost of the Royal Hotel, who has been around Yampa for so long that the community has even put on plays about him. According to local legend, Rufus died either from a flu epidemic when the hotel was used as an infirmary or was shot dead when he was caught cheating at a poker game. Regardless of his final event, Rufus has been spooking guests at the Royal since 1918. "Doors slam when no one's around, and sometimes it smells like cigars," Kris says. "We've had guests leave in the middle of the night." Rooms 6 and 7 seem to be where Rufus likes to hang out, although he's been inactive lately. Kris says the only recent activity has been that Rufus likes to walk outside her office when she's by herself, and he loves to play with the lock on room 6's door.   "Sometimes you just cannot turn that knob, no matter what," Kris says. "But other times you'll find the door wide open." Many of our own neighbors are living with restless parts of history that just won't go away. But when you watch that sunset over the Yampa Valley on one of those perfect winter days, can you blame the spirits for not wanting to move on? Remember the Yampa Valley curse; once you visit here, you can never leave. Maybe the curse is true for even those from beyond.