Yampa Living
07/01/2006 01:00AM ● By Danielle Skov
Summer 2006:
Yampa Living
by Danielle Skov
Rescuers save man lost in garage.
    In a town where recreation is a way of life, the most important room in the house – and most admired – is the mudroom. The most important room not in the house is the garage.     Let's face it. Our hobbies come with extra stuff that requires extra storage. While others may have baseball mitts and gardening tools, Steamboat families have mountain and road bikes, fly fishing rods, camping gear, alpine, telemark, cross country, skate, jumping and racing skis, snowboards and snowshoes. Snoboots, rain boots, mud boots, hiking boots, sneakers, river shoes and sandals are de rigueur. Hats, gloves and multiple clothing layers could be needed 12 months a year.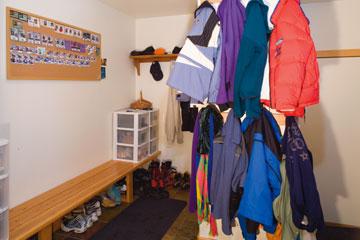 The Goods' mudroom features a bench and more than 60 hooks.    When Jeff and Nancy Good remodeled their Old Town home, the mudroom was central to the renovation. "We laughed that the main reasons we did the remodel were for the mudroom and our office," Nancy says.    The most striking features of their roomy mudroom are the 60-plus hooks available to them and their two children. "I thought Jeff was completely insane and totally overdoing it with the hooks – but we use every one," Nancy confesses.     The room includes a large bench where the whole family can sit and a heated floor, which prevents puddles and helps dry boots and snoclothes. One of Nancy's favorite features is the pocket door that can close the mudroom off from the rest of the house.     Debbie Wilson struggles with the mess her three children make when they drop their book bags after school. "I am all about hooks and cubbies," Debbie says about her storage strategies.     Overlapping seasons also make storing out-of-season clothing articles more difficult, Debbie says. "One day you're wearing flip-flops, but it might snow. You need to be able to store everything in one room so that when the weather changes, it's right there. You can't even pack the swimsuit away in the winter because you might go to the hot springs."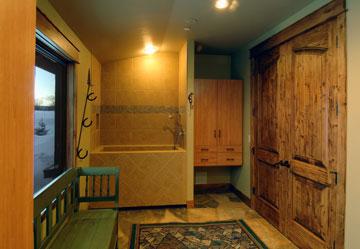 A deluxe dog bath is one amenity of this Sidney Peak Ranch home's mudroom.   With eight bikes, a kayak, snoblower, power washer, ski tuning bench, scooters and retired racing skis, it pays for Kim and Jeff Temple to have a well-organized garage at their Storm Mountain Ranch home. "Not to mention the chicken feeder!" Kim adds.   Like other Steamboat families, the Temples also need an extra freezer for elk meat and organic beef.    To maximize space and keep things organized, they use bike racks, lots of shelves and clear bins that are easily labeled. "We might have three tubs labeled camping, but if they are clear, I can see which one has the sleeping bags," Kim says.    They have a basic blank-and-pole system for their skis and hang the kayak from the ceiling. The painted floor gives the garage a finished quality.    The Temples' organizing doesn't end in the garage.    When you enter the mudroom, a special hook is dedicated to ski passes, which don't go further into the house than that point. "I have a basket of socks in the mudroom because my kids like to run around without socks. When we're ready to go somewhere, the socks are right there," Kim says.   When Randy and Sherry Reed bought their home in Steamboat, they added an attached three-car garage. Being in the automotive and motor sports business, the Reeds still didn't have enough space to store the snowmobiles, motorcycles and motorcross bikes, so they converted a barn into a six-car garage. "We have equipment for motorcross, mountain biking, wake boarding, skate skiing, snowmobiling, snowshoeing and skiing," Sherry says.    In the attached garage, each of their three children has his or her own locker. Shelves of plastic bins line the walls to store gear for the sports they love. Classy Closets constructed additional storage closet space to hold overflow. There's also an area for waxing skis and doing bike repair.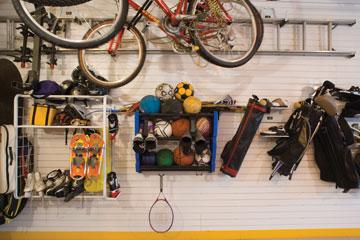 Storage accessories hang from special panel's in the Rudolphs' garage.    Vicki and Alan Rudolph turned to GarageTek of Colorado when it came to organizing their garage. The storage system includes panels that line the garage walls. Storage accessories hang from the panels, keeping everything off the floor and making cleaning a cinch, says franchise owner Dan Harty. "Even in high-end homes, people have so much junk in their garage that it is hard to park the cars," he says.     "It is like we have a whole neroom in our house," Vicki says.     GarageTek's locking-tile flooring system also creates an attractive and clean space. "Even though it is a garage, it is bright and cheery – and clean," Vicki says.    In an outdoor-lover's paradise, it's not what you have inside the house, but howell you organize the stuff you need to play outdoors that counts.
Danielle Skov is a local writer and teaches classes for families on ancient and Greek mythology at Colorado Mountain College.