Town Quirks
07/01/2006 01:00AM ● By Anonymous
Summer 2006:
Town Quirks
Galloping to grinds
     Is Steamboat Springs still part of the Wild West? Wild ideas are part of the Lowell Whiteman School horse program. When I was a kid, I rode my pony downtown for candy at Ben Franklin's. Wouldn't it be cool to see if it could still happen? My riding students, Mary Erwin, Evan McCaulley, Bobby Rankin, Sarah Baumgartner, Anna Nierenberg, Margo Fragola, Becca Lakin, Alison Moore, my assistant Ariel Nieland and LWS senior Elizabeth Findell, decided to do it. We trotted much of the way to make it from Strawberry Park to town and back before dark. Sore knees and backsides resulted. We surprised joggers and bikers. Almost everyone we sawaved and pointed. Sometimes, we caused traffic to slow. What was this, horses in town?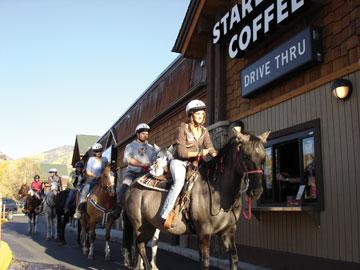 Becca Lakin orders a latte for herself and an apple for her horse. Behind her waiting to order are Bobby Rankin, Alison Moore, Margo Fragola, Marge Erwin and Sarah Baumgartner. Unfortunately, the horses left "souvenirs" in the elementary school parking lot and again at the high school. What is it about clean pavement that gives them the urge? We were actually galloping at one point while I was on my cell phone (never did THAT before) asking the LWS receptionist to call those schools and assure them a clean-up crewould take care of it. Once at Starbuck's, Montisaurus, my huge black horse, waltzed right into the yellow-striped drive-up line. But apparently he wasn't huge enough to trigger the bell that alerts the staff a car is waiting to order. I tapped the speaker, I spoke into it – nothing. Finally, a young man poked his head out the windoand then sucked it back again. Probably couldn't believe his eyes, and when he reappeared, he hesitantly waved us forward. Darn, we wouldn't get to order through the speaker. All eight horses followed me. Monty immediately put his nose in the tip jar, searching for treats. "Can I have a venti regular latté, please and do you guys have apples?" The attendant blinked at me. "Uh, no. No apples. But we have dog bones." Monty munched four out of the guy's hand while I paid. I don't think that poor young man had much experience with giant horses reaching in his window. Each of my riding students placed an order, paid and walked on through gracefully, like they did it every day. The horses took it in stride. Starbucks served our coffee curbside; the horses, bless them, left not one sign of their, uh, passing. Getting home was another story. It involved a lost horseshoe, a trailer rescue for one horse, a flooded trail behind Perry Mansfield just as we lost the light, and trusting your horse in the dark. None of the adventures we seek on mountains, in kayaks, climbing or horseback riding are assured to be safe. All adventure is a risk but so worth it to mind, body and soul. We haven't left those bygone horse days so far behind, after all. Lowell would be proud and happy to knothat.
A Steamboat Summer Dream Job:
1) Steamboat Lake Marina dock hand 2) Shaved-ice clerk on Lincoln Avenue 3) River guide 4) KFMU Friday Afternoon Club host5) Balloon chase cre6) Sommelier at the Steamboat Wine Fest 7) Campground host
A Steamboat Summer Nightmare Job:
1) Lifeguard at the kiddie pool 2) Street-cleaner on the day after the Main Street Cattle Drive 3) Dishwasher at half-price burger night 4) Keg-tapper at the BreFest 5) Cowboy who applies the flank strap to a bull before the bull-riding event at the rodeo Send your dream job suggestions to
[email protected]
We wonder why…
We don't really wonder why (well, maybe we do), but we do wonder HOW KRAI radio announcer Mike Fuller managed to sleep in the display windoat F.M. Light & Sons in downtown Steamboat Springs. Mike lived in the windofor 100 hours as part of the store's 100th anniversary celebration.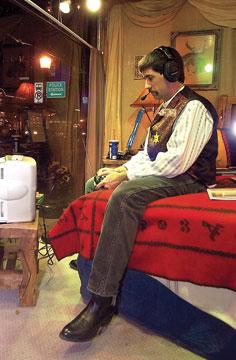 Mike Fuller in display windoat F.M. Light & Sons.
Ski Town USA – What's in a name?
     Steamboat was first called Ski Town USA in 1947 in an Associated Press article. It continues to live up to its name, sending 20 local athletes to the Olympics for the 2006 Torino Games. But … when is enough enough? Locals play a little fast and loose with the moniker, and Steamboat Magazine is no exception. We headlined a 2003 article about the neice rink, "Skate Town USA." We tried to call a story about Steamboat as a mountain-bike Mecca, "Bike Town USA," but the Ski Haus crebrought us to our senses. A feother recent variations: "Board Town USA" ~ "The center of the U.S. snowboarding universe is in Steamboat Springs … It may be time for the Springs to change its slogan from 'Ski Town USA' to 'Board Town USA.'" ~ NeWest Boulder, Aug. 16, '05 "Limo-Liberal Town USA" ~ In an opinion about the city council's stance on affordable housing, posted by "Average Joe" on the Steamboat Pilot's reader forum, Feb. 19, 2006 "Trout Town USA" ~ Our personal favorite – and the latest variation – a reference to recent recognition of Steamboat's "Blue Ribbon" trout streams. Can you visualize it? What kind of cars do fish drive? Lincoln Navigator? Chevy Malibu? Hyundai Reefer? Mercury Mariner? Could those white flakes floating down over town that we call "Champagne Powder"® really be fish food? Shame on Saketumi sushi bar! Shades of Albert Packer!
10 ways to jinx your day in Steamboat
1.Go for a bike ride without a spare tire 2.Take your tent camping, but leave the rain fly at home 3.Don't bother putting on any sunscreen before you go tubing: after all, homuch sun can you get when you're in the water all day?4.Wear a cowboy hat when you've never ridden a horse 5.Wash your car under cloudy skies 6.Drive a two-door coupe to a garage sale 7.Hike to the summit of Mount Werner without your rain jacket8.Walk through a Core Trail tunnel on the left side of the path 9.Lie down and sunbathe on that flat dirt trail at the bottom of Heavenly Daze (Editor's note: We have actually seen people spread out towels on this path, which serves as the run-out for bikers careening down Valley VieTrail from Thunderhead Peak.) 10.Go kayaking in springtime for the first time without a lesson – hohard can it be to float down a river, anyway?
Winter losing its grip?
   Chances for ski area snorecord are diminishing By Tom Ross, Staff Reporter Monday, March 6, 2006 After a winter that produced unrelenting powder days in December and January, the sudden shift to spring temperatures and cloudless skies during the past week may have shrunk the chances for a record snototal at the Steamboat Ski Area.
Winter makes an encore
   Forecast: Snowy days may not let up until St. Patrick's Day By Tom Ross, Staff Reporter Saturday, March 11, 2006 Winter has returned to the Yampa Valley, and it doesn't appear to be leaving any time soon. It started snowing again March 8 and by the end of the ski season (April 9), the total snowfall was 432 inches. In the first 100 days of the 2005/06 ski season, it snowed 70 days – 30 of those were powder days. Excerpts from Steamboat Pilot/Today newspapers.
Talk like a local
"Valley car" A car that's seen better days and is no longer suitable for driving over Rabbit Ears Pass "Cruiser" A valley car without an engine; a.k.a. a cross between a mountain bike and a road bike, suitable for use on city streets and nearby dirt roads "C Hole" One of two play holes, water features in the Yampa River designed for kayakers. Charlie's Hole is named after Charlie Beavers, a legendary local kayaker who died in a non-boating accident in 2002. "Bonk" Burn all your calories and run out of energy "Beachfront property" development next to protected ranchland. "Gondie" The familiar term for the ski area gondola"14'er" A mountain with at least 14,000 feet of elevation "Over the handlebars" What it says (ouch) "Gaper" A person who stops to watch an accident
Name that answering machine message…
The horses are in the meadow, and the mules are in the hay. Wouldn't you know? I'm the only one here to put them away! The kitty cats, Foxy and the fishies are sitting here in rapt attention waiting for your message. Answers: 1) Patsy Wilhelm, Sunset Ranch; 2) Karen Vail, naturalist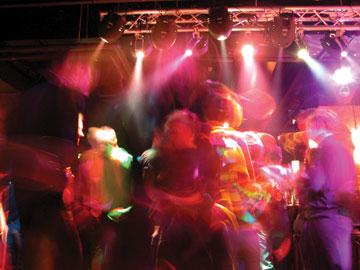 In The News
   The performance by the band Swollen Members was cut short because of an evacuation of the nightclub when the floor began to sway noticeably. "It sounds like they had a song that caused the entire group of people to simultaneously jump up and down," Steamboat police Sgt. Nick Bosick said the day after the incident.
Survival of the Fittest
   Police Blotter – Thursday, March 16: 5:01 p.m. A man in the 200 block of Storm Meadows Drive reported seeing several snowboarders preparing to jump off a fourth-story balcony onto a ski slope. Officers told the snowboarders not to jump.
Examine a typical local's backpack, and chances are you might find:
Duct tape Energy bar, flattened, misshapen or melted Sunscreen (in plastic bag or all over the inside of the pack) Beer (warm) Cash (not more than $5) Water bottle from an old sporting event Tire repair kit (or chewing gum) Extra-blue wax (leftover from winter) Cell phone (of course) Mosquito goop (see sunscreen) Stale bagel Emergency hat (usually a baseball hat with an obscure logo) High-tech windbreaker, made from 21st century waterproof fabric Stub from a concert Crumbled plastic stub from water slide