Ten Must-See Steamboat Stops
07/01/2006 01:00AM ● By Anonymous
Summer 2006:
Ten Must-See Steamboat Stops
Fish Creek Falls
    The 283-foot waterfall is a Steamboat Springs icon. A paved, handicap-accessible trail takes visitors to a scenic overlook. An unpaved quarter-mile trail takes hikers down to the base of the falls where a bridge leads to longer hikes. From Lincoln Avenue, turn north on Third Street. At the stop sign turn right on Fish Creek Falls Road. Follothe road approximately four miles to the end. Daily parking fee, $5.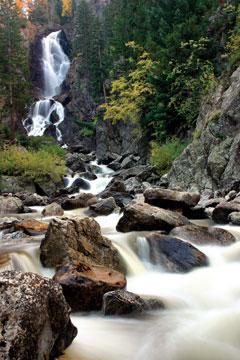 The 283-foot Fish Creek Falls features paved and unpaved trails for casual walking or hiking.
Old Town Hot Springs
   Relax and rejuvenate in three hot pools ranging from 98 to 103 degrees and an 80-degree recreation pool, all drawn from natural mineral springs. A 350-foot twisting water slide will bring out the kid in everyone. Lap pool, sauna and workout facilities. Steamboat Springs Health and Recreation Association, 136 Lincoln Ave., downtown. 879-1828.
Depot Art Center
   The Steamboat Springs Arts Council presents a variety of changing exhibits. A Routt County Historic Site, the building is a historic railroad station built in 1908. The center also features a Rio Grande Railway caboose and the Eleanor Bliss Garden. 1001 13th Street, across from the Bud Werner Library. 879-9008.
Gondola Square
      Activities include miniature golf, disc golf, bungee trampoline, climbing wall, mini-bounce castle and Art on the Mountain. Or ride the gondola to the top of Thunderhead for hiking, biking, picture-taking or lunch. 879-6111.
Yampa River Botanic Park
       The free botanic garden offers a scenic walk through native flowers and plants. It includes a picnic area, ponds, birds, butterflies, sculptures and Strings in the Mountains Thursday lunch concerts, Music on the Green. Turn west onto Trafalgar Lane and left on Pamela Lane. From the far left corner of the parking lot, walk on the dirt path to the entrance. 879-4300.
Core Trail
    Stroll, bike or jog along the Yampa River past fishing, swimming and kayak holes, wildflower gardens, parks, waterfowl habitat and artwork. The approximately 7-mile paved trail is accessible from several points through town. 879-4300.
Float the Yampa
    Grab an inner tube, canoe, kayak or raft and take in a cooling and scenic float through town. Be sure to play in one of the four water holes along the way. For rental information see "Activities," pg. VG46.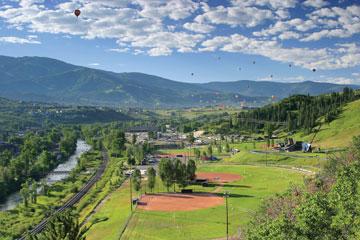 Balloons rise beyond Howelsen Hill ball fields. The city-owned complex also has hiking and biking trails, skate park, tennis and volleyball courts, picnic area, playground, ice rink, rodeo arena and alpine slide.
Howelsen Hill
    Steamboat's Olympians train on the 50-meter jump year-round. The city-owned complex includes trails, skate park, ball fields, tennis courts, volleyball, picnic area, playground, rodeo arena, indoor ice rink and The Howler alpine slide. 879-4300.
State Parks (Steamboat Lake, Pearl Lake, Stagecoach Reservoir, Yampa River and Elkhead)
    Five Colorado State Parks offer a diversity of outdoor activities. Camping, fishing, boating, waterskiing, hiking, biking and picnicking are available. www.parks.state.co.us. For information, see "Backcountry," pg. VG50.
Steamboat's Pro Rodeo Series
   Rodeos have been a Steamboat tradition since the late 1800s. Roping, bareback riding, steer wrestling, barrel racing, bull riding, children's activities and musical entertainment. Friday and Saturday nights, June 23-Aug. 19. www.steamboatrodeo.com, 879-1818
Soak it all in
Strawberry Park Hot Springs
     Floating in hot, soothing water beneath a star-filled sky as the moon rises slowly over the forested, mountain ridge.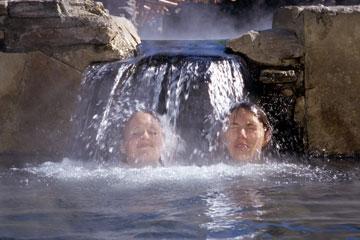 Kristen Pappas and Paula Steele enjoy a soak at the Strawberry Park Hot Springs. Such is the beauty of Strawberry Park Hot Springs, a series of pools fed by hot mineral springs. The privately owned park is open to the public, seamlessly incorporating modern conveniences such as a tipi changing hut, picnic tables, private stone stream house, manmade waterfalls and ponds and rustic guest cabins into this natural setting. From Lincoln Avenue (U.S. 40) downtown, turn north on Third Street. At the first four-way stop sign turn right onto Fish Creek Falls Road. Continue up the hill and turn left on Amethyst Drive (a sign for the hot springs is posted). Proceed slowly through this residential neighborhood and continue past Steamboat Springs Middle School and Strawberry Park Elementary School on your left. Amethyst merges with Routt County Road 36 (Strawberry Park Road), which continues right toward the hot springs parking lot, where it dead ends. Approximately seven miles. The last stretch of road is unimproved and can be rugged four-wheel-drive terrain, depending on the weather. Several lodging properties offer shuttle service, as do private transit companies. Open daily, year-round. Admission prices vary; weekdays are less expensive than weekends and evenings. No one under 18 is admitted after dark, when swimsuits are optional. For more information about the hot springs, call 879-0342.