Mustangs Roaming in our Backyard
07/01/2006 01:00AM ● By Jennie Lay
A herd of wild horses kicks up dust during a roundup on their way to adoption.
by Jennie Lay
More than a century ago, a legendary cast of characters at the heart of America's romantic Western legacy descended upon the rugged high desert that sprawls northwest of Steamboat Springs.    
Famous outlaws like Butch Cassidy and the Sundance Kid hid there, just a convenient skip away from the Wyoming and Utah state lines. John Wesley Powell explored these arid lands and the dramatic Yampa and Green river canyons that traverse them. Mountain men and cowboys gathered regularly on the sage-covered expanse. Horses ran wild on the open range.  
Aside from a loss of outlaws, not much has changed on northwest Colorado's high desert plains. The lands remain dry. Fourth- and fifth-generation cowboys still graze their sheep and cattle. No town larger than a hamlet peeks out of the sage. And horses, still fondly called "mustangs" in the region's Old West parlance, run wild as ever among the dry creek beds, gullies and gentle rises known as Sandwash Basin.    Seventeen miles northwest of tiny Maybell, about 200 wild horses currently share Sandwash Basin with off-road vehicle enthusiasts, sheep ranchers and herds of elk, mule deer and pronghorn. To ranchers' dismay, that mustang herd has swelled to more than 600 mustangs on occasion. Sandwash Basin is a 160,000-acre wild horse herd management area. These are public lands designated for mustang habitat and managed by the Bureau of Land Management. Small bands of picturesque mustangs with long flowing manes dot the basin's stark landscape with colorful hides that range from gray, white and black, to pinto, bay and sorrel.    
"Horses running wild were an integral part of the area's custom and culture," says Chuck Reed, a Wyoming wild horse specialist for the BLM. "A young man's right of passage was to go out and catch yearlings for saddle horses – a more exhilarating way to raise horses."    But wild horses are large, herbivorous animals that compete with other wildlife and domestic livestock for scarce water and grasses. Mustangs are clever enough to roam wide in search of sustenance, and their herds expand at approximately 13 to 14 percent reproduction rates per year, according to Valerie Dobrich, the Colorado BLM wild horse specialist responsible for the Sandwash herd. A deep, lingering drought has exacerbated tough conditions for both mustangs and the ranchers who scrape a living off the public lands during the past feyears.   
 In 1971, the United States Congress recognized wild horses as a powerful symbol of the historic, free-wheeling West. That year, legislators unanimously voted for federal mustang protection under the Wild Free-Roaming Horse and Burro Act. Managing wild horses in Sandwash Basin and 167 other areas around the West has become a tricky balancing act for the BLM, the agency responsible for overseeing the animals' well-being. Money is scarce to support the task of maintaining wild herds at sustainable levels and selectively culling overpopulated herds.   
Once mustangs are rounded up from the range, they either are adopted or end up in the BLM's expensive and sometimes long-term care. Innovative programs use prison inmates to care for and train some mustangs until they are adopted by a member of the public, but there are thousands more potential adoptees lingering on ranches and holding facilities around the West.    
Today, the BLM estimates about 39,000 mustangs roam North America (with protected herd management areas in ten Western states), down from approximately 2 million mustangs at the turn of the 20th century. During the rapid population decline, wild horses were collected for slaughter for commercial purposes like dog food.    Public outcry that escalated in the late '60s, brought about the Wild Free-Roaming Horse and Burro Act. The act protects mustangs from capture, branding, harassment or death, while allowing for removal of mustangs that "pose a threat to themselves and their habitat." It calls for healthy herds in balance with their habitat, and maintenance of the horses' free-roaming behavior. The BLM's adoption application process is designed to ensure the adopted mustang's humane care and treatment.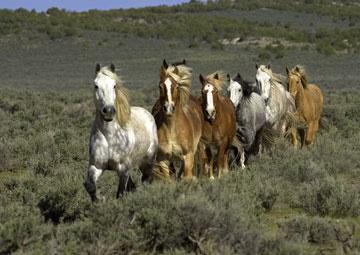 Wild mustangs roam the plains near Maybell in the Sandwash Basis. 
But caring for gathered horses is expensive, and open corrals to house them are becoming scarce. Significantly more horses need adopting than can be absorbed. Over the years, this glut has spawned creative ways to make adopting mustangs more appealing. In Cañon City prisons, a handful of mustangs undergo a saddle training program sponsored by the Colorado Department of Corrections. Horses graduate from three distinct training levels, which takes at least 90 days. "It's a gentling procedure, not a breaking procedure," says Lona Kossnar, a BLM assistant for the saddle training program. Working under the supervision of an experienced, professional staff, prisoners who work with mustangs work their way up the ranks, starting as a feeder and working up to trainer. Inmates apply for jobs and interviefor the competitive spots.    
In Cañon City alone, inmates have trained more than 4,000 horses since the program started in 1986. And that doesn't include the horses that are adopted without any training – not necessarily a project for the faint of heart.     
 "A wild horse is wilder than hell," says Little Snake River Valley rancher Pat O'Toole. It's tough to break a wild horse if it isn't a young one, he says. Many people who adopt mustangs don't necessarily attempt training. Part-time Steamboat resident JoAnne Drahota adopted a mustang named Secret. She let him pasture, then re-released him to roam with Wild Horses Wyoming, a mustang protection group that provides them sustainable range and a guaranteed wild life.    
"It just gives you the chills. Wild again," JoAnne says of the day she released Secret. "He just took off at a dead run and everybody just stopped and held their breath. There wasn't a dry eye there." That's not to say mustangs are un-trainable. The BLM's Valerie Dobrich monitors the Sandwash herd atop her own gentle, 16-hand-high mustang named Buckshot.    
Local efforts to spread awareness about mustang adoptions spawned the Rocky Mountain Wild Horse Association in Craig. The advocacy group sponsors a variety of projects to benefit mustangs, both in the wild and after adoption, including school programs with live mustangs. Their annual mustang shoat the Moffat County fairgrounds includes adoptions, training and breaking demonstrations, competitions and judged showing. All this amounts to sorely needed publicity for wild horse adoptions – advertising dollars that the Bureau of Land Management just doesn't have.    
"Even though (activist groups) give us a stomachache sometimes, they give good perspective," Valerie says. She says she's grateful that the Rocky Mountain Wild Horse Association is raising public consciousness about wild horses, educating citizens about what the BLM does and promoting wild horse adoption. She also encourages people to go out to Sandwash, hike around and experience firsthand the majesty of mustangs on the open range. "If we could just get the people more involved, we could get more adopted," Valerie says.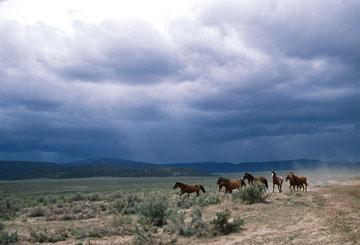 Wild horses, big game and ranchers compete for resources on the wide-open range in Sandwash Basis.  
After a mustang gathering last October, 24 of 54 mustangs from the Sandwash herd were adopted on site at the Sandwash Corrals. About another 150 were sent to the Cañon City program for gentling before adoption. The next scheduled gather of Sandwash Basin mustangs is in 2009.