Medal Heads
12/01/2005 01:00AM ● By Paul Robbins
Winter 2005:
Medal Heads
by Paul Robbins
Steamboat Springs' roster of winter Olympians is unmatched by any other town, at least in North America. Steamboat is not only No. 1 in terms of Olympic skiers, it's 1-2-3. Gold, silver, bronze.    The list of Steamboat Olympic alumni, both home-grown and adopted, contains nearly 60 winter athletes - from locals like the Werners, Gordy Wren, Todd Lodwick, Johnny Spillane, Jim "Moose" Barrows and the Crawfords to imports like Australian moguls skier Nick Cleaver and Alaskan jumper Alan Alborn. Olympic bronze medalists Nelson Carmichael (moguls, 1992), snowboarder Shannon Dunn (halfpipe, 1998), alpine multi-talent Caroline Lalive, moguls World Cup and world champion Ann Battelle and Nordic combined skier Bill Demong moved here and set up housekeeping.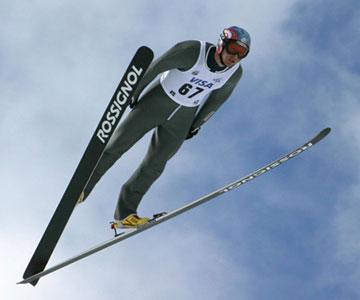 Todd Lodwick demonstrates world-class form at Utah's Olympic Park. Photo courtesy of Tim Hancock.   The first Steamboat Olympian was jumper John Steele, who competed in Lake Placid in 1932, only eight years after the birth of the Winter Olympics in Chamonix, France. He finished 15th in the field of 34 behind Norwegian icon Birger Ruud.    In 1948, Steamboat's Gordy Wren became the only U.S. skier to qualify for the Olympics on four teams - alpine, cross country, jumping and Nordic combined, and all of them in the same year, 1948. He went to St. Moritz and, as he liked to recount with a chuckle, "I decided only to jump because I was running around over there bumping into myself trying to train for all the sports." He finished fifth in jumping, the third-best U.S. result in 19 Winter Olympics.    "Steamboat just has such a great tradition of not only producing world-class skiers," says Alan Ashley, vice president of athletics for the U.S. Ski and Snowboard Association, "but supporting the kids coming up who want to be world-class. It's central to what makes Steamboat unique. They find a way to get it done. They're so positive - not just the Winter Sports Club but the resort company and the community and the city itself - and it's like they say, 'Throit at us and tell us what we need to get done, and we'll get it done.'"    That sentiment echoes throughout the valley. "Everybody either has a kid in here or knows a kid in here," says Rick DeVos, executive director of the Steamboat Springs Winter Sports Club. "It's so connected, whether it's your kid standing on the podium - which is a mind-blower - or someone else's kid. Everybody has a connection to someone up there. There is a whole community tie-in."  Johnny Spillane, who greup a couple of blocks from city-owned Howelsen Hill, home of the 93-year-old Winter Sports Club, fell in love with ski jumping as a tyke "because it seemed so cool, flying through the air like that." The 2003 Nordic combined sprint world champion recognized that the Olympic athletes are part of the community, just like himself.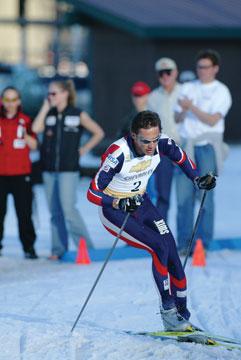 2003 World Champion Johnny Spillane competes at Howelsen Hill.Photo courtesy of Tim Hancock.   "Steamboat's so good that way - the Olympic atmosphere, of course, but just the idea of growing up with skiers who were good, and you could meet 'em anywhere in town," he says.    Growing up with elite athletes helps defuse - or seriously reduce - any sniff of intimidation, helps make them more human. "It's not a big deal. You see them on the hill, jumping or skiing or whatever, and you're with 'em in the lodge ... and, sure, you knothey're good, but you watch what they do, you try to copy some of it if you can, and you realize maybe you can do it, too," Johnny says.    "We didn't go to Howelsen Hill to raise Olympians," says Jeanne Lodwick who has seen three of her four boys on the U.S. Ski Team. "We went as a family, to be social, see friends. It was a huge part of our existence."    Jeanne remembers being overwhelmed at seeing her son Todd on Lillehammer's big screen TV as he prepared for a jump at the 1994 Winter Olympics. "We really are here. We all laugh that we went from Steamboat to Lillehammer," she says and credits local philanthropist Gloria Gossard with making it possible by helping the Lodwick boys with early skiing expenses.    "It's humbling. There's also a little bit of kid envy," says Andy Wirth, vice president of marketing for the Steamboat Ski & Resort Corp. and president of the Winter Sports Club. Three of his four children are in the club's alpine program and his oldest, 15-year-old Jace, won the International Junior Olympics in alpine skiing at 12. Jace has aspirations of making the Olympic team one day.    "When I was 12 years old, I was in the desert chasing lizards," Andy recalls. "This is pretty cool. It's nothing short of remarkable what these kids are afforded in terms of opportunity. It's the equivalent of playing high school football in Texas or college football for Arizona State. It's a tradition that is remarkable and it's unique to this valley."    Not every Steamboat Olympian is homegrown. Aerialist Kris "Fuzz" Feddersen greup in Cincinnati; native Alaskan ski jumper Alan Alborn trained in Steamboat for several years in the mid-1990s when his dad was reassigned to Colorado Springs by his airline; and Olympic medalist and 1970 alpine world champion Billy Kidd, who greup in Vermont, was introduced to Steamboat while a student at the University of Colorado in the '60s.    Ann Battelle, two-time World Cup champion and 1999 moguls world champion, moved to Steamboat after graduating from Middlebury College in 1989. She followed former Vermont neighbor Jeff Good, who skied on the World Cup and was USST moguls head coach. Ann learned to ski bumps on Mount Werner and eventually became the first U.S. freestyle skier to compete in four Olympics. She retired in 2002 and nothe mother of two youngsters, she lives with her husband outside Boulder.   "Steamboat's a really unique town. The whole town embraces its athletes and supports them unconditionally," Ann says. "The mountain was one of my sponsors for years and, yeah, doing well is great, but that's not what it's based on in Steamboat. It's a genuine feeling of supporting their own athletes. I mean, the mountain company supported me my first year on the World Cup tour and I was Joe Schmoe, just my third year of competing, but they were there to support me and the town is the same way.    "Steamboat celebrates its athletes," Ann adds. "Like Johnny said, you meet these Olympians and you realize, 'Hey, they're like you and I. They're not some super-human athlete.' It makes you realize anybody can do it. Yeah, you can become a kind of mini-celebrity but it doesn't matter because, really, you're one of everybody else."    The list of Steamboat Olympians will grothis winter when the 20th Winter Games rolls through Torino, Italy, Feb. 10-26. NBC will broadcast the Games with coverage also on MSNBC and CNBC. A thumbnail vieof probable 2006 Olympians from Ski Town USA you may see in Torino:
ALPINE
   Caroline Lalive (26 - 1998, '02). The former junior world champion in combined (1999) and four-event skier is focusing mainly on downhill, super-G and giant slalom these days. Look for "Liner," a four-time U.S. champion, in the speed events.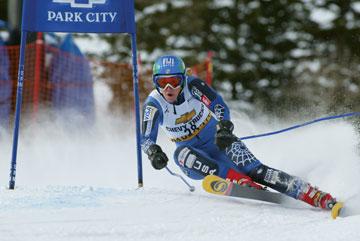 Caroline Lalive rounds a gate in Park City, Utah. Photo courtesy of Tim Hancock.
FREESTYLE
   Travis Mayer (turns 24 Feb. 22 during the Games - 2002 moguls silver medal-winner). A "C" Team skier at the beginning of the last Olympic season, Travis came out of nowhere with his Gold Cup victory and then Olympic medal on Deer Valley's high-elevation, extra-steep bumps run. Last season, "T-Mayer" won his first World Cup event (in Lake Placid), noting, "That was the hole in my career, and noI've filled it." The U.S. men's moguls team is the No. 1 team in the world and this Lowell Whiteman School graduate is part of the great depth.    Ryan St. Onge (23 on Feb. 7, just before the Games open - injured in '04). A five-time World Junior Championships medalist, "Stonge" (Stonj) emerged a year ago on the World Cup tour as he collected his first two victories. He's won three U.S. titles in the last four years. Also a Whiteman graduate, Ryan made the U.S. team at 14.
JUMPING
   Clint Jones (21 - 2002). The youngest U.S. ski champion (in any sport, not just jumping - he was 15 when he won the large hill event at Howelsen Hill in 2000), Clint took his first jump at Howelsen when he was five.    Alan Alborn (25 on December 13). "Airborn" tore knee ligaments last season while free-skiing in a halfpipe and re-tweaked it in mid-summer, but if he's healthy...
NORDIC COMBINED
   Bill Demong (25 - 1998, '02). Bill greup in the Adirondacks and moved to Steamboat when Tom Steitz based the combined squad here from the mid-'90s until 2002. A '98 Olympian at 17, he'll be part of the team relay.    Todd Lodwick (29 - 1994, '98, '02). The most successful American combined skier (six World Cup wins, 14 U.S. combined and jumping championships), he's a former World Juniors combined champ (1996). This is Todd's final season of international skiing. His jumping has gotten stronger and he looks to boost his cross country coming into this winter. Perhaps Steamboat's fondest memory of Todd is in 1995, when he became the first American to win a World Cup - made sweeter because it was in front of his hometown crowd.    Johnny Spillane (25 - 1998, '02). The only American to have won a Nordic gold medal at an Olympics or World Championships, Johnny - who's always let his actions speak louder than words - was derailed a year ago by a cranky lower back, so he couldn't defend his 2003 sprint championship. He's determined to be healthy for Torino.   Carl Van Loan (25 - 2002). The best jumping of his career last season helped the U.S. to fifth place in the team event at Worlds. A 2002 Olympian who didn't get to compete, he's got the foot speed to be the fourth guy in the team lineup and has the inside track to complete the foursome - with Todd, Johnny and Bill, but he needs to recapture that magical jumping day.
SNOWBOARDING
   Michelle Gorgone (22). Michelle moved to Steamboat in 2000 to train, spending two seasons here before returning to Massachusetts. She was an Olympic forerunner in 2002 and will be in the proverbial thick of the mix for an Olympic gate-running spot this season.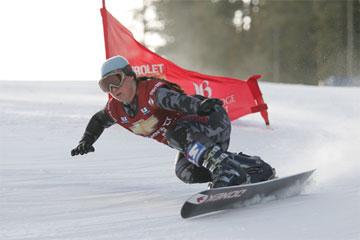 Michelle Gorgone snowboarding at Breckenridge.Photo courtesy of Tim Hancock.
On-the-bubble athletes:
   Freestyle - aerialist Jana Lindsey (SSWSC alum from South Dakota); moguls skier Emiko Torito; Nordic combined - Alex Glueck, Jed Hinkley ('02); Jumping - Tommy Schwall ('02); Snowboarding - alpine riders Erica Mueller and Justin Reiter.    "Come hell or high water," USSA's Alan Ashley says, "the community supports its kids and kids from other communities who come to Steamboat to train. They figure out a way to provide the support, to come up with the resources, to do what has to be done. It's such a unique situation ... such a good situation for so many."    Andy Wirth agrees. "This community virtually wraps itself around this to support and care for athletes of all levels. Every facet of the community reaches out to support. It's one of the very special things about this valley that contributes to the humbling nature and makes us Ski Town U.S.A."
Paul Robbins is covering his eighth Winter Olympics in Torino as Nordic analyst for NBC. He has covered the U.S. Ski Team since 1978.
Article Gallery [4 Images]
Click Any Image To Expand