Yampa Living: Backyard Bonanza
07/01/2005 01:00AM ● By Kelly Silva
Summer 2005:
Yampa Living: Backyard Bonanza
by Kelly Silva
Fire pits
   Routt County residents have such a relentless fascination with the outdoors, it's no wonder people are bringing campfires into their own backyards.     Although this is not a neconcept or one that is unique only to Steamboat Springs, many residents are finding backyard fire pits an exciting place to gather in the evening with family and friends.     "It's typically a bunch of kids roasting marshmallows or adults drinking beer (around the fire pit). We usually go out in the early evening because the kids are in bed by 9 p.m. But we've definitely had some late nights," says Cam Boyd, who constructed a fire pit on his property near Soda Creek. "It's a fun way for a substitution campfire. Our backyard is much more enjoyable."    Cam and his wife, Jill, wanted a place for the kids to hang out. And with Soda Creek running through the backyard in the summer, Cam says it feels as though they are actually camping.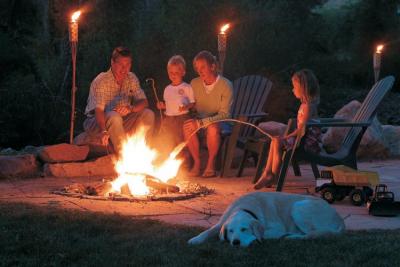 The Boyd family enjoys their backyard fire pit. Photo by Corey Kopischke Steve and Denise Hitchcock say it has made their backyard a destination.    "It's a great way to take in the views of the valley. It's definitely made a marvelous gathering spot for our family. It's been the complement of the yard," Denise says.     For the Hitchcocks, a typical scenario around the fire pit would be Steve playing guitar surrounded by friends and family, stargazing or beginning happy hour.     Their fire pit was built into the hillside by a professional mason and is more like an outdoor fireplace with a flagstone mantle and river rock exterior. A screen for burgers and hot dogs can be placed over the outdoor fireplace in the ground.     Large rocks and chairs surround the Boyd's fire pit that is made of a dirt base and river rock siding, three-feet wide by one-foot deep.     "We love to have people over to enjoy the fire pit," Cam says.    Cam reminds people it's important to get a permit for backyard fire pits from the fire department, otherwise neighbors might call for you.
Tree houses
    While tree houses typically are built with children in mind, some adults in Routt County are finding early evening cocktail hour or sunset viewing high up in the age-old foliage a real incentive for building such forts.     Hans and Heidi Berend were asked to join the kids in their own tree house in downtown Steamboat. Little did they knothey found a nefavorite spot 10 to 12 feet up to enjoy happy hour.     "For the grownups, it has been a great deck to have happy hour. We put chairs up there in the summer," Heidi says of the attached platform.     While the girls are playing house and decorating and designing the indoors, the boys spend their tree-house time having water balloon fights and wintertime snowball fights, creating a warrior fort – just so the girls can change it all again the next day.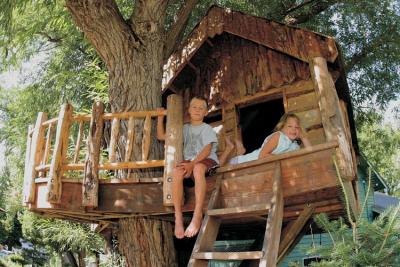 Ben and Sabina Berend retrat to their backyard tree house. Photo by Corey Kopischke But the added rope swing has been the kids' favorite pastime.      "They take off from the tree fort and swing out into the backyard and hop off the wood seat," Heidi says.      Hans, owner of Alpha Construction, built the tree house from old scraps he found at his construction sites. One of the large willotrees that divides the property between neighbors goes right through the roof and a wooden ladder enables kids and adults to get to their "house" high in the branches.    "We looked for a tree that wasn't growing anymore and that was strong enough to hold the weight of it," Heidi says.      The little tree house offers a lovely log railing, shingle siding and a roof to fit over the 20 square-foot fort – plenty of room for two little girls to play but not quite long enough to fit all of dad.       "My husband goes to sleep up there with his feet sticking out the door," Heidi says of Hans. It took Hans and the kids a whole summer to build the tree house while mom went back to school.      Next on the Berend list of things to add to the tree house: a cable runner from 9-year-old Ben's room. "My daughter's request is to finish it – like a real house," Heidi says of 7-year-old Sabina.          Summer fun starts in our backyards. Be a kid again – get out those sticky marshmallosticks, climb into the tree fort and savor a gooey s'more, or two.
Local writer Kelly Silva has a degree in journalism from the University of Florida.