Rescuing, Recovering and Releasing
07/01/2005 01:00AM ● By Keith Kramer
Summer 2005:
Rescuing, Recovering and Releasing
by Keith Kramer
Bon Free Wildlife Rehabiliation
    The noises that go bump in Tracy Bye's night are the howls, squawks, squeaks and screeches of her temporary lodgers. Some of these guests are known to get a little wild. Others are a real hoot.     "My parents always let me have animals, and I just loved them from the start," Tracy recalls. "I was always the one that people on our block would bring hurt butterflies to, or birds that hit their window. Animals were the ones I could be myself around. They were my closest friends."   Perhaps destined to be a wildlife rehabilitator, for the past 12 years Tracy has owned and operated Born Free Wildlife Rehabilitation, a nonprofit organization headquartered at her home on seven acres south of Steamboat Springs.    The Boulder native gravitated to Steamboat in 1985 and began teaching at Soda Creek Elementary in 1988. She occasionally invited Colorado Division of Wildlife biologist Jim Hicks to her classroom to give presentations. One day, she asked Jim what it would take to become a wildlife rehabilitator through the DOW.    Jim verified that Tracy had enough acreage and the next day brought her an injured red-tailed hawk. "I'd never handled one and didn't even knowhat to feed it," Tracy recalls. But that weekend, she brought the hawk to raptor-care training on the Front Range. Born Free Wildlife Rehabilitation was off to a flying start.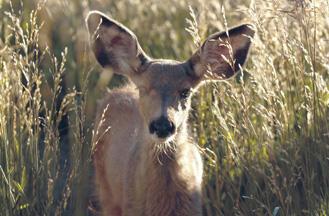 Flagaroo. Photo by Larry Pierce   One injured fawn in particular has made an indelible impression. After being treated for severe dog bites that nearly killed her, Flag spent a year courageously rehabbing before Tracy attempted to "soft-release" her into the wilderness behind her home. Flag would spend weeks away then return, eventually deciding to stay another winter – and become a surrogate mom to two other fawns in Tracy's care, Johnny and Olivia.     The following spring, Tracy trailered Flag, Johnny and Olivia more than 100 miles away to a wildlife refuge near Meeker. After tearfully releasing the three, Tracy did not see them for four years. Then one September night, headed outside to cover her pumpkin patch, she turned on the floodlight and samany deer in the pasture. They started moving away – except for one that quietly stood and stared.     Recognizing her unusually large ears and heart-shaped nose, Tracy called out, "Flagaroo, is that you?" Through her tears, Tracy resisted the urge to run up and hug the returning deer, which proceeded to touch noses with the family dog and allothe family cat to rub her legs. Flag subsequently returned for springtime visits over the years – occasionally even bringing along Johnny, who'd matured into a magnificent six-point buck.    Born Free is state and federally licensed to rehabilitate all wild animals, including migratory birds and eagles. Tracy has rehabbed everything from baby deer mice, bluebirds and bobcats to antelope, moose and bald eagles, helping about 100 animals a year. The ultimate goal is releasing them back into the wild.     Feeding involves a delicate balance. Despite the temptation to cuddle an injured baby, great care must be taken to not imprint the animal with an unnatural reliance on humans that will later make it more difficult for the animal to return to the wild. To rehab a baby bobcat, Tracy procured an adult-bobcat puppet from Yampatika to assist with feeding. Tracy credits the support of her husband, Mike, her sons, Dan, 11, and Garrett, 8, local veterinarians, surgeons at Steamboat Veterinary Hospital, and local professionals who donate services. Years ago, someone advised Tracy hoto identify serious volunteers – when a volunteer shows up, assign the task of cleaning "your yuckiest cage." Two area 4-H kids, Ed Brenner and Andy Morrell, have passed this smell test with flying colors.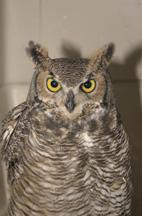 Seeder, the Great Horned Owl. Photo by Larry Pierce Can living with so many animals ever get too wild? Garrett admits there can be such occasions – like the time Mom took in 12 raccoons at once. But Dan points out, "We get to see different animals up close that most people never get to see." Adds Mike, "Variety is one of the highlights. When we get in animals that we've never had before, it gives us all the opportunity to find out more about them and learn what they need to survive."    A self-described "terrible fundraiser," Tracy operates Born Free largely out of her garage. Despite a less-than-ideal number of pens, the rewards are great. She tells heart-wrenching stories that include rehabbed raptors swooping past to shotheir gratitude with spectacular fly-bys.    The most rewarding part of any rehab is that bittersweet moment when the animal is released back into the wild. "Sometimes your heart aches," Tracy says. "You're happy, but you're sad because you've grown such a bond. But to have a wild critter trust you, and to knothat it wouldn't have survived without you … that's the best feeling." www.bornfreerehab.org, 879-3747
Keith Kramer is a longtime Steamboat Magazine contributor.