Quintessential Steamboat
07/01/2005 01:00AM ● By Deborah Olsen
Summer 2005:
Quintessential Steamboat
by Deborah Olsen
Outside the great room window, Vagabond ski run looks more like a vertical cliff than a ski slope. It's that close. In summer, trees quake in the gentle breeze that blows down the steep valley. In winter, skiing home is an easy skate. Paul and Mary Berge's custom log home on a hillside adjacent to the Steamboat Ski Area is the realization of a widespread dream of settling into an authentic western retreat in the Rocky Mountains. The Berges share their comfortable Steamboat hideaway with their friends from back home in Wisconsin, Len Mattioli and his family, whose own Colorado residence is on the other side of a common wall in this ingenious duplex.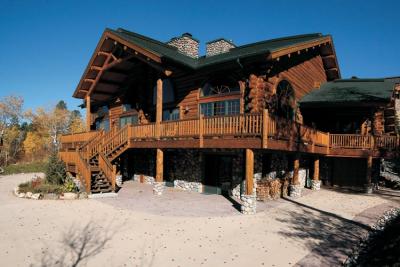 Mountainside duplex built by Montana Long Homes of Colorado. Photo by Rod Hanna "The design is rather unique," Paul says. "There are four levels, each only a half-story above the other. We wanted to design it in such a manner that it looked like a single-family home." Until the street address signs were in place, identifying the building's composition was a guessing game. While the exterior consists of two symmetrical, 4,200 square-foot halves, the interiors are hardly mirror images. The Berges' home reflects their love of antiques and art, combined with room for houseguests – their children and grandchildren. Len's side is more contemporary and masculine, and is designed to be compatible with his teenage children. The Berges have five bedrooms, each with its own bathroom, plus a den, while Len opted to use his loft as a game room for his sons. A hickory buffet stands near the Berges' dining room table, ready for use at dinnertime, when Mary often feeds as many as 8-10 people. The kitchen is small but efficient, she says, and one of its cupboards houses the entertainment center. Across the cooking island is the great room. "I wanted to design it so that everyone could be a part of the group," Paul says. Purchasing artwork for their home was a joyous undertaking for Mary and Paul who bought much of it locally. The Sioux wedding cape in the great room came from Two Rivers Gallery, as did a John Fery oil painting done in the early 1900s. Three paintings by Lee Stroncek came from Wild Horse Gallery. Above the kitchen cupboards is a 1940s-era painting of a bar scene, discovered by Paul's sister, surrounded on either side by a wooden boot and wooden cowboy hat hand-carved by Arizona artist Bruce McKellar.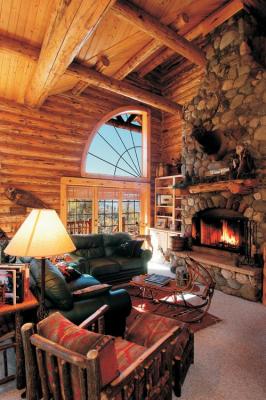 An antique milk sleigh in the great room. Photo by Rod Hanna The coffee table in the great room is made from an old milk sleigh from Wisconsin; antiques from the Midwest complement their Steamboat home. "We brought almost a complete container out from Wisconsin," Mary recalls. "We brought a lot of old hickory furniture, combined with old family antiques," Paul adds. Among the many pieces that decorate their home is a Viking-era carving from northern Wisconsin, that alludes to the couple's nickname for their Steamboat abode. "We call it the Viking Lodge," Mary chuckles. The Berges originally came to Steamboat in 1972, when their daughter, Marin, was only 7. "We came here as a result of a friend of mine who was in the ski business in Wisconsin," Paul says. Not long after they began visiting Steamboat, Paul and Mary invested in property near their present home. Then in 1998, Montana Log Homes in Kalispell, Mont., began cutting the logs for their nehome. The custom, handcrafted home was first assembled at the log yard in Kalispell, then disassembled and shipped to Colorado. The logs were set that fall, but not without challenges. Several of the trusses are 60 feet long, and all are made from single logs. One is the single largest truss set to date by Gabe Butler, owner of Montana Log Homes of Colorado. The truck carrying the logs managed to wind its way up the narroswitchbacks to the Berge building site, but it took a crane to lift and rotate the 18-wheeler's trailer for it to get back out of the neighborhood. The Berges found Gabe when they drove past while he was building a cliff-side home on Ridge Road. "We'd heard of Montana Log Homes, but we'd not really seen any of their properties," Paul remembers. "We thought, 'He could handle the challenges of our site.'" Today, Paul and Mary spend about half their time in Steamboat, returning to Madison, Wisc., where Paul is a retired banker. "We live on a lake in Wisconsin, in a very traditional home," Paul says. "We wanted our Colorado home to be something that fit at a ski area. It has a great deal of warmth about it."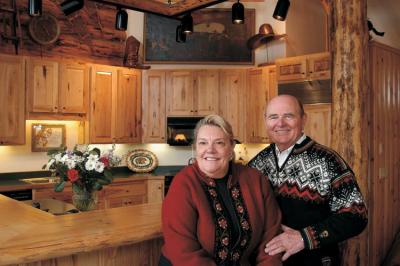 Mary and Paul Berge. Photo by Rod Hanna "Most of our Wisconsin friends go to warm weather places," Mary says, "but we love Steamboat Springs as a community. In a place like Florida, everyone is the same age, but in Steamboat, there are all ages." Paul volunteered for two years as a ski area ambassador and is a board member of the Steamboat Springs Winter Sports Club foundation. Mary is a member of the Steamboat Springs Arts Council. Paul loves to ski, both alpine and cross country, and he and Mary enjoy snowshoeing together. Like so many locals, they came to the Yampa Valley for the winter sports, but have found summers to be enticing. They hike, bike, raft and fish. "There's almost more to do here in the summer than in the winter," Mary says. If anyone doubts the veracity of the Yampa Valley Curse, said to entice visitors to return time and again, all they need to do is ask the Berges, for whom Steamboat is definitely home.