Mountainside: Learning to Fly
07/01/2005 01:00AM ● By Murray Selleck
Summer 2005:
Mountainside: Learning to Fly
by Murray Selleck
   Catching air in the bumps or terrain park looks cool, but the learning curve can be brutal. One off-balance takeoff, one missed landing and your season could be toast. Where do you learn to fly without suffering the consequences of a hard landing?    For members of the Steamboat Springs Winter Sports Club, learning inverted airs and barrel rolls begins during summer by flying off a huge ramp and landing in water. The facility has four takeoffs, ranging from beginner to high-flying expert.    "The water ramp is an amazing facility for Steamboat. People will begin to realize that pretty soon when our athletes start winning events all over the country," says John Kasson, SSWSC snowboard coach and water ramp manager.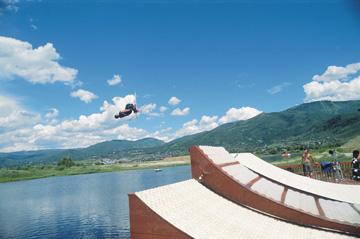 Charlie MacArthur flies through the air before splashing safely into the water. Photo by Aryeh Copa   The results are already coming in. Travis Mayer, a member of the U.S. Freestyle Team and Olympic silver medalist, trained at the water ramp last summer and practiced the airs he used to win the Lake Placid World Cup. Steamboat's Cat Mader, 15, a fast-rising freestyle star, threher first back flip in competition during the high-pressure, 2004 national team selection competition. She nailed the landing and placed second.   "Practicing the back flip at the water ramp and working with my coaches definitely made me feel confident. I kneI could do it when it came time to throit on snow," Cat says.    "This is a really unique facility. It's the only water ramp in the country that is designed for both skiers and snowboarders," John says.    Teams from Vail, Winter Park and Summit County come to train, and U.S. Team members stop by, too.    The water ramp came to be primarily through the efforts of Ed MacArthur, who built a water ski lake on his property and whose sons are in the freestyle program. Through countless volunteer hours and donated materials, the water ramp became reality.    "It is an absolute amazing contribution from one man to the kids in this community," John says. "Here is a facility where the kids can safely pursue their goals."
A NeEra Created in 24 Hours
   Last summer, in a 24-hour period, Steamboat Springs entered a necycling era. During one rainy day, over the course of 1,440 minutes, 217 participants raced, suffered and rode hard during the first 24 Hours of Steamboat mountain bike race.    Three friends, Gretchen Sehler, Brad Cusenbary and Katie Lindquist, formed Rocky Peak Productions, developed the idea and pulled it off with accolades.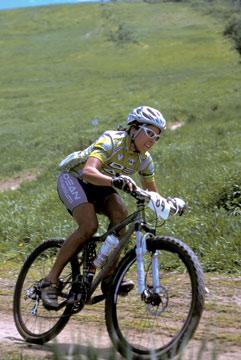 Katherie Zambrana rides at 24 Hours. Photo by Aryeh Copa.   Gretchen, who has years of experience setting race courses for the local Town Challenge Mountain Bike Series and has witnessed its dramatic growth, knethe timing was right for a 24-hour race. Katie is a world champion 24-hour racer, and Brad is a sponsored mountain bike racer and local business owner. Their passion for racing helped sell the idea to sponsors.   "The race exceeded my wildest dreams," Gretchen says. "The best thing about these events is that they are designed to be inclusive. You have the hard-core, solo, do-it-yourself racers, but we also had families enter as teams and we had lots of five-man teams. The idea is participation and having a good time and supporting cycling." This year's 24 Hours is June 11-12. Rocky Peak is also planning its first Tour de Steamboat slated for mid-August (see Summer Wheels in the Steamboat Springs Visitors' Guide). Plus, the group plans to revive the Steamboat Classic, a two-day event combining a cross country mountain bike race followed by a criterium. For information contact Rocky Peak Productions, 879-0480, or visit www.rockypeakproductions.com.
Long strange trip
    Declination, triangulations, coordinate grids, way points. What do these words have to do with jaw-dropping 360° vistas from a mountaintop, exploring secret depths of desert canyons, or traveling through pine forests with trees thicker than a dog's winter coat?    Spend a day or two with Douglas Wipper, who teaches orienteering at Colorado Mountain College, and you'll soon discover these words translate into ultimate access to beautiful areas.    Douglas has been teaching orienteering for more than 30 years. He lived with the Cree Indians on the Churchill River in Canada and in a remote outfitter's camp where the only winter access was by 30 miles of dog sledding. Becoming lost was not an option.     He knows his way around a map and the outdoors. "Orienteering teaches you to use a map and compass in a way that allows you to go places you normally wouldn't go," Douglas says.   "We work through a progression where we start with pretty easy mountain terrain. We then move on to canyons, a bit tougher, and then to heavily treed forests where obvious landmarks are not always available," Douglas says.    "Much of what we do is teach people hoto see. We live in such a linear world with street signs and roads. Street signs are constantly telling you where to go and hoto get there, but once you leave the road or trail, you need to be able to see the subtleties of a topographic map and what that map represents in a 3D world."    Douglas has taught orienteering to high school and grade-schoolers, college students, forest rangers, border patrol agents and laenforcement officers.     "I have a lot of women take my courses because they are tired of their husbands getting them lost in the woods," Douglas quips.     Avoid the long strange trip and take an orienteering course. 870-8127, 888-992-2663, www.orienteeringadventures.com.