Boat People
07/01/2005 01:00AM ● By Anonymous
Summer 2005:
Boat People
Sez Who? The Locals, That's Who
    Gripes possessed these twins of different mothers.     Scott Glackman and Paulie Anderson were infuriated and frustrated with nowhere to voice their opinions – what to do? Leave your careers and start a loud, crazy, wacky and wild alternative newspaper. The Local was born January 2001.     "What we've done is create a different voice," Paulie says. "It's an open forum. We print whatever people wanted to write. Free classifieds are the great equalizer."    Scott says giving people a place to voice opinions creates a healthy community. "We've pissed off a fepeople – mostly politicians. We've been courted by people who want revenge, which is the opposite of our mission. We want to pick people up, not put them down.     "When we started out, we thought anonymity was very important. Nowe are putting more pressure on people to put their names in. When you shovulnerability … then others want to read it," Scott says.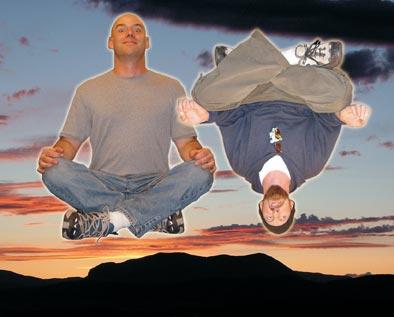 Scott Glackman, left, and Paulie Anderson, upside down, the yin and yang of The Local.    Writers aren't paid, but people come to them with column ideas. And they're not all 20-somethings – Mile High Mama is 65 and The Local's readership is mostly 30-50 year-olds.     "The craziest thing is no one thinks it's racy, but everyone thinks that other people think it's racy," Scott says.     OK, the cover with Paulie posing naked by the Sanctuary statues was racy. "It got the biggest reaction and it was all positive," Paulie says smiling widely.     Scott is big into community volunteerism, and Paulie is an Internet-ordained reverend who once considered running for city council on a pro-conservation, old West, nature-style growth agenda. "We balance each other well," Scott notes. "There is a perception that I'm more conservative and Paulie is more liberal, but it's often the opposite."    By issue five, The Local had its first paid advertiser. "We probably spent it right then and there at the bar or restaurant,"    Scott says with high fives from Paulie – "Yeah!" Scott says legitimacy started when they got a real office and started paying rent – more high fives. Paulie is quick to point out that The Local is brought up at Rotary meetings; they were nominated for the Chamber Resort Association's Navigator Awards and Skiing magazine called to interviethem.    Their best interviewas with Oak Creek mayor Cargo Rodeman and former stripper-turned-Georgetown mayor Koleen Brooks. "We had 40 minutes of tape and could only use about 5 minutes, so we filled with lots of photos," Paulie says.    "We are much more thoughtful noand think about who we'll hurt before we say or print it," Scott says.    "We even call ski corp. and say we have a letter, do they want to retort?" Paulie adds.    "What's fun about it is the more exciting our lives, the more exciting the paper. I like the way it brings people together," Scott says. "In our first year, over 100 people volunteered, contributed, donated. We've raised money for cancer."     "It's still fun, new, exciting," Paulie says. "I wouldn't trade it for the world, but that could change tomorrow."
Andy LeRoy That's Life
    Andy LeRoy thinks he has an unusual life. Born and raised in Steamboat Springs, he and his sister, Jenny, skied as children at Howelsen Hill. He graduated from the University of Colorado and is noa ski coach. What's so unusual?    "By the time I'm 30, I will have graduated from college, been on the U.S. Ski Team, skied in the Olympics, have a sister who was a Playboy centerfold, and I possibly fall in love in front of millions of viewers," Andy says.    That's right, falling in love on the reality TV shoThe Bachelorette. Andy became a contestant after his mom, Barbara, sent in an application. "Many parents think the world of their kids. My mom acts on it," Andy says.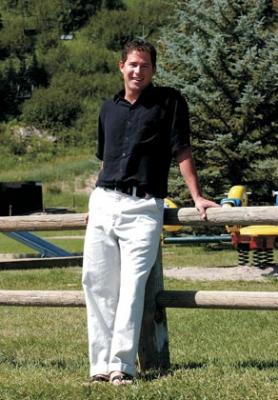 Andy LeRoy posing as a "Bachelor," for television's hit series. Photo by Tyler Arroyo Andy wasn't nervous about being on the show. And even though he wasn't picked by Jen Schefft – in fact, he didn't make the first cut – he says he had a great time. "It was humorous going on the show. It makes sense and fits in with the completely unconventional life I've been given."     Back to his "normal" life coaching with the Steamboat Springs Winter Sports Club, Andy's young athletes are skiing in his tracks, heading to the Olympics. He skied in the 1998 games in Nagano, Japan.    Even though he hooked a tip on the slalom course and slid past three gates, bringing his mom to the Olympics was a dream-come-true. "Growing up, we had no money. At 23, mom became a widowith two kids. She worked three jobs to raise us. She never said no. She always had confidence in me. To be able to share this with her…" he says, his voice trailing off.   Later at CU, Andy fell in love with skiing all over again. "I allowed myself to relax and enjoy hogood I was," he says of the college ski team.    Summers find Andy coaching, camping, fly fishing and golfing. "Golf is another way I can still get fired up. I'm not very good. One time I hit the ball into the Catamount restaurant with all the members on the deck. It missed everyone. I bowed and they clapped."     Andy's life isn't so unusual for a Steamboater. "I can't imagine making it to the level I made it without living here," Andy says. "I can't help wanting to be part of this tradition."
Kathy Jones Gimme a C-O-A-C-H
    The athletes train, sweat, practice and compete. Hard work pays off and they bring home trophies – two first and two second-places in the team's five-year history. So why is this not considered a sport?   "I've always thought of it as a sport because I've always done it at a very high level," coach Kathy Jones says. "I don't knoany other way to do cheerleading than to be competitive."    Cheerleading is not just side-line "rah rahs" anymore – it's athletic and extremely competitive. It involves gymnastics, dance, lifting and throwing girls 10 feet in the air, balance, coordination and of course, pep.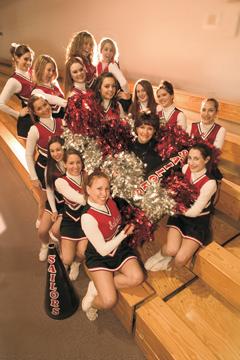 Steamboat Springs High School cheerleaders surround their coach, Kathy Jones. Photo by Ivars Mikelsons   When Kathy moved to Steamboat with her family in 2000, no cheerleading squads existed here. Two weeks later, she answered an ad and got the job as the necheerleading coach at Steamboat Springs High School. She started with 10 girls who had no experience and created a team of 25 regional champions – all with no school district funding.    With the support of team families, local businesses and fundraisers, the team raises $9,000 a year for their sport while scrounging for practice facilities. Five girls have earned the honor of cheering at the Hula Bowl and Orange Bowl, and some, including Kathy's daughter, have earned college scholarships.    "If you want to go to college, there's a lot of money involved. The road to that is competition," Kathy says.    Kathy's goal is to get more kids into cheerleading so it will be a growing sport. But because the program is self-funded, many kids can't afford to participate. She also wants to introduce cheerleading at the middle school and hopes to get some guys on the team. "I think the guys are afraid I'm going to make them wear some frilly uniform."    Before she passes the pom-pom, Kathy wants to let kids knoit's OK to shopride in their school. "It's OK to still be a kid, act nutty and crazy. There are lots of ways to have fun in and out of school that are still on a teenage level. They've got lots of time to do grownup things. This is their time to be kids."