Artscape
07/01/2005 01:00AM ● By Anonymous
Summer 2005:
Artscape
Michelle Ideus Grand Ideas
   Peel back the layers and you'll find Happiness Under a Polka Dot Sky.    The large-scale, mixed-media painting by Michelle Ideus is composed of layer upon layer of stuff – bingo cards, dice, cut-out words, staircases, birds, a flower, lips, an angel, stars, a paintbrush and flooring. From a distance you see the horse standing in a pasture. Up close, details emerge and the horse is standing on a checkered linoleum kitchen floor.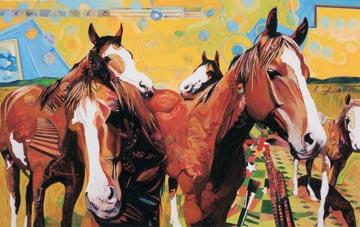 Happiness Under a Polka Dot Sky, mixed media painting by Michelle Ideus  Michelle develops her paintings from photographs she takes of Steamboat horses. She then paints and uses collage techniques to create vividly colorful dimension and texture.   "The collage spirits the piece with ideas beyond what I started with. It's fast and furious where it's come together," Michelle says.    The
Horsin' Around
series evolved over three years, becoming more vibrant and active. "I wanted to do something that wasn't traditional Western art. Trying to create my own identity inspired me to move in a nedirection," Michelle says.    Themes are repeated in Michelle's paintings, bringing something from one into another. To tell the story of Steamboat she incorporated the horse theme with depictions of downtown shops. The juxtaposition is simultaneously quirky and perfectly real.    Michelle donated artwork for local community fundraisers such as the Ski Town Golf Classic, Tennis Center at Steamboat and painted a pair of mixed-media skis for the Backcountry Ball. Her work is also being commissioned for this summer's Steamboat Wine Festival, and Emerald City Opera will showcase one of her paintings for a poster.    Working with her husband, Dean Laird, who built her web site and handles all the marketing, Michelle's art is emerging in galleries beyond Steamboat. The Madison Fine Arts Gallery in Makawao, Hawaii, norepresents Michelle's work.    For more of Michelle's grand ideas go to art-ideus.com.
Beth Banning Branching Out
   Shadows make the long, thin branches of the red willoappear to reach off the stark, white wall as they bend, twist and intertwine.    Beth Banning's sculptures have a flowing softness as she weaves, knots and crochets the willows. "The medium is so sensual. It's easy to mold and shape. I like the softness."     Growing up around relatives who crochet, knit and sew, Beth used these techniques to make functional objects. Function eventually gave way to making artwork more concerned with the beauty of the natural materials.     Using only one or two elements, the three-dimensional sculptures sometimes stretch up to eight feet high. Wall hangings blend intricately crocheted fibers with elegant branches. One time Beth created an elaborate hat for an art opening out of willoknotted together with waxed linen.     "I'm trying to recreate what I've found in nature and look at it in a different way," Beth says.     The experience is cathartic. "I like the tranquility of the process. It's very calming and a soothing way to seek solace," she says.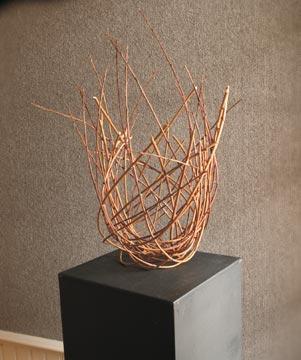 Besell, woven red willobranches, by Beth Banning. Photo by Ivars Mikelsons   While her materials come from the earth, Beth does not feel rooted to her compositions, easily letting go. Her son, Logan, was saddened upon seeing a massive sculpture become kindling when there was no place in their home for the piece.      Beth selects her materials mainly from along the Yampa River and in Wyoming. A recent quest to the historic Carpenter Ranch near Hayden yields willobranches for a piece she is donating to the ranch's Rivers to Ridges benefit.     Beth molds, weaves and crochets the supple branches – sometimes using tree pieces like seeds along with linen or other fiber – into naturally beautiful forms. She bestows them with peaceful names like
Quiet, Hushed and Quiescence
.    "There is so much chaos and stress in the world. The beauty in nature can't be taken away from us. It's sometimes hard to see the beauty is just as true."     VieBeth's work at TEI Modern Contemporary Gallery in Torian Plum Plaza.
David Taylor Puzzle Pieces
    A light bulb went on and David Taylor's world was turned upside down.    That lightbulb was cut from a piece of cloth. "I can do this. I had no idea you could make art pieces with quilts," David said after helping create an art quilt for Strings in the Mountains.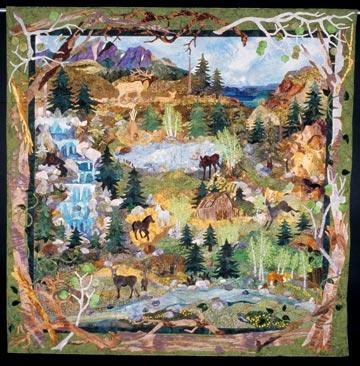 Elk River Summer, hand-ebroidered quit by David Taylor. Photo by Ken Proper   David was 10 when his mom taught him to sew. He made Halloween costumes and started making his own clothes at 12. But quilting didn't appeal to him until six years ago when he helped Madeleine Vail create an elaborate quilt that raised $25,000 for Strings.     His sewing machine has been humming ever since. He was even invited to quilt with a group of local women who share ideas and teach David the art. "Ellen Carlson taught me hoto thread a needle. Paula Black keeps me on track," David says.    Designing, selecting fabrics, cutting, sewing and embellishing a quilt can take David three months to complete. The wall-size Elk River Summer took two years with its hand-embroidered wildflowers, grasses, cattails and aspen leaves of silk ribbon. Weathering the Storm, about a spider, has tiny beads sewn onto the embroidery to look like dewdrops on a web.    "It's like doing a giant jigsapuzzle," David says of the process. "It's like drawing with thread – that's the art for me."    Two quilts were selected for a prestigious international shoin Houston, one of which won adult grand champion at the Routt County Fair. Two others were used as fundraisers for Literary Sojourn and Perry-Mansfield.    "Every piece is thought out and planned. Sometimes I have to rip out pieces," David says, noting that he would re-do every quilt if he could.     Hundreds of colorful and exotic fabrics lay neatly folded on shelves next to the Bernina sewing machine. A large felt board stands empty waiting for David to audition swatches and carefully piece together his next puzzle.