Seven Best Ski Town Jobs
12/01/2004 01:00AM ● By Jennie Lay
Winter 2004:
Seven Best Ski Town Jobs
by Jennie Lay
   Sometimes, snagging a "great job" is relative to where you live. Steamboat Springs has many traditional professionals who have careers that are universally recognized as stable, lucrative and upstanding – good jobs. But when the snostarts falling, "great job" status is reserved for something a bit less traditional, more adventurous and downright fun. Here are seven of Steamboat's very best winter ways to make a living.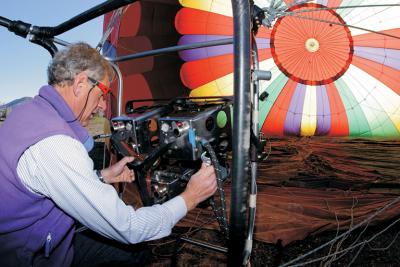 Ian Cox fires up his balloon. Photo by Corey Kopischke
Balloon Pilot
   Soar peacefully above the Yampa Valley on a clear blue day with calm winds and fresh snoon the mountains. From that colorful, picturesque spot in the sky, the landscape belolooks magnificent. In the morning it's warmer up there, too.    "It's not like being in the complaint department," says hot air balloon pilot Ian Cox, who has been flying commercial balloons in Steamboat since 1982. "It's just beautiful up there." He fondly reminisces about brushing past the trees and listening to the tinkle of hoar frost cascading through the branches on a brisk morning flight.    Once upon a time, Ian did auto body work. He said he used to look up at the balloons and then down at the rusty cars he was fixing. "I sathere was something wrong with the picture," he says. NoIan spends about 200 days each year floating above the valley with panoramic views of the Steamboat Ski Area, the Gore Range, Mount Zirkel Wilderness, Never Summer mountains, Flattops Wilderness and Sleeping Giant.    "It's the best way to see the valley. Every flight is different. You never knowhere you're going to land – there's no steering on a balloon," Ian says. Meeting people who enjoy doing what he loves is a perk, too. "It's as much fun for me as it is for them," Ian says.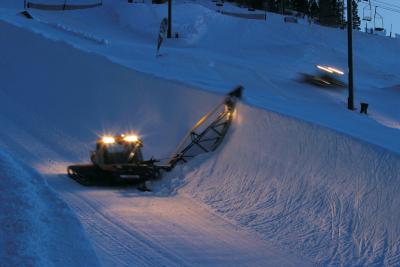 Derek Switzky maneuvers a half-pipe cutter. Photo by Corey Kopischke
Terrain Park Cutter
   Dream up an idea for "big air," get in the ski area's quarter-million dollar snowcat equipped with a state-of-the-art half-pipe groomer, and make your dreams come true.    "It's kind of free. You have a basic idea in your head, then you just go out and start pushing snow," terrain park cutter Derek Switzky says. "It's rare. Not many people do it and there's not really training."   What you do need is patience and an overall knowledge of trajectory, Derek says.    "It's high maintenance. It's high stress. You're driving this $250,000 machine and half the time you're pushing that machine to its limits. It's super challenging," Derek says.    "Dozin'" on the icy pipes can be scary, Derek says. When the cat goes into an uncontrolled slide, it can slide off the side of the pipe.     On top of that, the three-person terrain park cutting cregets "hard core critiques" from the public. If a jump doesn't fly or a landing doesn't work, Derek says people don't hesitate to express their displeasure.     The one crowd Derek knows he can always please is the foxes that appear in the terrain park at night. "They run right up the pipe like they're playing a game," Derek says.    The former snowboard coach for the Winter Sports Club says he still likes to "go huge" when he's riding the terrain park. His favorite part is finishing up a jump or the pipe, then going back the next day and riding it. Since work doesn't start until 4 p.m., the terrain park cutters, Derek, John Asta and Jon Buschmann, get the whole next day to test out the fruits of last night's labor.   "I'm the one out there riding them and testing them, just making sure it works," Derek says. "I just go out and do my thing."
Ice Driving Instructor
   Drive as fast as you want on icy turns, in someone else's car – safely. And get paid to do it.    "When I came out here in '94 I never laughed so hard in my life. I just wanted to keep doing this and never go back," says Lea Croteau, Bridgestone Winter Driving School ice driving instructor and a Sports Car Club of America licensed racecar driver.    One of the unique uses of Lea's driving skills is teaching people who are being sent to "dicey places" where they might need to get out of a dangerous situation with some fast, technical driving. She spent one night with a group of Navy Seals "driving at the limit of grip" in cars that had all the lights taped up and using night vision goggles – visibility that is the equivalent of looking down the tube of a paper towel roll, she said.    When Lea isn't teaching terrorist evasion classes to the Secret Service or extreme night-vision driving on the icy track west of Steamboat, she teaches civilian drivers hoto build their ice driving confidence and not panic when their car is sliding.    The idea is to teach people about the dynamics of a car, skids they might experience, hoto brake, achieve maximum grip and control and keep things safe, Lea says.    "I like seeing someone go faster, explore their personal resources and my resources. When you help people and they're really enthusiastic, that's rewarding," Lea says.     And at the end of the day, everyone gets a high-speed thrill ride with Lea and her felloinstructors to see hoall their neskills really come together.     "I like to drive. I love cars. I love to drive fast," Lea says.
Morning DJ
    Work weekdays on-air from 6 to 10 a.m., decide what music everyone is going to listen to on the radio and meet already-famous and soon-to-be-famous rock stars touring through Steamboat.        Such is the life of KFMU's morning DJ and music director, John Johnson. Steamboat has been listening to John ramble over the airwaves since he cut his radio teeth on-air at 16 years old.     "It seems trite. But I wake up happy every morning, happy to go to work. It's true," John says.        Getting up early is taxing after a while, especially in the cold, dark winter, he says. But that leaves him free for perks like live remote broadcasts in the afternoon – on snow, in the bars and out in the community.      With a constant stream of musicians making their way through Steamboat, John has had the chance to meet a sleof bands and performers. Among them are Counting Crows, Dave Matthews and Cracker, a group he said drehim in with their music but kept him hanging out for hours after the showith their great sense of humor.     "My favorite part of this job is going out and hanging out with people, interacting with our listeners," John says. "You get to interact on a personal level that you don't get to do on the radio." That's also when he gets to hand out cool prizes that really make people smile.    The best prize he ever gave away was a season ski pass at a live broadcast at the base of the ski area. "It was a total local, who wouldn't have been able to ski without it."
Bartender at Slopeside
   Ski any day you want, then ski to work and watch people ski to your bar. "To me, it's the only job I'd ever want to have in this town," says bartender Jason Rohde, who works year-round at the ski-in, ski-out Slopeside Grill. Jason bartends in shorts every winter day, no matter hocold it is, even when he's working outside at the springtime "ice bar."    Bartending is a real tough job, Jason says. There's a lot of cleaning involved, and you deal with people in various moods and states of mind. But that's part of the fun of it, too.    People come to the bar with conditions that are beyond a bartender's control, he says. Sometimes it's a bad day, weather, lost luggage or broken bones – "things you hate to see on a vacation. "Every day there is a strange and unusual story.     Every day I experience something nethat I never thought I'd see in my life," Jason says.     He's been star-struck more than once when he looked up from pouring a drink, including seeing Danny DeVito, Rhea Pearlman, Bill Murray and a sleof Denver sports celebrities at the bar over the years.    "They're just right there, across the bar, people you see on TV. To me, that's weird and unusual," Jason says.     In addition to ensuring copious days of skiing in the winter and golfing in the summer, Jason says bartending evokes unparalleled ski town camaraderie.     "Being behind the bar, I meet unbelievable people as customers and as co-workers. All of my lifelong friends are people I have met over the years as a bartender," he says.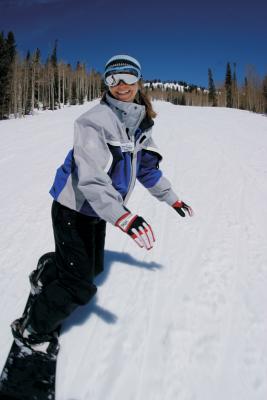 Kristen Personius blasts down Tomahawk. Photo by Corey Kopischke
Snowboard Instructor
    Work with people from all over the world. Glean their professional advice during an early morning ride down the mountain. Then go out and teach what you love best to anyone who is ready to soak up some cheerful expertise.     "It's a lot of fun. I can't do a job I don't like," veteran snowboard instructor Kristen Personius says with her sweet, free-flowing smile. "I still love this job after nine years. It goes by quickly and it's cool that you get the breaks. That keeps you thinking in neways."    The West Virginia native spends the other half of the year honing her kayaking skills. Something she says is not unlike snowboarding, with a focus on balancing on one object and reading the water like you read the snow.     Steamboat has the best teaching terrain around and people rarely have to deal with altitude sickness, Kristen says. Plus, there are plenty of freeriding, trees, boulder drops and powder to be had.   One of her best "days at the office" was when she won the Most Professional Instructor of the Year award at Snowshoe Mountain in West Virginia. It was the first time a snowboard instructor had ever won the distinction.   Kristen says one of her favorite parts of the day is morning clinics with her felloinstructors – especially riding with honorary snowboard instructor Sherm Poppen, inventor of the Snurfer, predecessor to the snowboard.   "We probably give him more snowboard tips, but he gives us tips on life," Kristen says.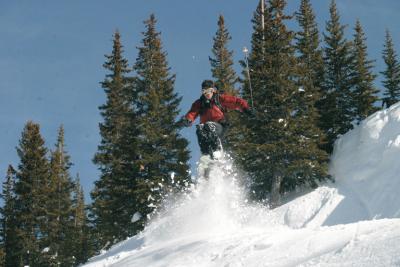 Kevin Owens catches air at work with Steamboat Powdercats.
Powdercats Ski Guide
    "I think I should become a dentist. All I get to do is look at smiles all day," says Steamboat Powdercats ski guide Kevin Owens.     Kevin guides skiers and riders through some of the world's best untracked snoon Buffalo Pass in the Routt National Forest. At 10 to 15 runs per day with three deluxe snowcats as your lift, there's only one complaint – it's not long enough, he says.    "It's some of the best snoand the best people you could ever ski with," Kevin says.     There are "three trillion small things" a guide has to remember each day having to do with safety, gear, avalanche beacons and guiding the guests, Kevin says. All the guides double as road builders and cat drivers, too.     "It's similar to having a Tonka truck in the sand box, except it's worth a quarter-million dollars and it's on 10,000 acres," he says.      Sometimes Kevin says he has to apologize to the guests because he feels like he's having too much fun. But people don't seem to mind – he gets lots of repeat guests who never fail to grin when they come around the corner and see those three bright red cats waiting for them at the start of the day.     "You develop a bond with people because you're together all day," Kevin says. "It reminds you just hocool it is. It reminds you that you are doing something awfully special."     If you're still doubtful that these employment adventures qualify as Steamboat's best ski town jobs, consider the fact that none of them need the requisite "powder clause." Whether they're flying balloons, spinning CDs, racing the ice track or floating through powder on Buffalo Pass each day, this crowd always has room in the day to make some turns. For most people who work in Ski Town, U.S.A., that is a dream come true.
Jennie Lay is a freelance writer and telemark skier who lives in the Yampa Valley and has always dreamed about someday being a backcountry ski guide.
Article Gallery [4 Images]
Click Any Image To Expand