Going to Non-Extremes
12/01/2004 01:00AM ● By Jennie Lay
Winter 2004:
Going to Non-Extremes
by Jennie Lay
    Admit it. Once in a while every diehard skier has a day when he or she just plain doesn't feel like putting on all that gear to trudge out for a full day on the slopes. On the other hand, that doesn't necessarily mean you want to be a couch potato either.    That's when Steamboat Springs' stash of non-extreme winter activities saves the powder day. They're cheap, accessible and no lessons are required – although taking note of a fehints from a local gear shop guru can help make a fun adventure positively fabulous.   Here are some casual ways to alter your perspective on the local scenery, breathe in the fresh mountain air and enjoy Steamboat in the wintertime.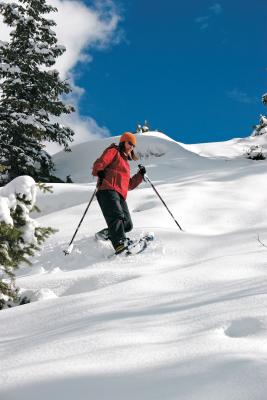 Chris Seybold snowshoes in Stemaboat's backcountry. Photo by Tom Seybold
Snowshoeing
    In case you hadn't noticed, snowshoes aren't the mountain-man clodhoppers they used to be. Modern technology has made them small and light, and there's no mistaking homuch easier it is to trek to neheights.   "It really covers the full spectrum," says Peter Van De Carr, owner of Backdoor Sports, an outdoor gear shop that rents snowshoes. "Folks can access some pretty wild terrain, or you can just go for a walk down the bike path."     Rent a pair of snowshoes, grab your ski poles and set off in any direction from the Yampa Valley floor. To strap on a pair of snowshoes, tennis shoes will do. Snug fitting snoboots will do better.          It's a sport for all ages, Peter says. "Kids go wild for snowshoes. They're funny things to have on the bottom of their feet – it's a real liberating experience. Kids have the greatest time going across a snowfield or running down a hill."     With your own map or a hired guide, you're ready to hike just about anywhere.    The Steamboat Ski Touring Center has 30 kilometers of gently rolling, groomed trails to get you started. Or head straight up the well-trodden trails on Howelsen Hill that provide an expansive vieand an aerobic workout to boot. Take a leisurely walk around the upper reaches of the ski area after riding halfway up the mountain in the gondola, or power climb all the way up on designated snowshoe trails. Venture into deep backcountry on Rabbit Ears or Buffalo Pass, or stick to winter trails at Steamboat Lake, less than 45 minutes from downtown, or Stagecoach State Park, 15 minutes away.     A snowshoe journey can be as short or long as you like. The pace can easily be a saunter, or hardcore. Either way, the gear is minimal. And it's full of opportunities to explore Steamboat's winter wonderland.
Tubing
   Sliding down the lower reaches of the Steamboat Ski Area on a giant rubber inner tube is not your average sledding adventure.   For starters, you don't have to drag your speedy sled back up the hill – that's what the chairlift is for. That leaves you and your cohorts with lots of energy to experiment with the forward belly slide, the twisting backwards glide, the double inner tube slither.   No lessons. No gear to buy. The ski area rents deluxe sledding tubes that easily hang off the chairlift for carrying convenience. The only requirement is that sledders need to be at least 36 inches tall. Children under 18 must have a waiver signed by a parent. And while you're whizzing down Previeit's a great time to take in the sunset or admire the moon rising and stars glimmering in the night sky.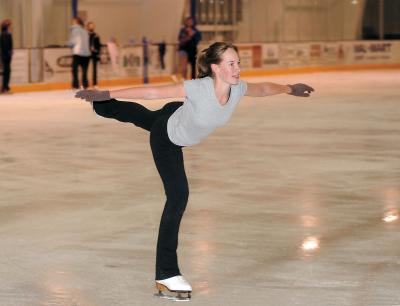 Jenny Spencer practices her technique at the ice rink. Photo by Tyler Arroyo
Ice Skating
    Howelsen Ice Arena is open for public skating daily throughout the winter. There's no need to pack your rusty old skates since the covered rink at the base of Howelsen Hill rents both modern hockey skates and figure skates. Parents can even tosmall children in sleds around the well-tended ice. The arena, which is home to thriving hockey and figure skating programs, broadcasts music to accompany public skaters as they glide around the rink. And maybe best of all, an invigorating afternoon on the ice rink costs less than $9, skates and all.   If you don't skate, you can watch fast high school and adult hockey teams. Ice arena manager Stacey Foster suggests watching the Wednesday Night Ski Jumping at Howelsen Hill, then heading to the ice arena for a hockey or a figure skating performance.    Private and group lessons are offered and the rink can also be rented to groups for parties.    "We encourage people of all ages and abilities to come down and feel the thrill of the chill," Stacey says. Call 879-0341 for public skate times.
Ice Fishing
   When winter chases away the fair-weather fishermen and local lakes freeze with foot-deep ice, it's fishing time in northwest Colorado once again. On any given day, Stagecoach Reservoir, Pearl Lake and Steamboat Lake are speckled with the bright colored tents of fishermen trying to escape the potentially biting wind that can whip along the ice. Equally important is the choice of seating – a selection that ranges from upturned buckets to leisurely lounge chairs.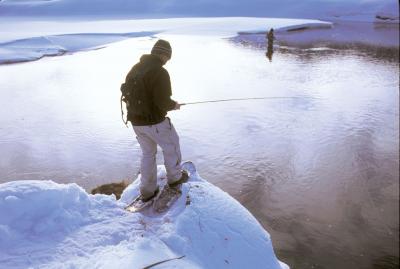 Early spring fishing and showshoeing along the Yampa River. Photo by Aryeh Copa    There's no need for a fancy setup. Dress warm, especially your feet. Grab a Colorado fishing license at the U.S. Forest Service office or any local fishing shop. Bring lunch, a short fishing rod and mill worms or salmon eggs to bait trout and pike. Then all you need is an auger to punch a small hole in the ice.   "It's not too technical – not like fly fishing – but it's still getting a fish on the end of your line," says Mike Orsi, an ice and fly fishing guide with Bucking RainboOutfitters.   Local fishing shops can help set you up with the minimal gear so you can venture out on your own. Once you're on the ice, camaraderie on the frozen lakes will surely garner neskills and expanded ice fishing insight.    Plus, there's always the chance that you'll catch a really big fish. "The big draout here is trying to catch those record pike," says Stagecoach State Park Manager Mike Taylor. Colorado's largest pike on record was caught at Stagecoach Reservoir in 2003 – it was 46 inches long.    "From what I understand, he had a hard time getting it through the hole," Mike Taylor says, adding that the fisherman did release the champion pike back into the lake. In addition, the Colorado Division of Wildlife consistently stocks Stagecoach Reservoir with large trout, he says.     If you're looking for a little guidance in catching your own giant fish, learn the ropes from an ice fishing guide for hire (see Activities, p. VG38). "It's for anyone who likes the outdoors, beautiful scenery and year-round fishing … all ages like to go out," Mike Orsi says.
Cross Country Skiing
    It has been said more than once that a free heel frees the mind. Get out on some skinny skis with a mere set of "pins" to keep your toes in place and glide on over the hill and through the woods to see just hofar you can go. There are enough trails around Steamboat to keep you exploring for weeks.    Steamboat has a long Nordic skiing tradition and it continues with an ever-growing network of groomed trails for aerobic skate skiing and classic skiing, and thousands of acres of National Forest that are perfect for leisurely tours in the backcountry. Skis, boots and poles are easily rented at multiple local ski shops.   "Sometimes cross country skiing can feel intimidating, but it's definitely not," says Emily McWatters, a cross country ski instructor.   Start out on the flat, groomed tracks at the base of Howelsen Hill to get the feel of the glide and slide – then try a steeper climb to scenic rolling haymeadows farther up the hill. Or take a tour around the 30 kilometers of groomed trails at the Steamboat Ski Touring Center, where you can also take a lesson with a professional. Enjoy the high mountain scenery at Vista Verde Guest Ranch and The Home Ranch north of Steamboat, or just south of town at Lake Catamount, either of which lets you ski on groomed trails and pop in for a warm and cozy lunch.    For a more adventurous experience, pack your own picnic and head up to Rabbit Ears Pass and follothe looping trails marked by blue diamonds. Maps are available (and recommended) from the U.S. Forest Service office in Steamboat.    Consider buying a three- or five-day Steamboat Valley Nordic Pass that is good at Steamboat Touring Center, Lake Catamount, Vista Verde, Steamboat Lake State Park and Howelsen Hill. The pass is available at all five locations and the Steamboat Springs Chamber Resort Association.    "Each area has its uniqueness. All five offer different things," Emily says.    Any of these ski tours can be as long or short, gentle or extreme, as you choose. Remember extra water, layers of warm clothes, a map, water and snacks if you're headed into the backcountry. Beyond that, it's between you and the trees and whoever else is lucky enough to join you on your cross country ski adventure.
Take a Walk Along the Yampa River Core Trail
    During Steamboat's notorious three-wire winters, two small blue tractors plosnooff the 5.5-mile path that winds past historic downtown Steamboat along the Yampa River.    The trail starts at the bus depot on the west side of town and ends just south of Walton Creek. The trail meanders close to the ice rink, Howelsen Hill and several places where you can rent snowshoes or cross country skis. This might be the perfect opportunity to check out several newinter activities. Along the way, you'll pass the ski jumps on Howelsen Hill, sculptures, natural springs, rodeo grounds used for winter chariot races, the Depot Art Center, quiet residential neighborhoods and tranquil natural areas.    To make your winter adventure extra sweet, meander to downtown Steamboat before the alpenglolights up the mountains. Have a leisurely cup of hot chocolate and a decadent treat in a cozy corner at a local coffeehouse.    Remember, this is your day off. No need to go to extremes.
Jennie Lay is a graduate journalism student at the University of Colorado, Boulder. She and her husband are Yampa Valley residents who enjoy all types of winter activities.