Artscape
12/01/2004 01:00AM ● By Anonymous
Winter 2004:
Artscape
A trio of ancients - Rocks, formulas, patterns
Leo Atkinson – Mother Nature's son
    From the caves in Uruguay, the mountains of Morocco and Sahara Desert in Africa, the materials come to Leo Atkinson's Steamboat Springs studio. Like a puzzle, Leo pieces together the sparkling minerals, fossils and marble to create his masterpieces.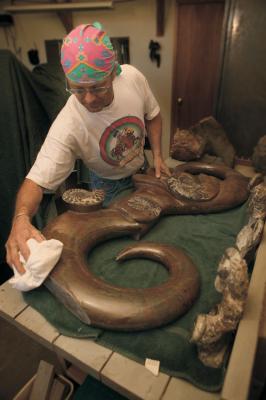 Leo Atkinson wrestles with his sculpture as he sands. Photo by Ivars Mikelsons   Deep purple amethyst crystals, embedded in softly curving geodes, sit atop mineral specimens. Polished fossils, recording the last moment of life for sea creatures from the Palaeozoic era – ammonites and trilobites – rest on slabs of marble or limestone.  Some of the sculptures are huge – five to nine feet high. Others rotate, creating different visions in changing light. "I see hothings can go together. I'm always looking for the real unusual," Leo says.    They look modern, yet feel ancient. "My sculptures look contemporary, but are one of the oldest antiques around. People are starting to open up to fossils and minerals (as art) because they are thinking more about their past," Leo says.    Using saws, chisels, industrial diamond sanders and angle grinders, Leo wrestles his creation, and himself, into shape. He employs one person in Morocco – the eldest son of a Moroccan family – to hand pick the most unusual geodes. With this job, the boy is able to support his parents and siblings.    The results are pieces that become the focal point of a room. "I'm looking for something that is a step above beautiful – unusual," Leo says. But he is quick to credit his source: "You can't outdo Mother Nature."
R.C. Dieckhoff – The shape of things
   A world of softly rounded colorful shapes, brilliantly blue sky, glistening white snoand gently rolling landscapes. R.C. Dieckhoff's pastels are eye-catching. They are at once surreal and familiar, mystical and natural. "I was inspired by the simple beauty of Japanese prints and their concept of 'the floating world,' R.C. says about a world celebrating ordinary scenes of everyday life.    Captivated by the natural geologic beauty of the Yampa Valley, many of R.C.'s recent works depict Steamboat Springs and the surrounding area. Paintings such as "Devil's Causeway," showing the Ute Indians crossing with blindfolded horses, have a quiet historic quality with a vibrant supernatural twist.    The theory behind R.C.'s art is equally fascinating: Pythagoras' Golden Rectangle. Art historians have said the shape, whose sides are related to phi, is one of the most visually pleasing geometric forms. One of the most ubiquitous dimensions in art, it is seen in Greek architecture, Da Vinci's Mona Lisa and even Mozart's sonatas.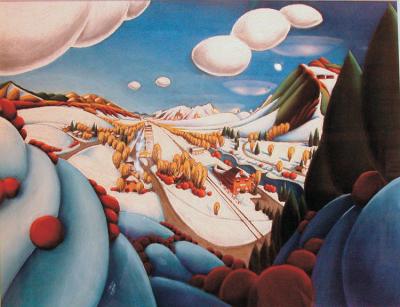 "Fairview" by R.C. Dieckhoff. Photo by Ivars Mikelsons   Recognizing the interactive element of shapes in nature, R.C. makes hyperbolic shapes intrigue the eye and create a path to follow. Just as the Golden Rectangle expresses movement by spiraling into infinity, R.C.'s paintings have a fluidity that give his works a sense of movement.    Using a calculator, R.C. finds the ratio of proportion of his subject before beginning his painting. "Natural segmentation makes it (the painting) work," he says, noting that observation is a key trait for an artist.    R.C. uses color to capture the emotional side of his subject. Shades of blue, purple, red, yellow, green and everything in between are frequently used in a single piece. Just for fun, he sometimes includes hidden elements in his paintings. "It's sort of like 'Where's Waldo?'" he says.    Many of R.C.'s Steamboat paintings are on display at Centennial Hall. " I think (my work) has found acceptance in the community because it's topical – it means something to people," he says.    That acceptance was solidified when his painting of Centennial Hall was presented to Laura Bush at a White House ceremony recognizing the city's historic preservation efforts.
Chase Oriental Rug Seminars It's not just about the knot
   Take a journey – experience another place, time and culture. Through free seminars sponsored by Chase Oriental Rug Company, everyone from the simply curious to experienced rug aficionados can learn about the art of the rug.    The art is ancient. Some patterns are centuries old. Weaving rugs has not changed much in 3,000 years, with one notable exception.    For almost 65 years, rug makers stopped using natural, vegetal dyes in favor of synthetic dye. Combined with lower grade wool and industrialized manufacturing techniques, rug making risked becoming a lost art.   In the 1980s, a sort of renaissance occurred. "A handfull of rug makers stopped taking shortcuts and went back to using vegetal dyes and the finest hand-spun wool. They started creating art forms that people can appreciate and that are also functional," says Chase owner David Scully. He points out that today, only three to five percent of all woven rugs are made of hand-spun wool using vegetal dyes.
David Scully. Photo by Ivars Mikelsons   The process is meticulous and labor-intensive – each part is an art form of its own.    It begins by sheering and washing the wool. Then it's hand-spun, hand-dyed, and woven on looms. Individually tying thousands, even millions of knots, weavers can take from six months to a year to complete just one rug. It is then sheered, washed, dried and sheered again to bring out the pattern.    A carpet's design may have passed down through generations – often the rug maker knowing the pattern from memory. A modern rug with an ancient pattern and vegetal dyed wool can actually look antique as rug makers strive to replicate historic designs using traditional techniques.    While in Turkey, David visited one rug maker's research and development team. Two women were sitting in a small room simply spinning wool into yarn of different diameters. They were experimenting with hoyarn thickness affects weaving technique, to create nerugs that look like they were made a century ago.    Other designs, like those of Steamboat rug designer, Jessica Miller of J. Milo Design, are extremely modern. Her rugs are hand-knotted in Nepal and can be seen at Chase.    "The seminars are informal and relaxed," says David. Materials, techniques, cleaning and buying are discussed. The culture of the native land is spotlighted by a slide shogiven by rug producers and importers.     Free seminars, in Chase's showroom, are followed by a reception with wine and music. Seminars are planned for January and March. Call 879-5667.