Yampa Living
07/01/2004 01:00AM ● By Kelly Silva
Summer 2004:
Yampa Living
by Kelly Silva
Adding a room to the house? Try a Tipi On a typical country road through the Yampa Valley, it's common to see a herd of wild
elk or a weathered barn. But more often homes, ranches and retreats are erecting tipis, not tents.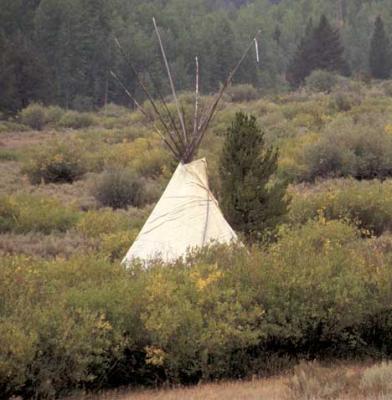 Nestled in a remote setting or a back yard, tipis are a geat way to connect with nature. Photo courtesy of Schuman.
These American Indian canvas shelters, ranging from 9 to 30 feet high, are noused as family retreats or decorative guest accommodations. In keeping with indigenous décor, many include fire pits and animal hides, while others are decorated with dressers, full-size beds and coffee pots. Julie and Tom Ernst invested in a chiminea, or Mexican firepot, to add warmth to their tipi, and incorporated a southwestern décor to complement the atmosphere.
The Ernsts enjoy snowshoeing around their property in the winter and heading back to the tipi for relaxation. In the summer, the tipi provides nature's best guest accommodations or an escape for mom and dad.
"There's no distraction of the TV tipi that sits just steps from their home. "We plan to growith it. You're imagination and creativity can work wonders. It's a great place to read a book (and) it's really conducive to conversation."
In Elk River Estates, Deana and Rick Voeltzel's home among the reed grass and aspens inspired a protected 20-foot tipi. Deana says they really wanted to get back to the basics and live down to earth – literally.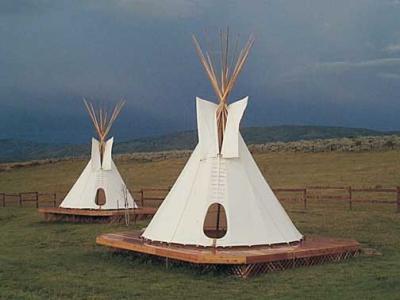 Standing proudly against the azure sky, the tipis invite shelter from an approaching storm. Photo courtesy Lynn Atkinson.
"We lived in it while we built our house," Deana says. "Noit's a highly maintained guest room." Lynn Atkinson's two tipis are a part of her serene country property that gives friends and family a deeper appreciation for nature.
Her family has celebrated birthday parties in the tipis, newlywed friends have enjoyed it as a honeymoon suite, and kids share overnight outings. Lynn says the gorgeous country ambiance makes the time and construction worth every penny.If you've seen one barn …
Nowhere is the heartbeat of the old west stronger than in the image of antique barns scattered graciously throughout the Yampa Valley. Steamboat's western roots remain
unforgotten as property owners maintain these venerable structures, even minus livestock.
"It's a piece of Americana that you just don't see much of anymore," says John Fisher, manager of The Home Ranch, a luxury guest ranch in Clark where the barn is a main focus.
John notes that the barn reminds guests of the horse program offered year-round. Once a week, The Home Ranch throws a barn dance for its guests, who honky-tonk the night away
and enjoy cocktails in the loft bar.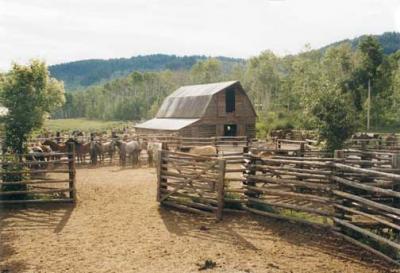 The home Ranch barn is still used for traditional ranching and agricultural needs by day. Photo courtesy of The Home Ranch.
Reminding us of an age gone by, Jerry More's barn off Pine Grove Road has become an icon, representing a skiing community that keeps its western roots alive.
"It's where (the barn) sits in front of the ski hill. It just takes an awful good picture," Jerry says.
Originally situated on a 160-acre lot that Jerry bought to house 80 cows and working horses, the barn is now surrounded by 20 acres and only stores extra hay. He hasn't done much to maintain his historic pine-log barn, but acknowledges that he needs to start soon before it crumbles.
While Steve and Michelle Caragol don't use their 1,200 square-foot barn for livestock or hay, Steve says it makes a nice workshop, exercise space and storage area.
Their cedar-built pole barn has 8-foot overhangs, much like carports, on each side, a gable or peaked roof, shake siding and a weather vane on top.
Steve says the style is fairly typical for this area. "They're either cedar, or some people make them out of metal, (which) is less expensive and easier to maintain," Steve says.
Smart Homes:
Noif they could just cook, clean and take out the garbage (babysit, do the shopping …) Just because Steamboat is a remote ranching community doesn't mean you have to trade your satellite and high-tech toys for a tractor and plow.
In fact, video and audio techies in the Yampa Valley are finding more homeowners installing contemporary wireless home electronic systems.
When Georgia residents Lee and Pam Kennedy built their Steamboat home in 2003, they planned for a plush retirement. By pre-wiring an electronic remote control system during the building stages, they saved time and money.
These "smart" homes are now constructed with the lights, heat, audio and video all connected to one system, which can be controlled through the click of a mouse, or a color-touch panel. Audio, calls this "integrated lifestyle technologies."
"You can log in (on your computer) and look at more than just your entertainment
system," Paul says of a system that can turn on your washing machine or dishwasher. "We've got controls that turn on the Jacuzzi or make the beer fridge really cold when you get home."
A home theater system is a popular element of a smart home, and Pam says the system they installed is worth the money. While it hasn't replaced going out to the cinema, she says it makes snowy nights easier to stay in.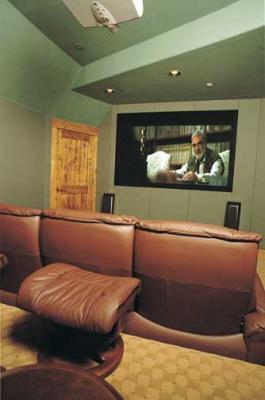 A home theater system, with high-definition or wide-screen TV and surround sound, is a popular component of smart home. Photo courtesy Ken Proper.
"We started researching from Atlanta, learning about good products," Pam says. "We knethe direction we wanted to go and the quality we wanted."
"A home theater system can mean a whole bunch of different things," says Yampa Valley Sound's Dale Johnson. It typically consists of a video source, a viewing device (TV), audio processer (receiver) and about five to seven speakers.
Other aspects of smart homes allow homeowners to turn on lights, turn up the stereo, or bring heat to a home that may have sat empty for weeks – all through the Internet or custom remotes around the house.
"We can custom configure it to hoyou want it," says CDA's Ray Martinez. "We can make (these systems) as simple and user-friendly as possible." Paul says even the most frightened technophobes can use these controls. "You don't have to be a rocket scientist to figure it out."
Ray says he has installed home theater systems that cost as little as $8,000 and as much as $300,000 CDA installs about 10 full-control "smart home" systems a year. Ray says they usually cost from $10,000 to $500,000, depending on hoit's customized.
Article Gallery [4 Images]
Click Any Image To Expand