Mountainside
07/01/2004 01:00AM ● By Murray Selleck
Summer 2004:
Mountainside
by Murray Selleck
Backcountry Treasure Uncovered  A wilderness guidebook can do more than offer trailhead and mileage information. If
you're Raymond Ave, it's a guide to living life.
  After a nearly 17-year career in chemical engineering, accepting jobs all over the country, Ray Ave finally admitted he was happiest outside in Colorado exploring backcountry trails.
  "All I needed to do was figure out a way to make a living at it," Ray says. So in July 2001 he bought an old beat-up camper, a camera, some lenses and a notebook and started hiking the trails of the Mount Zirkel Wilderness with the idea of writing a guidebook.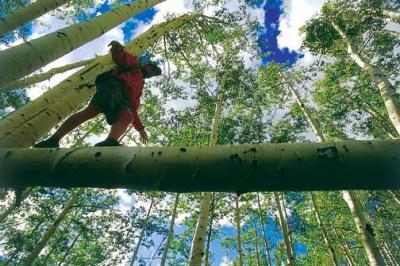 Outdoor lovers discover the treasure of the Mount Zirkel Wilderness in a neguidebook. Photo courtesy David Epperson.
  Published in 2003, Backcountry Adventure Guide to the Mount Zirkel Wilderness, by Raymond Ave, successfully fills the void left when the previous guidebook to this wilderness area went out of print. Since then, hikers and backpackers have guarded their dog-eared, trail-weary copies of the old book as if they were maps to hidden treasure. Treasure indeed.
  "I was the person who I wrote this guidebook for," Ray says.   That person is each of us who works, dreams of time off to hike, camp, explore, and pores over topographical maps trying to discover a wilderness treasure filled with solitude.
  But sometimes those lonesome topographical lines, or a dot of blue signifying a pristine lake in the middle of nowhere, turn out to be popular areas overflowing with people just like us … (Sigh).
  Ray's Mount Zirkel Wilderness guidebook unlocks the treasure of our own backyard wilderness. Designed, printed and produced in the USA, Backcountry Adventure Guide to the Mount Zirkel Wilderness can be found in local outdoor shops for $19.95.
Going with the flois totally "Copa-setic"
   Existing trails lead you to known destinations, but where will the trails that are
yet to be built take you? Aryeh Copa, of Copastetic Trailworks in Steamboat Springs, is willing to find out by building those trails one mile at a time.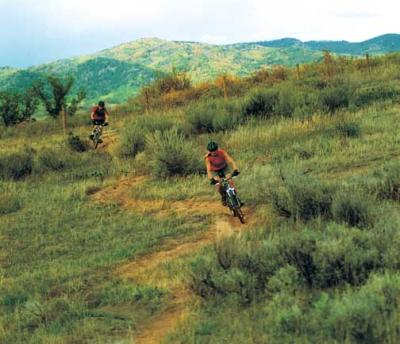 Local riders negotiate a winding section of an Aryeh Copa-designed trail. Photo courtesy Aryeh Copa. The pioneering mountain bike trail designer's creative methods are so cutting-edge they rival anything that currently exists. The old notion that a trail needs to take you from point A to point B, with minimal turns and no imagination, is just that, old.
  Mountain bikes have evolved 20-fold in the past five years, and mountain bikers are riding differently than they did three years ago. It makes sense that trail design should evolve, too.
  "Most mountain bikers are riding to have fun. They want excitement. Trails should have loops, berms and lots of turns," Aryeh says. "I build a trail by walking the land first. I'm a
minimal impact trail designer. I don't cut down trees, or trench water bars that interrupt the floof the trail. I let the land tell me where the trail should lead. I like to build trails that flow, lay out a turn over a roll of land, let the natural flosloyou down on the rise and accelerate you into the next turn. It feels like you are on a rollercoaster."
   Aryeh's trail designs can be ridden practically chainless. That is to say you don't need to pedal hard, or use your brakes hard. Gravity and the land formation become natural accelerators and speed reducers. Almost self-maintaining, the trails improve over time, becoming smoother the more they are ridden.
   Those who ride Aryeh's trails agree. "These trails don't compare to anything else in the county," says Donny Levit, an avid biker who used to race crosscountry and as a semi-pro downhiller. "Aryeh's trails are all about flow. You can ride the same speed going in and
going out of a corner. To do that the trail has to be laid out really well."
   Aryeh has worked extensively with the Steamboat Ski Area and hopes to build trails on Mount Werner. For more information, visit Aryeh's website at www.copaphoto.com. 
High Tech Finds the Backcountry
    Ah, the summer backcountry – tall trees and big mountains, cool breezes carrying the
sound of mountain water – spectacular! A simple day hike can take you there. Many stay longer, enjoying multiple days in their favorite wilderness, away from comfortable conveniences at home. The goal is to simplify, to slow down and get away from it all.
Here's the irony. The backcountry is going high tech, too.
   Every year new products come out that are lighter, stronger, hotter, cooler and easier to use than they were the previous year. Voila! Welcome to the 21st century backcountry. Here are some highlights for summer 2004.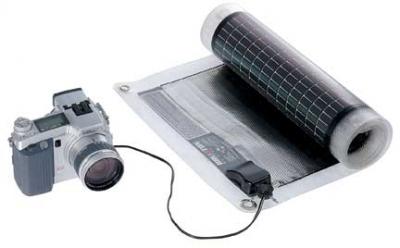 Portable Solar Power Panels.
Portable Solar Power
   Sending an email from base camp? Want to recharge your digital camera for a full day of memory making? Brunton's rollable solar panel is the ticket. Lay this panel out on a rock,
your tent or sleeping pad and start producing electricity like the Yampa Valley Electric Association. MSRP $399
Cooking with Gas
  Also from Brunton, the relatively ne3.1 ounce Crux backpacking stove. The cool thing about this fuel canister stove is what makes it hot. On full blast this stove rivals the space
shuttle taking off and can burn any meal fast with its 12,000 BTUs. (It does simmer nicely for when you're not in a hurry, too.) Another cool feature is how it packs away. The stove folds and tucks nicely into the bottom of your fuel canister with its stuff case. MSRP $75
Pure Water
   You drink it. I'm not going to drink it. Let's get Mikey. Long gone are the days when you could dip your Sierra Cup right into the stream to quench your thirst. This spring, Mountain
Safety Research introduces the new MIOX Purifier. Add a fedrops of water into the top of this pen-sized unit, shake, press a button, then add the produced miox "cocktail" to your drinking water and you're done. Field tested by U.S. Marines and Special Forces in  Afghanistan, the MIOX is the easiest and most reliable device to purify large volumes
of water. MSRP $130
I Can See Clearly Now
   Stumbling, bumbling and tumbling in the dark? Black Diamond's Zenix Headlamp is the first LED lamp that can throa focused beam. Toggle between two battery saving LED lights for close work (140 hours) or switch to the hyper-bright focused beam (12 to 15 hours on high) as you search for your tent after answering nature's call on a moonless night. MSRP $44.50
Shelter from the Storm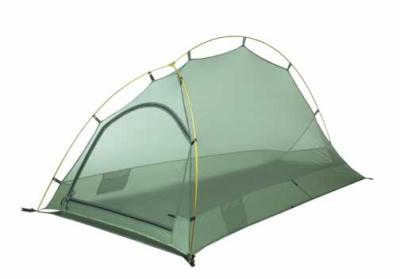 Seedhouse I/SL tent. Many hikers and backpackers today are looking to cover a lot of ground without the burden of a heavy pack. One way to shed weight is with your tent. Local tent manufacturer Big Agnes has you covered with either the Seedhouse 1/SL or Seedhouse 2/SL. The 2/SL weighs 3 lbs., 10 ounces; the rain fly and footprint weigh a scant 2 lbs., 10 ounces. MSRP $229-299 Find all of these products and more at your local Steamboat Springs outdoor  stores. 
Article Gallery [4 Images]
Click Any Image To Expand