Artscape
07/01/2004 01:00AM ● By Anonymous
Summer 2004:
Artscape
NeHome, Same Perfect Harmony
   When Strings in the Mountains Festival of Music pitches its trademark white tent this summer, permanent stakes will be planted in a newly purchased seven-acre park. Fitted with
a nefabric covering, the tent opening launches Strings' 17th season.    Strings' growth has meant a journey from its original site on the balcony of an athletic club at Storm Meadows to Torian Plum's setting at the base of the ski area. The nefacility at the corner of Mount Werner and Pine Grove roads will enable the music festival to continue
growing and eventually offer yearround entertainment.
   Made possible by $2.5 million raised from 35 individual and corporate donors, the park includes a one-acre reflecting pool, walking paths around a smaller garden, and ample parking. The grounds around the 300-seat tent accommodate 200 additional people for
events. A backstage area, artists' dressing rooms, public restrooms and box office
round out the first construction phase. Future plans envision a permanent year-round
concert venue addition to the seasonal Strings tent.
   "This is going to be such a beautiful community asset, and we knothat our 2004 season will offer something amazing for people of all ages and musical tastes," says Kay Clagett, CEO of Strings and a founder of the nonprofit organization.   A Gala Grand Opening Week inaugurates Festival Park, beginning June 25 with three free
community performances by the visually stunning MASS Ensemble (Music, Architecture, Sonic, Sculpture). The pioneering group blends sculpture, music, dance and visual arts to create long-stringed instruments – some spanning out over the audience. Musicians will string an "earth harp" 100 feet over the Strings tent and play it accompanied by violin, cello and drums.    Opening week includes an evening of chamber music on July 2 with Ralph Votapek, winner of the first Van Cliburn International Piano Competition, performing "Rhapsody in Blue." On July 3, the High Country Garden Tour starts the day. That evening, Country Music Association's guitarist of the year, Brent Rowan, will perform with other renowned singers
and songwriters.
   Strings in the Mountains' summer schedule is detailed in the Steamboat Springs Visitors' Guide Summer Festivals on page VG 18 and Calendar starting on page VG 72.
Lab d'Art Goes to the Dogs
   The "Dog Days of Summer" takes on a nemeaning as the Routt County Humane Society follows in the hoof prints of cows (Zurich and Chicago), pigs (Cincinnati) and buffalo (Buffalo,
NeYork). Lab d'Art brings a pack of larger-than-life-size fiberglass pooches to Steamboat Springs, painted and decorated by local artists.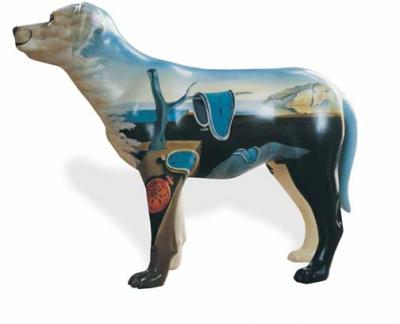 "Labrador Dali" is one of the Sun Valley inspirations for the doggone fundraiser. Photo courtesy of Sun Valley Labs, Inc.
   The Labrador retrievers wait patiently – without barking, slobbering or messing up – at sponsoring businesses throughout town and special events during the summer. Look for them in the Fourth of July parade, at Art in the Park (July 10-11) and at the Beaux Arts Festival (July 30 - Aug. 8). Spot the Dog brochures, available at the Depot Art Center, Visitor Information Center and other businesses, assist animal and art lovers in tracking these original canine creations. The dogs will be auctioned for adoption to good homes on Aug. 21.
   The project, a fund-raiser for RCHS's animal assistance programs and a community dog park, was inspired by a similar program in Sun Valley, Idaho. For information or to sponsor a dog, call Diane James, 875-1103.
The Language of Film Speaks to Movie Lovers
    Movies are a pivotal part of our culture. They mark our lives, move us to tears, make us laugh and tell stories that may never have come our way. They stay in our memory, the dialogue becoming part of our lexicon, the wardrobe our clothes, the hairstyles, cars, the way we enter a room, or sip a drink, enter our world giving us a shared experience.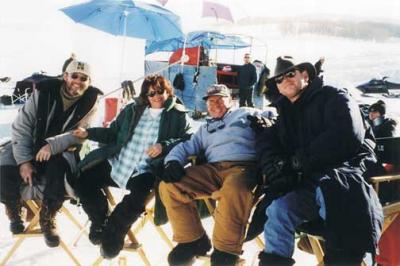 Richard Thomas, producer Dori Weiss, cinematographer and director on the set of Beyond the Prairie:The True Story of Laura Ingalls Wilder. Photo courtesy of Dori Weiss. But what really goes into the making of a movie? Emmy-nominated producer and studio executive Dori Weiss (Paramount, Warner Brothers and MGM) and acclaimed director Chris
Nyby (Hill Street Blues, Moonlighting)  offer an insider look through personal experiences, hilarious stories and horrifying debacles.
   These industry insiders have stood in the pouring rain when the sun was supposed to be shining, cajoled reluctant stars out of their trailers, held their breath as a death-defying stunt was about to roll, and witnessed the happy miracle of seeing everything that could go wrong go brilliantly right.
   Once a week from July 6 through Aug. 24, movie lovers examine how different crafts collaborate, and watch a film that brings together the elements of script, cinematography,
directing, production design, editing and musical score. Gourmet appetizers and cocktails replace buttered popcorn and sodas.
    The cost is $35 (eight sessions for$200). 879-9008. Email: [email protected]net.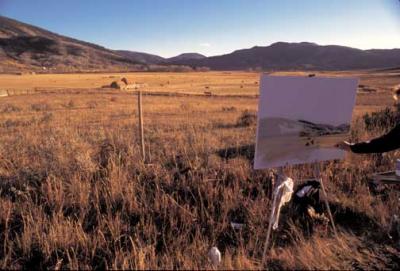 The Beaux Arts Festival features diverse art projectts like plein-air painting workshops. Photo courtesy of John Belz.Beaux arts Festival    The second annual fine arts festival features music, dance, theater and diverse art and mixed media projects. Perry-Mansfield Performing Arts School opens the festivities with a
musical theater production. The week includes a self-guided art gallery tour through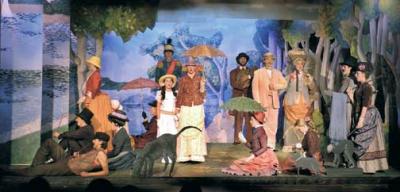 Inspired by the works of artist George Seurat, Perry-Mansfield students perform a musical theater production simulating the masterpiece, Sunday Afternoon on the Island of La Grande Jatte. Photo courtesy of R.Finklestein. downtown Steamboat Springs, plein-air painting workshop, Art Car Stampede and Art Car Film Festival, street painting, fine art vendors and a found objects sculpture garden.  Emerald City Opera presents La Bohéme and Strings in the Mountains Festival of Music offers everything from chamber to popular music. Children can participate in the Barefoot Bluegrass workshop and concert.
Article Gallery [4 Images]
Click Any Image To Expand