A Profile of Yampatika Founder Deborah Fuller
07/01/2004 01:00AM ● By Karen Vail
Summer 2004:
A Profile of Yampatika Founder Deborah Fuller
by Karen Vail
    "In August of 1980, Rick and I were riding our bikes across the country on our honeymoon; a rainy day, a flat tire, a bout of dysentery, the kindness of a gentleman from Boulder, and $50 in our pocket. End of story."    Actually it was the beginning of a Yampa Valley love affair for Deborah Fuller and her husband, Rick.    From an early age, Deborah craved an understanding of people - their beliefs and differences. Growing up in a small California neighborhood, rich in ethnic and cultural diversity, her family instilled a strong awareness that genealogy is a bridge to the past. Those beginnings put Deborah on a trail to self discovery that would lead her, Rick and their 9-year-old Jennifer to Asia, an experience that dramatically altered their lives.    For almost a year, life for the Fullers consisted of the bare necessities and the contents of their backpacks. Traveling through Nepal, Thailand, Sri Lanka, and India, the Fullers greto knoand respect the local people who were poor by American standards, but rich in beliefs, pride, and joy. "it allowed us to let go of something comfortable and familiar, to experience something that is unknown," Deborah says.    She was deeply humbled by the generosity of the people and cultures they experienced during that time. While trekking in the Himalayas, the Fullers met a Nepalese man and his two children walking back to their village. He and his wife welcomed them into his home, where they were invited to share a meal. Sitting around an open fire in the kitchen, they ate a steof apples, squash, and corn. "It was the best food we'd tasted in weeks," recalls Deborah. "They were the poorest of poor compared to our American standards, yet they gave and gave, without expecting anything in return." This act of kindness, and experiences all over the world, inspired Deborah to "pay it forward."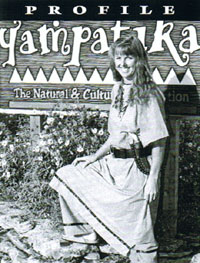 Deb Fuller in American Indian Dress"    Living the experience helps you to understand history," Deborah says. "We were living the way these people 400 years ago. It's hoI picture the way American Indians lived."    Exploring the diversity of human nature has taken Deborah deeper into her own heritage, where she found and strengthened her connection with the natural world. As a child, Deborah visited her Great Aunt Marge, a Blackfoot Indian in Montana, who instilled a strong appreciation for diversity of cultures and strengthened the bonds of her Blackfoot heritage. Through stories, myths, folktales, and family experiences, Aunt Marge encouraged respect between the earth and all living things.    Deborah can also appreciate another deeper aspect of her ancestry: the passing down of stories through generations. This historical aspect of her ancestry: the passing down of stories through generations. This historical aspect has taken Deborah on another type of adventure travel - back in time - and this has become one of her life's passions. Each summer Deborah participates in an early 1800s reenactment of living history at a Colorado rendezvous. She dresses in buckskin or early settlers' clothing and lives in a teepee or wall tent. During the rendezvous, games are played, primitive skills classes are presented, and many good stories are told. "It's a way to get a feel for what people had to endure," Deborah explains.    The connection among people, cultures, and history has inspired Deborah to practice another passion - writing poetry. "I love to write about my experiences, like the different cultures and ethnicities, and the different belief systems. An like rendezvous, it's a time to escape and explore the connections we have to one another."    In the Yampa Valley, Deborah has worn many hats in different jobs. Five years ago, a call from a friend spurred her to accept the director position with Yampatika, a nonprofit environmental education organization.    Deborah says working at Yampatika has been a wonderful experience that could only be done with the help of volunteers, board members, community people, and staff. "I stand on the shoulders of so many people," Deborah says.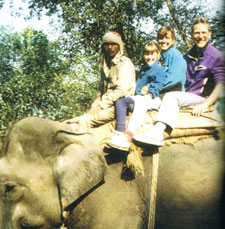 The Fuller family with guide in Royal Chitwan National Park in Nepal.     She brings knowledge from her own travel and experiences to her hands-on, informative school programs on the local Utes. The kids drank it up when she walks into the classroom dressed in traditional Ute clothing. She pulls out beaded moccasins, an intricate bone knife, and more items, and asks if they to try pemmican (a food source similar to dried fruit rolls). For Deborah, it's like bringing history alive, even if she didn't experience it first-hand. One kindergartner asked her if she had slept with Davy Crockett.     Deborah has transformed Yampatika into a store where kids come to just hang out (and surreptitiously learn something!) and where families browse for birthday presents. She raised awareness of the organization's mission of educating the public about the natural and cultural resources of Northwest Colorado.    The unwavering course to "pay it forward" has helped many people in this community feel Deborah's boundless enthusiasm. And to think it started with a bike ride, a rainy day, a flat tire, a kind gentleman, and $50. End of story? Not for Deborah Fuller.
Karen Vail is a Steamboat Springs native. She can be found wandering the back country or tending her xeriscape garden.