Dude Ranch Capital of the US - Steamboat Springs
07/01/2003 01:00AM ● By Anonymous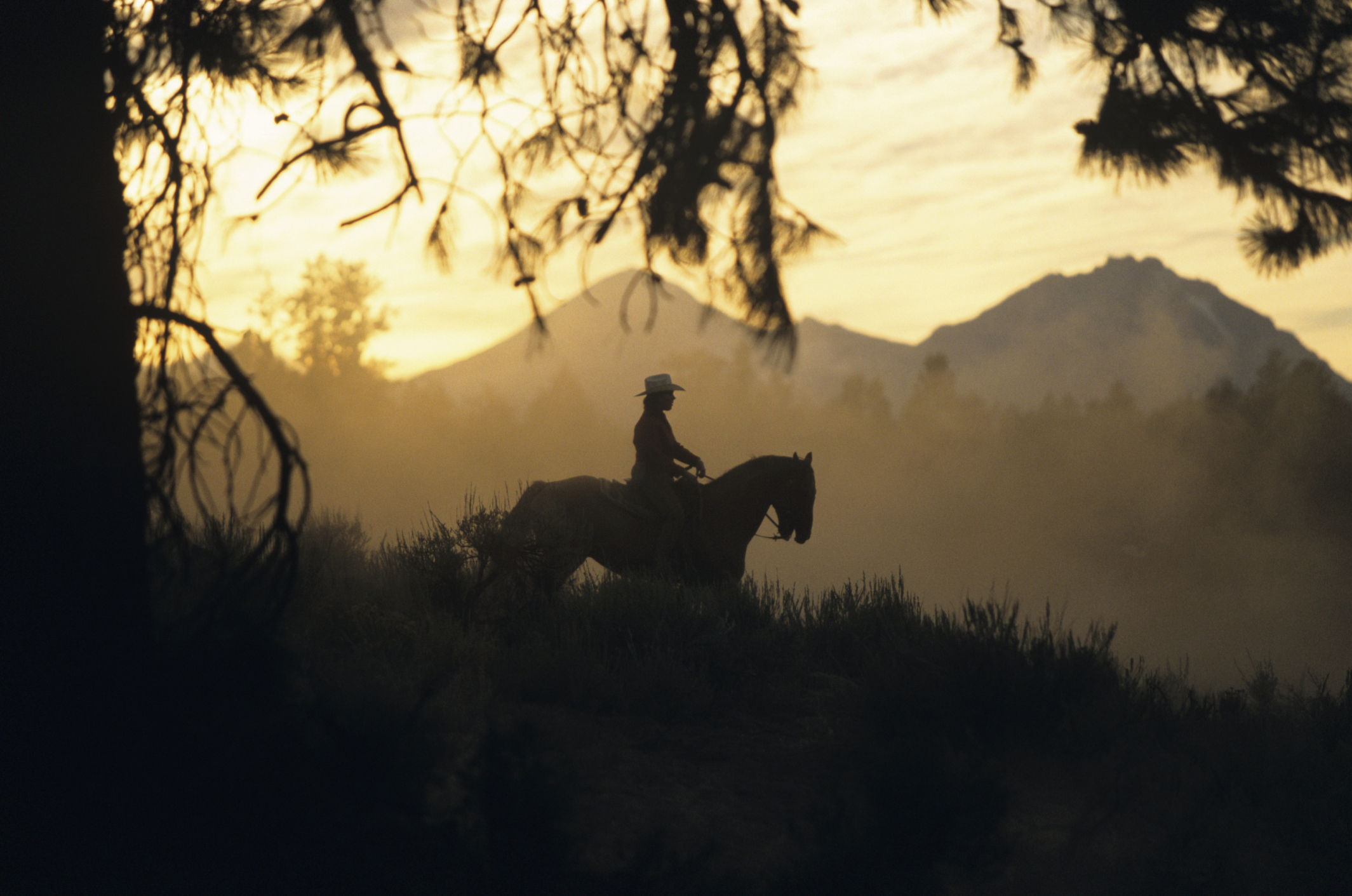 Steamboat Springs offers many quality horseback riding options.
by Duane and Charlene Harm 
The smell of horse, leather and sage fills your nostrils. Your heart beats fast as you throw your leg up and over a powerful quarterhorse for a morning ride through Colorado's mountains. Sitting tall in a well-worn western saddle, one hand leaning on the horn, the other taking up the slack of the long leather reins, you press your new cowboy boots, now covered with red dust and looking more like regulation, down into the stirrups.    
With that motion, you find yourself transported back in time 150 years to the vast expanse of the legendary West. The hills you climb, trails you ride and streams you cross defined the landscape of the cowboy. Still do, in fact.     
Cowboys have long stirred the emotions of adventurers of all ages. You'd be hard-pressed to find anyone with a seed of wanderlust who hasn't wanted to command his own horse, ride the plains of America's West and feel the excitement of living like the cowboy heroes of legend.  
The good news is you can still do it today on a dude ranch, and relish what is likely to be the most memorable, stimulating vacation of your life. Bring the family along for a rewarding and bonding experience.     
Computers, cell phones, video games, TVs and newspapers all disappear on a dude ranch. You spend your days fishing for trout in stocked ponds or in streams running through the ranch. You lope across open meadows with your wide-eyed children, tucked smartly under their straw cowboy hats, feeling their new horsemanship skills being notched into their life's belt of accomplishments. And you find that when you sit down to dinner with your kids, the conversation is natural and easy. The days spent riding through aspen groves, the horse that each of you is beginning to know and understand, the country singer and cowboy poets that performed at the ranch the night before, the 4-pound trout that just slipped off your fly rod: it's all fodder for conversation. And it's a long, merciful way from the news of the day, the problems of the world, the complications of our high-technology society.    
If you're looking for a real escape, spend a day riding mountain trails through a forest, having lunch at the top of the Continental Divide, where you can see for a hundred miles across majestic mountain peaks. The busy days at the office and city traffic jams will seem very distant indeed.     
Steamboat Springs, located in the heart of Colorado's high country, is a historic western town that can claim the title of "Dude Ranch Capital of the West."     
A dozen or more quality ranches sit in the nearby area, ranging anywhere from a 30- to 60-minute drive from Steamboat. The town itself boasts many colorful western shops and great restaurants and delivers a first-class professional rodeo on weekends.    
Cowboys and "broncobusters" are a common site on the main street of town every day. You have probably at one time or another secretly wanted to dress like a cowboy. Now, while on a dude ranch vacation you will, and when you walk into town in your jeans, boots, western shirt and cowboy hat, you will blend right in with the local cowboys, wranglers and ranch hands. Fact is, you will probably smile at the guy you pass on the street wearing his tennis shoes, Bermuda shorts and a Florida tee shirt. He is obviously a tourist, not a local like you.     
A dude ranch vacation need not be complicated to set up, as long as you're armed with the right resources. Here is what you need to know…     
When making a decision about which ranch to pick, the two most important questions to answer are:
1. What type of riding would you like to do? 
2. What type of children's program (if any) is important to you?    
Ranches vary a great deal in their riding programs, and you have to decide in advance what you want to do. Some have mostly "head and tail" riding. That consists largely of walking in line over various trails led by a wrangler. It appeals to beginners, who may not be interested in increasing their riding skills, but would rather enjoy slow and scenic rides. The location and terrain of the ranch sometimes dictates this type of riding. It is great for those who have never ridden, are a little older, or have young children.   Other ranches specialize in progressive instructional riding programs for both children and adults. This is great for people who want to learn who to ride beyond the walking stage. During the week, some instruction takes place each day and riders go out on trails suitable to their new abilities. Intermediate and advanced riders are usually happy at this type of ranch.      
Often, accomplished riders choose ranches with less structured programs, where guest do things like move herds of cattle, roam at spirited speeds over thousands of acres of property, pen cattle and do other riding-ranch chores. Going along on a major cattle drive in late summer or early fall is a not-to-be-forgotten experience for intermediate and advanced riders. For at least a day, a dude can be "riding for the brand," an old cowboy expression referring to working for a specific ranch.    
Children's programs are important to most families. Some ranches totally engross kids as young as 4 years old for most of the week. The children participate in crafts, hikes, swimming and group games led by counselors. Adults enjoy themselves with other adults without feeling guilty.      
Other ranches combine children's programs with family togetherness. Some ranches will only take kids 6 years and up…some only 10 years and up.   
Children's programs are not necessarily important to singles or couples. Many ranches have adult weeks, usually in late August and early September. 
Other things to consider:
1. What type of accommodations do you want? (Most are rustic cabins or lodge rooms.) 
2. What types of nearby side trips are available? (You may be interested in historic sites, rodeos, museums or national parks, for instance.) 
3. Is fishing important to you? (Many ranches offer fly fishing in streams and ponds.) 
4. How easy is it to get to the ranch? (Remember, ranches don't sit downtown or five minutes from the airport.) 
5. What is the altitude, and do you have health considerations that might prevent you from staying and/or exercising at high elevations? (The average altitude at Colorado ranches is around 7,000 feet, though some go as high as 9,000 and some as low as 4,500. 
A few people have problems with the higher altitudes, but most adjust to being a little short-winded for a couple of days and then forget about it. Remember, the horse does most of the work.)    
At dude ranches, the food is generally terrific. Meals are commonly served family style along with great conversation and a warm, friendly atmosphere. You'll make friends quickly, and often families make plans with each other to come back the next year at the same time.     
Finding ranches on the Internet is easy, and the ranches will send you brochures. Organizations like the Colorado Dude & Guest Ranch Assoc. (www.ColoradoRanch.com) and the Dude Ranchers Assoc. (www.dude-ranch.org) send a general brochure listing all of their member ranches and their web sites.     
Call the ones that most interest you. That is the best way to get your specific questions answered about riding and children's programs and about the facilities.     
The average rates for most ranches range from about $1,400 to $1,500 per week for adults and $950 for children. This includes lodging, meals, horses, fishing and some side trips. A few upscale ranches are considerably more expensive.    
Should you want specific, free information and recommendations on ranches that will fit your needs, contact us at our web site, www.cowboydude-ranches.com. We only recommend ranches where we have stayed and are familiar with their programs and facilities. 
}Duane and Charlene Harm completed a three-month, 25-ranch tour of the West last summer, staying an average of three days at each ranch. They were in the saddle twice a day, six days a week, experiencing varied riding programs. Over the years, they have visited more than 40 ranches and are now writing about their adventures. Duane is a former television executive, polo player, horse trainer and dude ranch owner and operator.