One Feisty Town
12/01/2002 01:00AM ● By Anonymous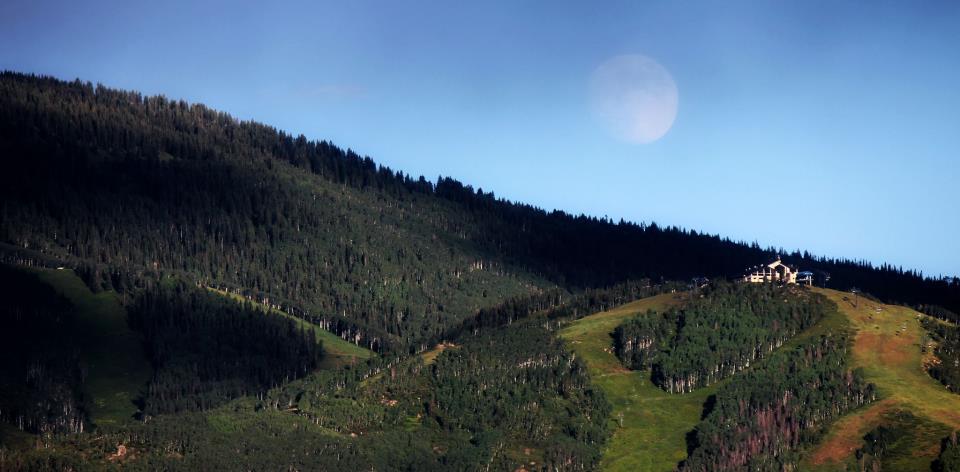 The moon rises over Mt. Warner. Photo by Nate Brothers.
by Deb Olsen
OF ALL THE PLACES TO SKI, Steamboat Springs is my favorite. It's the "town that skied," not a ski town, or a field or a ranch that became a resort, an invented ski town recreated by outsiders or started from scratch.    
In Steamboat, skiing didn't replace something else; it wasn't a stop-gap for a fading economy nor a way to rescue the town from doldrums. In Steamboat, people skied because they had to and because they loved to. Throughout the first half of the 20th century, there was no better wayto get around and nothing that made the process more fun.   
As it skied, Steamboat became special: it was a town with a fixed sense of itself, an identity that possessed considerable cachet; it became a town of champions, of winners, of American standard-bearers, as skiing swept the nation. Skiing defined Steamboat's personality long before it generated the dollars that became the basis of the local economy.   
Several things set Steamboat apart from its peers, giving it depth, strength and power, as well as the basis for friction. The town retains a strong local identity based on its history. It has a powerful idea of what constitutes "home," a sense of community, and a long tradition of local activism andpower. All of these things combine to create a community that is able to influence its own future and its many assets in all kinds of ways. At the same time, these very traits can create friction, leading to the self description of Steamboat as "one feisty town."    
Steamboat has a history of other economic activities besides tourism that includes ranching, mining and agriculture: Strawberry Park got its name in the early 20th century, when it was famous for its plump, sweet strawberries. Steamboat's diversity, as well as its geography, make it unique among communities that embraced skiing.    
Located far from the Front Range, Steamboat remained apart from the Denver area until the completion of the Moffat Tunnel in 1927. With peak snowfall topping 260 inches, 16 feet of snoatop the mountains and as much as 4 feet consistently on the ground in an average year, the area was cold and remote before winter sports became widespread. In such a place, cars went up on blocks in the winter; skiing was both birthright and obligation.   
Children, boys and girls alike, were raised on skis. "I learned so early I have no recollectionof it," recalls Carol Rickus, who was born in 1918. They were proficient by the age of 7, and many depended on their skis for transportation during the long winters.     
Marjorie Perry, the iconoclastic daughter of a family with coal and railroad interests, made skiing into a obsession. One of Colorado's first women cross-country skiers, she toured from Leadville to Dillon over Fremont Pass on skis. Locals' stories like these led to the creation of a strong culturethat valued skiing in a way that communities created to become resorts simply could not.    
Steamboat may be the only ski town in the West with community festivals that were begun by locals for locals. Winter Carnival, today a drafor tourists as well, began in 1913, when Steamboat was routinely snowed in for the winter. The people who came to the early carnivals were locals insearch of conviviality that the winter did not easily yield, not tourists looking for something to do. 
Like Daniel Boone and his turkey shoots, the carnival made a pageant from the skills necessary for survival in Routt County. Ski racing and all it embodied – individual prowess, competition, hardiness and determination – were prominently featured, carved like a slalom turninto the core of Steamboat's personality. As some small towns cherished their high school sports teams, the heroes of Steamboat were its skiers.   
Carl Howelsen, the great early 20th-century ski jumper for whom Howelsen Hill is named, brought skiing as a recreational sport with him from Norway, and he put Steamboat on the map. Since then, the town has produced dozens of champion skiers, their competitive skills honed almost as an afterthought. Among the most venerated skiers of the post-war generation areSteamboat Olympians Gordon "Gordy" Wren, Buddy, Loris and Skeeter Werner, and Katy Rodolph-Wyatt.   
Steamboat was a town of winners. For awhile in the 1950s and 1960s, Western State University in Gunnison, nicknamed "Wasted State" by its aficionados, won the NCAA ski championship every year – with a fresh crop of skiers directly from Steamboat. The town goes by the nickname "SkiTown USA," and one skier has come to epitomize all that means: Wallace J. "Buddy" Werner, for whom the mountain and the city library is named.    
No American skier of the 1950s and early 1960s had quite Buddy's persona. The 5'9", 145-pound Steamboat native was the first American to triumph in a major European downhill event, won countless other ski races and competitions, and was honored by nearly every skiing organization in the U.S.    
Possessed of a breakneck style and a modest, easy-going demeanor that belied an aggressive competitiveness, Buddy lost many races in spectacular falls. His kamikaze, hit-or-miss style endeared him to the skiing audience. He seemed somehow real, like them, human, ordinary and typical. He did not understand the concept of surrender; even after he fell, he rose and skied maniacally and always awoke the next day ready to race again.  "I never look back," Buddy was known to say. "If I crash this week, what the hell? There's anotherrace coming up next week. If I ski as hard as I can, maybe I'll win it."   
Buddy epitomized Steamboat's culture. Like everyone else, he skied. The sport was the legacy ofa cold, snowy, high-elevation mountain town. Racing was an afterthought for Buddy, who quarterbacked the high school football team while doubling as first-chair cornet in the high schoolband. Did he run out on to the field at half-time in uniform?   
Buddy is the consummate example of what makes Steamboat special. In a town where people measure the severity of winter by the number of 10-inch strands of barbed wire covered on a fence by snowpack – the famed three-wire winter of local legend – life requires zest, the willingness to push hard and grab fast at what comes by. It requires relying on your neighbors as much as it does refusing to relent. Coming from this culture, Buddy's championship caliber racing is not a surprise. He was the ideal representative, the most proficient at an essential local skill that defined who his town's people were.   
Steamboat has always been a small town, self-contained and different from not only the cities of the Front Range, but from conventional resorts. Steamboat always possessed a sense of its own permanence. "We are first a town and then a resort," the community says in countless ways, and the town comes first, sometimes even at the expense of profit. It is not an accident that Steamboat was responsible for stopping the construction of a mega-resort at nearby Lake Catamount. People see Steamboat as "one feisty town" with good reason. The town can be at odds with itself and with the ski companies that run the mountain.    
This combination of history, personality and grounded reality gives Steamboat the best set of tools of any ski town when it comes to dealing with change. Steamboat mounts the most sustained and successful resistance to transformation by the development of resorts. Steamboat is home togenerations, with strong, closely held ideas of appropriate values and responsible social behavior. It has mechanisms, ranging from political and civic institutions to public protest, that are harnessedin support of local values, the elusive concept of home.   
Even in the face of widespread development, Steamboat reconstitutes itself as a neplace, capable of defending its definition of home. The town redefines itself, carving an identity that blends disparate elements as the resort becomes more important to the region's economy. Steamboatmay no longer be the same as it was when it was Buddy Werner's hometown, but it is still a place that reveres his spirit without stretching credulity. Buddy's tradition lives on, reconstituted around the values of people who embrace what his town represented.   
Home can mean a lot of things, but most of all in tourist towns, it means a place where locals, natives and recent arrivals, rate as highly as do visitors. In Steamboat, this is an accurate description more often than in any other ski resort.