Our 35th Year: Joan Hoffmann
06/06/2014 12:15, Published by Christina Freeman, Categories: In Print, People, Today
---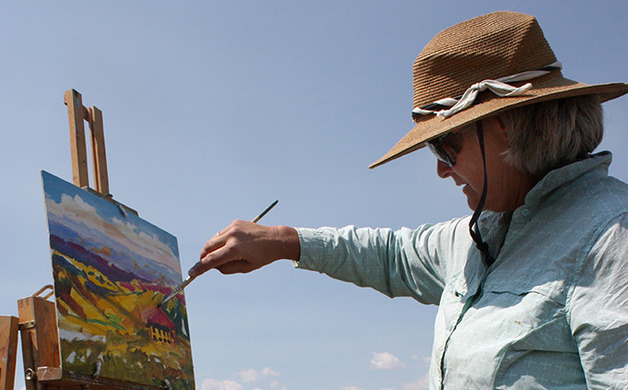 ---
---
By Deborah Olsen
In 2011, artist and environmentalist Joan Hoffmann returned to the Yampa Valley to host a 40-year retrospective of her work, an exhibit that showcased her passion for the Steamboat Springs' landscape.  The solo show was especially meaningful for her, as the community helped launch her career in the early '70s. "There was just this energy," she recalled. "Steamboat was so receptive." 

Hoffmann, who moved from California to Vermont three years ago, has given talks about the symbiotic relationship between American painters who created iconic images of the West and the preservation efforts that were inspired by those images.


She returns to Steamboat this September for a month-long show at the Depot, "Wild Landscapes – Wild Cranes." One of the pieces in the exhibit serves as the signature piece for the 2014 Yampa Valley Crane Festival, Sept. 12-14.


Hoffmann has also been asked to be a presenter at the National Wilderness Conference in Albuquerque, N.M., in October.  "Landscapes are about connections," Hoffmann says. "'Art of Wilderness,' my program, shows these connections and visualizes and verbalizes that which makes us human."
---
---
Yampa Valley Crane Festival art exhibit wilderness landscape painter steamboat painter wildlife painter summer 2014
---
You might also like
Inaugural Yampa Valley Crane Festival Sept. 16-19
The inaugural Yampa Valley Crane Festival, Sunday, Sept. 16-Wednesday, Sept. 19, will feature crane viewing, speakers, films, family activities, a photography workshop and crane art show. All events are free.
"Birds in Art" flocks to the Steamboat Art Museum
---