Arts & Culture
04/05/2014 11:23, Published by Christina Freeman, Categories: Culture
---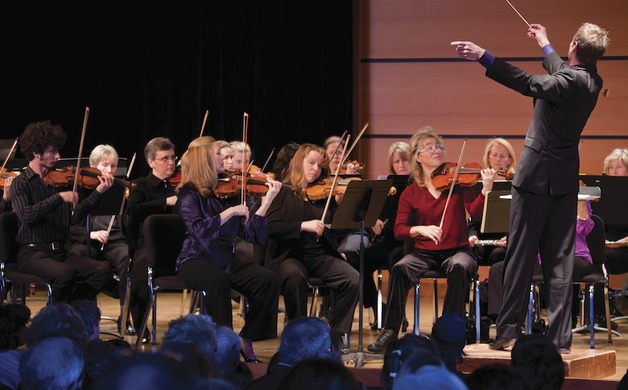 Ernest Richardson conducts the Steamboat Symphony Orchestra. Photo courtesy Steamboat Symphony Orchestra
---
---
Music and Movies
Find a seat in the renowned Strings Music Pavilion and enjoy premier performances in an intimate setting. Each year, the Strings Music Festival brings more than 75 performances from Grammy award-winners to principal orchestra players. Performers this spring include Darrell Scott and Tim O'Brien, the Dirty Dozen Brass Band, and Eileen Ivers and Immigrant Soul. www.stringsmusicfestival.com | 970-879-5056
An iconic entertainment landmark in the center of downtown Steamboat Springs, the Chief Theater is quickly becoming a hub of culture and entertainment. After reopening in 2013 as a cultural and performing arts center, the Chief has brought eclectic and inspiring programming to the valley, including music, theater, comedy and film. www.chieftheater.org | 970-871-4791
Grab a bottomless bag of popcorn, candy and a soda, and enjoy a few hours of pure relaxation at Steamboat's Wildhorse Stadium 6 movie theater.
Bud Werner Memorial Library hosts the Free Foreign Film Series at the Chief Theater, featuring award-winning foreign and independent films on select nights. Drinks and snacks available for purchase. The library also hosts free documentary films throughout the year in Library Hall, including Wild Films, a selection of award-winning films from the International Wildlife Film Festival, and LUNAFEST (Thursday, March 6), a nationally touring film festival featuring award-winning short films by, or about women. www.steamboatlibrary.org/events | 970-879-0240
First Friday Art Walk
Stroll the shops of downtown Steamboat Springs and experience the breadth and quality of art in the Yampa Valley during First Friday Artwalks. Art ranges from landscape photography to silverwork to oil paintings and more. The self-guided walking tours of art exhibitions and other venues are free to the public and open 5-8 p.m., the first Friday of every month. www.steamboatartcenter.com
The Depot
A historic train stop built in 1909, The Depot is a center for arts and humanities in the Yampa Valley. Shows change monthly and include "Palettes: A Taste for the Arts," an exhibition integrating visual art, food, music, poetry and performance in February; a youth art show in April; and a clay artisans showcase in June. www.steamboatarts.org | 970-879-9008
Steamboat Art Museum
Peek into a hidden world of Russian paintings from the 1930s to the 1980s at this private exhibit at the Steamboat Art Museum. Fifty Russian paintings depict mid- century Russian life – family dinners, holiday gatherings, historical events, landscapes – and reflect political and cultural sentiments of the era. Open Tuesdays-Saturdays, 11 a.m.-6 p.m. through April 12. www.steamboatartmuseum.org | 970-870-1755
Art Classes
Take advantage of high quality art instruction in a variety of media through the Yampa Valley Art Institute. Classes and workshops cover ceramics, painting, jewelry making, batik and more. At the Steamboat Arts and Crafts Gym, children can make their own artistic creations, and leave the mess behind. www.steamboatartsandcraftsgym.com | 970-870-0384
Find your inner artist at Splatz, where you and your friends follow simple steps to recreate the featured picture, and go home with your one-of-a-kind masterpiece. No previous art experience is necessary. www.splatzpainting.com | 970-871-7904
---
---
Strings Music Festival The Depot Steamboat Art Museum first friday art walk chief theater wildhorse stadium free foreign film series yampa valley art institute splatz steamboat arts and crafts gym
---
You might also like
Andrés Cárdenes and Monique Mead; Directing Strings' Silver Anniversary
Andrés Cárdenes appeared early on at Steamboat Springs' 25-year-old Strings Music Festival. The Cuban-born violinist arrived in 1992 for a two-week stint as a festival musician and hasn't skipped a season since. From the first time he brought along violinist Monique Mead, then his soon-to-be bride, the two were destined for a long tenure in Steamboat.
The audience grows quiet as Steamboat Symphony Orchestra conductor Ernest Richardson walks quickly to center stage. When he raises his baton and the musicians play their first few notes, palpable electricity fills the room.
---