In This Issue: Spring 2014
03/07/2014 14:23, Published by Grant Johnson, Categories: In Print, Today
---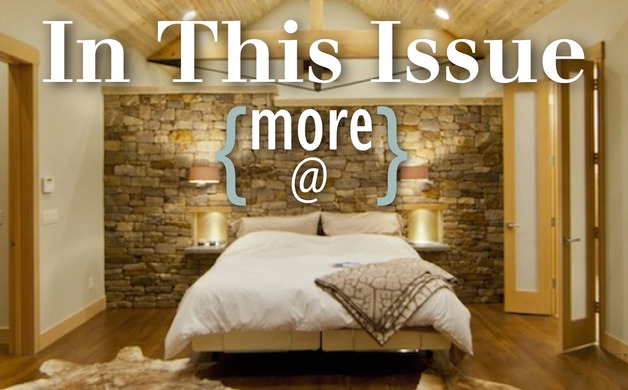 ---
---
In This Issue: Architecture & Design 
8 gorgeous Steamboat homes designed and built right here in the Yampa Valley
Read more

Gravel Grinding -Taking the (dirt) road less traveled
Those paved routes are wonderful, but what about looking at local roads beyond where the pavement ends? Read more

Hot Festival Tickets
Spring and summer road trips you should be planning now Read more

Capturing Winter Carnival
Painter Chula Beauregard puts memories back on the landscape Read more

Reading Through Time
Books connect past and present. "The Great War", "High Country Summers" and "Mindful Parenting". Read more

Bud's Seed Library
Steamboat's public library continues to take lending beyond books Read more
Find the full print version of the magazine on news stands and in lodging properties around Steamboat. To receive future issues, click here to subscribe or give us a call at 970-871-9413.
---
---
Architecture in this issue spring 2014
---
You might also like
Lively art and cool lighting, unusual angles and curves distinguish the exterior of the Bashan home.
Creating art in the architecture. On the other side of the Sleeping Giant, a one-of-a-kind, rustic home once stood.
Architecture & Design - Tanaka Ridge
Tanaka Ridge - At play on Buffalo Pass. Steamboat Magazine reached far and wide into Steamboat Springs' local architectural and construction trades to find homes that deserve special attention. Enjoy this tour of one of Steamboat's finest homes.
---