Spruce Street
02/28/2014 16:17, Published by Grant Johnson, Categories: In Print, Living
---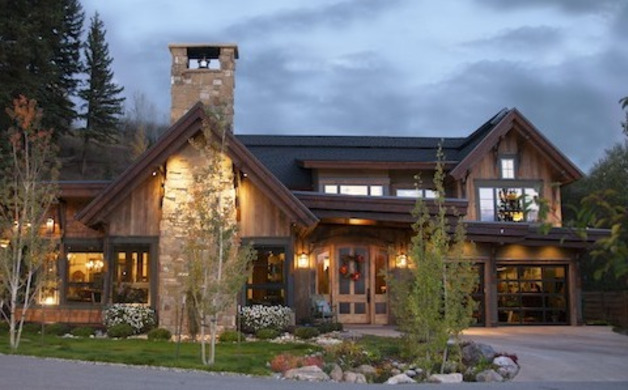 Photo by Beth Provo-Hanlen
---
Gallery: Spruce Street - photos by Beth Provo-Hanlen [6 Images] Click any image to expand.
---
---
Meticulous planning maximized the interior and exterior space for this eclectic home on a half-acre lot in downtown Steamboat Springs where Butcher Knife Creek ambles through the property. Huge retaining walls had to be built prior to starting home construction, as well as working around a 100-foot pine tree with an expansive root system. In the process, they even left room for the Taj Mahal of backyard chicken coops.

In contrast to a typical compact and stacked downtown home, this home features a main level master suite that is separated from the public spaces. Doors from the master bedroom lead onto the back patio, and a 4x4-foot skylight hovers over the bed with the option of a remotely-operated blackout shade. Glass garage doors turn the car park into what might be mistaken for gallery space with lots of clean storage, a terrazzo dog bath and a granite work bench.
The home's three-element siding includes reclaimed hardwood in random widths, cedar shingles and pool-troweled stucco with its rough, craftsman effect. An EPA-approved wood-burning fireplace has a stone hearth that extends outward with built-in hydronics for warm seating and built-in drawers for games and blanket storage. Upstairs, a large bunk room has a walk-in closet to put things out of the way and a play loft with a custom iron ladder.
The kitchen looks toward the back patio where a waterfall tumbles into a small pool and curved metal staircases gently transition from one patio level to the next.
Kitchen windows meet at the corner to make the space feel as expansive as possible, while the enticing mix of traditional and modern elements includes a single-basin farmer's sink, a custom copper hood, a 48" dual-fuel stove, glass tile backsplash and white cabinets bearing thick glass shelves. The walnut island with its leathered granite countertop and copper prep sink makes an idyllic spot to cook, socialize or simply watch the backyard birds.      
Home & Landscape Design
Brian Hanlen, Brooks Design/Build
Builder           
Jessen Construction, Inc.
Landscaping
Gecko Landscaping
Retaining Walls
Steamboat Excavation
Framing and Siding
JDG Construction
Structural Steel
Certified Welding and Fabrication
Steel Work
Cactofab
Interior Trim Work
Finishing Touch Carpentry
Wheel House Woodworks
Painting
Rainbow Painting 
Hardwood Floors
McPherson Hardwoods
---
---
Architecture spruce street large downtown lot butcher knife creek backyard chicken coop glass garage door terrazzo dog bath reclaimed hardwood backyard waterfall in this issue spring 2014
---
You might also like
Lively art and cool lighting, unusual angles and curves distinguish the exterior of the Bashan home.
Creating art in the architecture. On the other side of the Sleeping Giant, a one-of-a-kind, rustic home once stood.
Architecture & Design - Tanaka Ridge
Tanaka Ridge - At play on Buffalo Pass. Steamboat Magazine reached far and wide into Steamboat Springs' local architectural and construction trades to find homes that deserve special attention. Enjoy this tour of one of Steamboat's finest homes.
---