Must See Stops - Ski Season 12/13
11/11/2012 19:08, Published by Christina Freeman, Categories: In Print, Shop+Eat+Drink, Culture, Community
---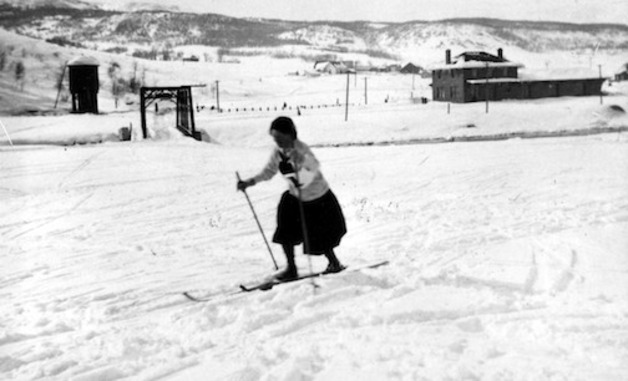 Marjorie Perry skis past the Depot during 1914 Winter Carnival. Photo Courtesy Tread of Pioneers Museum.
---
---
Get to know some of Steamboat Springs' special spots – inside and out.
Old Town
Downtown Steamboat is the heart of this historic ranching and skiing community. Howelsen Hill looms over streets lined with historic buildings, century-old businesses and quaint neighborhoods, plus modern shops, restaurants, bars and cafés.  www.mainstreetsteamboatsprings.com
Yampa River Core Trail
Seven scenic miles of multi-use paved trails wind through downtown and along the Yampa River for walking, running and access to fishing holes. During Steamboat's notorious three-wire winters, when the snow depth is known to exceed all three levels of barbed wire surrounding local ranches, the city's little blue tractors keep the trail clear of snow. Dotted with sculptures and natural springs along the way, the year-round trail accesses Howelsen Hill, prime fishing holes, the rodeo grounds, the Depot, quiet residential neighborhoods and tranquil natural areas.
970-879-4300
Fish Creek Falls
Four miles east of downtown Steamboat Springs, a 283-foot waterfall pours out of the Mount Zirkel Wilderness. This is an ideal spot for a short, handicap-accessible hike to the base of the falls; it is also a jumping-off point for miles of unpaved day hikes. From Lincoln Avenue, turn north on Third Street, then right on Fish Creek Falls Road. Follow it to the end. Daily parking fee: $5
Bud Werner Memorial Library
Steamboat Springs' environmentally friendly public library graces the banks of the Yampa River downtown. In addition to the expansive book and magazine collection, there are public computers, library-wide wi-fi, a lively children's section, story times, free films, author talks, a local history room and plentiful artistic and architectural details to enjoy.
970-879-0240 | www.steamboatlibrary.org
The Depot
Home of the Steamboat Springs Arts Council, this historic 1909 railroad-station-turned- gallery houses changing visual art exhibits and a variety of events. Open 11 a.m.-6 p.m., Tuesday-Friday, and noon-4 p.m. on Saturdays.
1001 13th St. | 970-879-9008 | www.steamboatspringsarts.com
Steamboat Art Museum
Rotating exhibits of Western art are housed in the historic First National Bank building, downtown Steamboat. Open Tuesday through Saturday, from 11 a.m. to 6 p.m.
807 Lincoln Ave. | 970-870-1755 | www.steamboatartmuseum.com
Tread of Pioneers Museum
Housed in a 1908 Queen Anne-style Victorian home with turn-of-the-century furnishings, plus a new addition, the Tread of Pioneers Museum is preparing to open its newly expanded facility this winter. Exhibits will range from local ranching to mining, Native American history and pioneer life – plus a comprehensive ski history exhibit that includes the original Lighted Man costume and a Snurfer, the first incarnation of a snowboard invented by part-time Steamboat resident Sherm Poppen. Call or check the Tread of Pioneers web site for the grand re-opening date this winter. Open Tuesday through Saturday, 11 a.m.-5 p.m. | Corner of Eighth and Oak streets | 970-879-2214 | www.treadofpioneers.org
---
---
Steamboat Steamboat Magazine The Depot Steamboat Springs Tread of Pioneers Fish Creek Falls Old Town Steamboat Art Museum Bud Werner Memorial Library must see stops yampa river core trail
---
You might also like
"Birds in Art" flocks to the Steamboat Art Museum
Up here, happiness is being outside.
---