Spring Backcountry Skiing on Meaden Peak
04/16/2014 11:47, Published by Grant Johnson, Categories: People, Sports, Today
---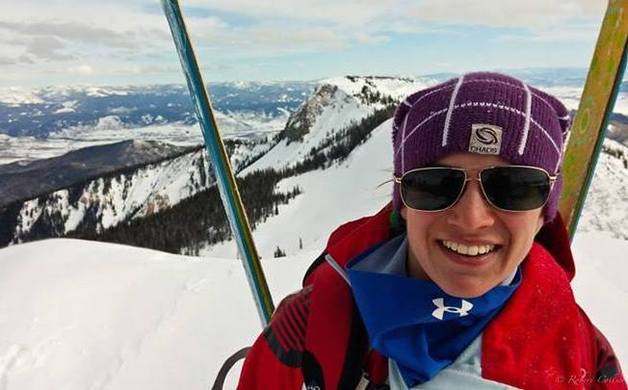 ---
---
Since we got sketchily shut down from a summit attempt because of avi conditions over winter break, we came back for another stab at summiting Meaden Peak this spring and skiing some of the sick steep turns on the way down. This time, we brought my parents to show them the great backcountry tree run next to Meaden. We snowmobiled up, rattling our ears with our 1990 machines, then started up the pristine untouched hill. There is nothing quite as breathtaking as a mountain with one skin track ending under your feet and no other tracks in sight. It is the irony of backcountry skiing; there is nothing so orderly and perfect as the mountain before you set a ski on it, and you can never take those tracks back. Only a fresh coating of snow and time can.
We ate a well-deserved lunch at the saddle between Meaden and the next peak, then did our first run through the trees and pristine meadow. The next run we climbed the same skin track then veered back uphill from the saddle until the slope was almost too steep to set a skin track on. We dug a pit, checked the conditions, stashed our skis in our packs and pushed on to the top. At the top, it was like being on top of the world. We were the on the tallest peak in the area at almost 11,000 feet and got an amazing 360 degree view of Wyoming, Steamboat and everything in between. Before we either froze or were blown off the mountain, we pulled our skis out and skied down some amazing steeps. Since I was teleing, every turn shot snow over my head, and by the bottom my quads were reminding me pretty forcefully that I no longer trained with a couple hundred squat jumps everyday. Despite the lactic acid solidifying in my legs, I had a perma smile the entire snowmobile ride out. Steeps are fun!
Read more of Lorin's adventures on her blog at 
lorinpaley.com
---
---
Backcountry hiking spring lorin paley telemarking meaden peak north routt climbing
---
You might also like
LOCAL SKIERS AND RIDERS are accustomed to jostling for position to snag Steamboat's untracked powder.
Seeking cool camping vehicles!
We're looking for great and unusual (and thoroughly inhabitable) trailers, truck toppers, sheep wagons and more, to feature in the summer issue of Steamboat Magazine.
---