Blue Sage
02/28/2014 16:09, Published by Grant Johnson, Categories: In Print, Living
---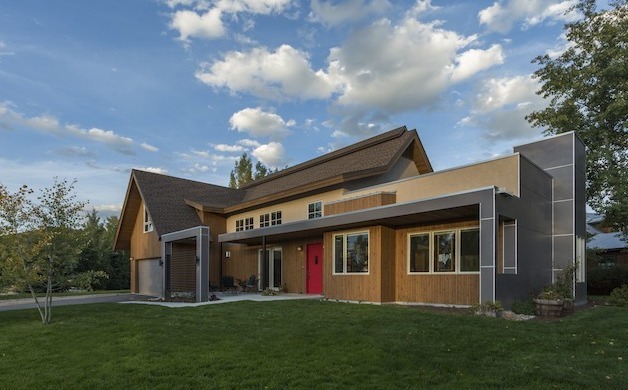 Photo by Tim Murphy
---
Gallery: Blue Sage - photos by Tim Murphy [8 Images] Click any image to expand.
---
---
Moving from rural Routt County into town was this couple's mission. After more than 25 years in the Yampa Valley, they were looking for a reliable, easy-to-maintain residence to stay put in Steamboat Springs as they age. They wanted a home designed with the living spaces on a single floor, minimal stairs and a high level of energy efficiency with comfort in all seasons.

What they found was an established neighborhood they loved and a 1980s split-level home with just the right footprint. Seeking to create a contemporary-feeling home that still fit with the character of the surrounding area, the most cost effective way to remodel proved to be demolition – right down to the foundation. But first, all components of the old home that could be reused or recycled were extracted. The new home's layout allows for easy access to the entire main floor, including the garage, kitchen, living room, dining room, laundry and master suite. Upstairs, they added two bedrooms, a bathroom and a multi-purpose loft – perfect for their five grandchildren and a constant stream of friends and family gatherings. Clean and simple lines, including the roof, coupled with a high performance insulation system, create a tight building envelope. The durable exterior is a mix of random-width cedar and cement panels requiring minimal maintenance. A generous, but intelligent use of windows brings an abundance of natural light to every corner of the house.
Ultimately, functionality and subtle elegance drive the visual aesthetics in this home. In the kitchen, peninsular cabinetry follows a radial beam that offers a connection and warmth to the large family room. The home has many user-friendly features throughout, including kitchen cabinet doors that are hinged to swing wider than 90 degrees in case the homeowners need that option as they get older and a step stool neatly tucked away in the toe-kick. The use of walnut and clear natural cherry woods highlight the organic nature of the home. A mixed use of materials (including a custom steel shelf) and a corner-installed cook top, catch the eye immediately in this kitchen.
A warm and contemporary feel, accessibility, uber-efficiency and comfortable living make this home on Blue Sage a rare Steamboat jewel.   
General Contractor
Pure Built/Bradley Bartels
Architect
Michael Olson/MJK Architects
Photography
Tim Murphy 
Cabinetry & Interior Design
Bartolini Kitchen and Bath 
Concrete
PourBoys Concrete
Plumbing/Heating  
DHP
Electrical
Orozco Electric  
Insulation
Columbine Insulation
Countertops
S and S 
Steel Work
Nordic Steel 
HVAC
Fin's Tin   
Lumber/Siding/Windows
Alpine Lumber
Flooring
Carpets Plus
Interior Trim
Northwest Supplies
---
---
Architecture contemporary design blue sage home single floor living durable exterior in this issue spring 2014
---
You might also like
Lively art and cool lighting, unusual angles and curves distinguish the exterior of the Bashan home.
Creating art in the architecture. On the other side of the Sleeping Giant, a one-of-a-kind, rustic home once stood.
Architecture & Design - Tanaka Ridge
Tanaka Ridge - At play on Buffalo Pass. Steamboat Magazine reached far and wide into Steamboat Springs' local architectural and construction trades to find homes that deserve special attention. Enjoy this tour of one of Steamboat's finest homes.
---