Call for Submissions: Architecture and Design Edition
10/14/2013 15:55, Published by Grant Johnson, Categories: In Print, Real Estate, Today
---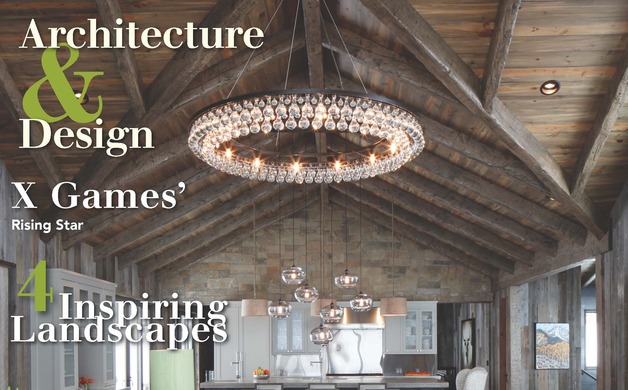 ---
---
We've been searching for stories for the second annual Architecture & Design edition for several weeks. If you'd to submit your home or project, this is your last chance!
Send submissions to our editor, Jennie Lay, at jennie@steamboatmagazine.com


Success of Premiere Edition Leads to Annual Publication

Steamboat Magazine's inaugural Architecture & Design edition was greeted enthusiastically by our readers. It was so successful that we have decided to make it an annual event. We are in the midst of shaping the second annual Architecture & Design issue, which will be the theme for our Spring 2014 edition. Once again, we are relying on the architects, designers, artists, photographers and construction trades, of the Yampa Valley for your submissions. After all, you've been on the ground, creating our areas's finest homes. 
Call for Submissions
Steamboat Magazine is looking for submissions to highlight design, construction and remodel projects that you love! We want to hear about your favorite single family homes, condos, small homes, green homes, historic homes and classic Steamboat homes - plus the finest kitchens, wine rooms, gardens, ponds, bars, patios, mud rooms, pools, theaters, '70s remodels, bathrooms and other unusual or eccentric home rooms or details you think deserve attention. We're also looking for great gardens. 
Beautiful Season for Photography
Since this is one of the most beautiful times of the year around the Yampa Valley, we want to give everyone ample time not only to consider your submissions, but also to secure photographs. This issue relies heavily on images to showcase your work. It will be on the newsstand from February throughout spring - the time everyone's attention turns to homes and gardens - so photos from all seasons are acceptable.
Terms and Conditions
1. The featured home cannot be for sale.
2. Bonus points for local artisans.
3. Magazine quality photographs must be available. This requires written agreement from your photographer that Steamboat Magazine has permission to use the submitted photographs in the print edition, as well as the online edition of the story, at no charge to Ski Town Media Inc.
4. Please include a short description (max. 500 words) about why you love this particular project, room, amenity, or design detail, and tell us what is special about it.
Selections for the issue will be curated by Steamboat Magazine editor Jennie Lay, along with the staff and a small panel of appointees.
We're looking forward to working with you, and we can't wait to compile the 2014 collection of Steamboat's finest homes! 
---
---
Architecture home design submit submissions house entry entries artchitects contractors builders renovation
---
You might also like
Lively art and cool lighting, unusual angles and curves distinguish the exterior of the Bashan home.
Creating art in the architecture. On the other side of the Sleeping Giant, a one-of-a-kind, rustic home once stood.
Architecture & Design - Tanaka Ridge
Tanaka Ridge - At play on Buffalo Pass. Steamboat Magazine reached far and wide into Steamboat Springs' local architectural and construction trades to find homes that deserve special attention. Enjoy this tour of one of Steamboat's finest homes.
---