Winter Traditions - Ski Season 12/13
11/11/2012 20:21, Published by Christina Freeman, Categories: In Print, Culture, Community, Living
---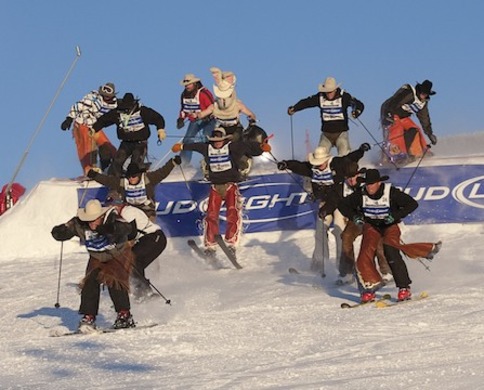 Pro-rodeo cowboys during the Cowboy Downhill. Photo by George Fargo.
---
---
Steamboat Springs harbors a long tradition of winter festivals, celebrations and feats
of costumed athleticism. Dress warm and join the ritual fun.
Cowboy Downhill
Pro-rodeo cowboys are adept at roping a calf or hitting eight seconds on a bull. But can they chase a gate? On skis? The 39th annual Cowboy Downhill tests winter wrangling skills as pro-rodeo cowboys from all over the country convene in Steamboat during the Western Stock Show. More than 100 cowboys, clad in typical chaps and hats, slide, wobble and sometimes tumble down a slalom course and over a jump, then ski en masse to a finish line at the base of the Steamboat Ski Area. The Cowboy Downhill is an entertaining reminder that Steamboat was a cowboy town long before it was Ski Town USA.
Monday, Jan. 21 | Steamboat Ski Area
970-879-6111 | www.steamboat.com
Free Concerts
Ski. Ride. Dance party. Steamboat's legendary free concert series rules winter après scene. In honor of the ski area's 50th birthday, they're calling it the Bud Light Rocks the 'Boat Golden Anniversary Free Concert Series. Shows start at 3 p.m. outside on the new stage across from the Bear River Bar deck and the Umbrella Bar in Gondola Square The lineup ranges from bluegrass to funk – and you can ski or ride right in. Past free concerts have included Big Head Todd & the Monsters, Ozomatli, Susan Tedeschi, Gin Blossoms, North Mississippi All Stars, Dirty Dozen Brass Band and The Samples, with 2013 bands to be announced. Concerts will be held on: Saturday, Jan. 12; Tuesday, Feb. 12; Saturdays, March 9, 16, 23, 30 and April 6; and closing day, Sunday, April 14.
970-879-6111 | www.steamboat.com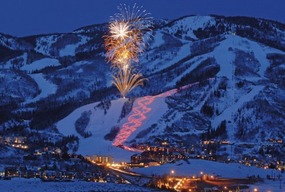 Fireworks & Torchlight Parades
Steamboat loves fireworks. Our pyrotechnic passion is exemplified by the Night Extravaganza over Howelsen Hill during Winter Carnival (Saturday, Feb. 9). Spectacular blasts that light up the Steamboat Ski Area on New Year's Eve (Monday, Dec.31), Valentine's Day (Thursday, Feb. 14) and St. Patrick's Day (Sunday, March 17) – with the added illumination of a trail of skiers and riders cruising down the nighttime slopes in a path they light only by torches.
970-879-6111 | www.steamboat.com
Steamboat Pentathlon
It's grueling and it's fun. Steamboat's winter pentathlon includes a 400-foot vertical sprint up Howelsen Hill in ski or snowboard boots, a three-mile snowshoe, a four-mile skate-ski, a 12-mile bike ride and a five-mile run.
Saturday, March 9 | Howelsen Hill
970-879-4300 | www.steamboatpentathlon.com
Håkan Memorial Nordic Fest
The theme is always Viking for this springtime Nordic festival that includes open trail skiing, riding bicycle bumps on skis and members of the U.S. Ski Team on hand for autographs. The day winds up with music and a pig roast, and donations for all festivities benefit scholarships for Steamboat Springs Winter Sports Club.
10 a.m.-3 p.m., Saturday, March 23 | Steamboat Ski Touring Center
970-879-8180 | www.steamboatnordiccenter.com
Penguin Plunge
Are you brave enough to dive into a half-frozen swimming pool? Do you fancy a lap, even though it took crews a week to chop through the ice in your lane? This is Steamboat's coolest fundraiser, benefiting the Healthcare Foundation of the Yampa Valley. Wildly costumed plungers leap into the unheated swimming pool to raise money for emergency medical care in Northwest Colorado.
Saturday, March 23 | Lake Catamount pool
970-871-0700 | www.penguinplungesteamboat.com
Hitchens Brothers' Wednesday Night Ski Jumping
Wednesday night features kids 13 and under launching off the ski jumps on both alpine and Nordic skis. Watch from the bottom of the hills, or hike up alongside the HS20 hill, (between the HS20 jump and the Carpet) to get a closer look. You can also join the distance markers alongside the jump – no experience is necessary and it's pretty exciting to watch the kids fly right past you and to mark their distance. At the end of the night, awards are given for each division. Watch closely for future Olympians; Wednesdays (Jan. 16, Jan. 23, Feb. 13 and March 6) on the HS20, HS28, and HS42 jumps at Howelsen Hill.
970-879-0695 | www.sswsc.org
Cardboard Classic
The Cardboard Classic is a perennial closing weekend favorite. Cheer and jeer good natured competitors as they slip, slide and drag their eclectic cardboard and duct tape crafts through the spring slush at the base of the ski area. Sleds occasionally speed to the finish line, but often vie for the honor of making it down the run intact.
Saturday, April 13 | Base of the Steamboat Ski Area
970-879-6111 | www.steamboat.com
Coureur Des Neiges
Nordic skiers go the extreme. On Sunday, April 7, a 15k, 50k and 100k marathon and ultra-marathon cross country ski race covers the distance from Rabbit Ears to Walton Peak. You'll cease to wonder why Steamboat grows a stellar Nordic team.
www.steamboatxcski.org
Splashdown Pond Skim
The costumes are wild. The daredevils who ski and ride across water get wet. And the crowd is uproarious.
Sunday, April 14 | Base of the Steamboat Ski Area |
970-879-6111 | www.steamboat.com
---
---
Steamboat Steamboat Magazine Free Concert Steamboat Springs winter traditions cowboy downhill torchlight parade steamboat pentathlon hakan memorial nordic fest pengin plunge cardboard classic coureur des neiges pond skim hitchens brothers ski jumping
---
You might also like
Up here, we race for fun.
Up here, we dance in our ski boots.
---