How to Save on Family Vacations
07/02/2012 17:32, Published by Brian O, Categories:
---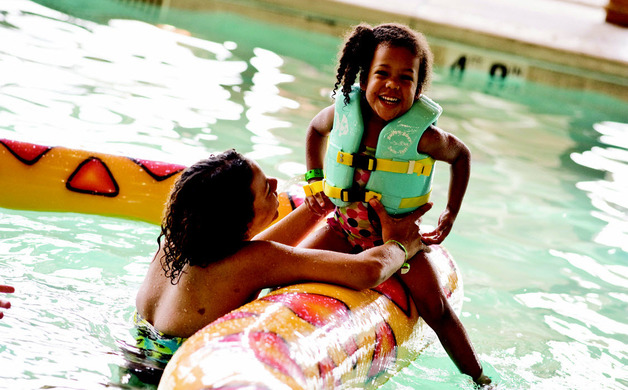 Play time in the pool
---
---
If you're like most families on a recent AAA report, you're opting to take shorter distance road trips, or "nearcations," to save on travel costs especially with gas prices still making a dent in your wallet.
Family travel expert and mother of three, Suzanne Rowan Kelleher of WeJustGotBack.com, knows the challenges of planning a great family vacation while looking to save. "When I want to cut back on travel spending, I start by picking a destination within driving distance of my home," says Kelleher. "My kids are always happy to have a quick travel time and my husband and I are happy to avoid the high cost of airfare."
To help your family reduce costs on summer travel, Kelleher offers the following tips:
Plan ahead. While spontaneous weekend getaways sound fun, the best way to save vacation dollars is by planning ahead. Keep in mind that most resorts offer the greatest variety of available room options, package amenities and overall savings when stays are booked further out in advance.
Be flexible. Keep in mind the highest rates for hotels and entertainment stops are typically on weekends. Plan a mid-week getaway, or start your vacation on a Sunday to take full advantage of off peak discounted tickets and overnight stays.
Book online. Websites allovacation planners to easily viebest available rates, compare alternate dates for travel, room styles, amenities and package plans. If you have a destination in mind, sign up to receive the location's newsletter, which often includes discounts and special promotion codes via email. 
Bundle and save. Research package options that include meals and other amenities. Limited time promotions such as "Kids Eat Free" can help when budgeting for meals. Resort amenities and entertainment offerings are also often bundled for extra savings. Not sure what can be bundled with your stay? Just ask.
Find the cheapest gas. Save on gas with your smart phone. The free app, GasBuddy, can help not only estimate homuch you'll spend, but can also direct you to the cheapest gas stations along the route. Fuel Finder, another gas saving app, shows gas prices throughout the U.S. and Canada, and also features a mapping system. Visit www.GasBuddy.com and www.bottlerocketapps.com/apps/fuelfinder to learn more.
Prepare the car. Purchases from your local grocery store are cheaper than convenience stores and fast food restaurants en route, so save time and money by pre-buying snacks and drinks. Take advantage of the time together by talking, singing and laughing. Make the journey as fun as the final destination.
For other family fun adventure ideas check out Great Wolf Lodge.
What's your favorite local getaway or staycation options around town?  
---
---
Family Vacation NearCation Road trip ate drink art bottle discount eat food gas tap travel vacation
---
You might also like
All About Summer Learning Programs
Summer learning programs for kids came into being during the late 1880s. More contemporary summer programs have been developed to go well beyond school related activities.
Raising Kids is Easy - In a Music Video
When was the last time you saw a couple rap about parenting? It's probably been too long, don't miss your chance to make up for lost time and check out this music video by Blue Fish TV. It'll be the best 3-minutes of your... hour...
Add Healthy Fresh Produce to Family Dinners
The U.S. Department of Agriculture (USDA) suggests filling half of your plate with fruits and vegetables. While this may seem difficult, summer-fresh fruit from Chile provides for year round availability and daily use in a variety of healthful recipes.
---