Filling Gardens with Flavor
04/15/2012 01:00AM ● By Deborah Olsen
Filling Gardens with Flavor
by Susan Cunningham/Photo by Deborah Olsen
Steamboat Springs, CO - Jill Waldman moved to her "third-of-an-acre suburban lot" in Steamboat Springs with the aim of filling up the dirt with plants she could use.
A friend brought potted herbs and Waldman planted them, then waited to see what would happen. The herbs flourished.
"I can run out in the backyard and pick some fresh herbs for dinner," she says. At summer's end, she dries the herbs to use all winter and pass along as gifts.
Herbs can grow anywhere: the cracks in rock walls or flagstone walkways, the pockets of hanging fabric shoe organizers, wooden shipping pallets, and even old crocs or cowboy boots.
"You can put seeds in little cracks and crooks and crannies, and get them to grow," says Kristen Pappas, certified nursery professional and co-owner of Little Shop Of Growers.
The trick in Steamboat, Pappas says, is to create good soil and protect plants from cold. If herbs are outside, soil should be fluffed with peat moss for better drainage and mixed with compost to improve nutrients. If frost is expected, herbs should be covered – or if the garden is portable, moved inside.
"Container gardening is huge here," Pappas says. "(You can) move the container in and out depending on weather so you don't lose crops."
Susan Larson's introduction to gardening was planting a wagon wheel herb garden with her mother in Maine. They placed the wheel on the ground and filled each section with a different herb.
Larson now tends expansive gardens at her home just outside steamboat. Herbs border her vegetable garden and are decorative – and tasty – additions to her flowerbeds. Her gardens are featured in this summer's strings in the Mountain kitchen and Garden Tour.
"If you don't have your green thumb yet, (herbs are) a good way to start growing because they're very forgiving," Larson says. "They'll stick with you even if you forget to water them."
A good herb to try is chives, which "are tough and easy, and they're back with a vengeance every year," Larson says. To use, simply snip some off and sprinkle on scrambled eggs, potatoes and soups.
Other herbs that can grow well in Steamboat are mint, tarragon, thyme, oregano, parsley, lavender and basil.
It doesn't take long for herbs to start pleasing the senses. "When I walk through my garden, I always rub my hands against lemon thyme," Waldman says. "It's an awesome scent."
Planting an Herb Wheel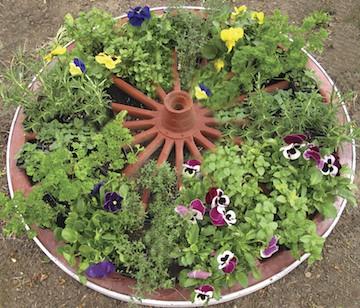 Wagon wheel with variety of herbs.  Herbs by Windemere Landscaping and buggy wheel courtesy of Lockhart Auction.To purchase a wagon wheel, auctioneer Cookie Lockhart recommends scouring auction houses and antique stores.  Even then, finding one can take time.  "It isn't like a store can call and order more," she says.  Expect to pay $200 and up for a buggy or wagon wheel.
For planting in a wheel, choose herbs that require similar amounts of water and sunlight.  Herbs like oregano, thyme, rosemary, lavender and marjoram like it dry, says Lisa Godbolt of Windemere Landscape & Garden Center.  Combine them with nasturtiums, lemon gem or tangerine gem marigolds to add color to the wheel.  Situate the wagon wheel in sun or shade, depending on how the herbs you choose grow best, says Susannah Lusk, owner/grower of Hilton Gulch Herbs.  Herbs that can tolerate partial shade include parsley, chives, basil, mint and lemon balm - these would be good to plant with the pansies.
Beware of mint, Goldbolt cautions, as it is an aggressive plant that can easily overtake other herbs in close proximity.  Basil, parsley and rosemary, while wonderfully flavorful, will likely only last one season in Steamboat's high-altitude climate, she says.
Assuming you'd like the wheel's spokes to remain visible for at least part of the summer, select herbs that remain low to the ground.  Filling the space between each spoke with tiny plants in spring is tempting, but be sure to leave room for them to grow.  The wheel will fill in nicely. 
Keep an eye on the weather and if a hard frost is expected, cover the wagon wheel with a sheet or frost-protector.  With a little work, you'll have a beautiful and delicious her garden.  Then it's time to cook.  "Try it until you find what you like," Lusk says.  "Keep experimenting.  Maybe that flavor doesn't go well with that food. (Eventually) the eyes widen and the eyebrows go up and you say, 'Hey, I like that.'"