The Pirate Pages

12/01/2011 01:00 ● Published by Anonymous
Gallery: Article Gallery [1 Image] Click any image to expand.
Holiday 2011:
The Pirate Pages
Burgess Creek Alligator-Moat Jump Unveiled
By Whatta Crock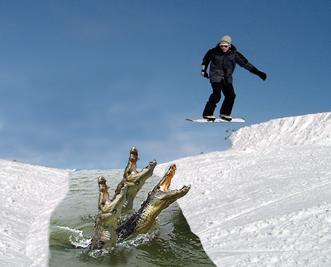 The new extreme jump at the base of Steamboat Mountain.Intracourse executives have come up with a novel solution for what to do with Burgess Creek now that it has been "daylighted" and will cut across the Lil' Rodeo terrain park at the bottom of the Steamboat Ski Mountain. Staff have been working diligently to stock the creek with 1,000-pound alligators, which will be the "highlight feature" of a new moat jump that should bring some true "extreme skiing" to Steamboat Springs. "Frankly, we didn't realize that 'daylighting' would mean Burgess Creek would actually be running through the slopes," noted Dookie Lakaka, an Intracourse executive. "We thought it would just be a cool thing for pedestrians to look at during the summer. But now we've created a new jump feature that should bring tourists and thrill-seekers to our town from all over the world. I mean, who doesn't want to jump over giant, man-eating alligators? I know I can't wait to give it a rip." The freshwater alligators were transported from Florida and have been undergoing a severe training course on how to deal with winter conditions. "These alligators are used to balmy, warm weather," noted Steamboat's new alligator trainer, Jim Dundee. "So we've been soaking them in ice baths and then keeping them in refrigerated holding pens. They're coldblooded, so their blood can handle the cold, but it's the rest of them that seems to hate the frigid temperatures. They do seem a little ticked off, but we think angry alligators should make for some really interesting jumping conditions." The new moat jump has been added after the third rail slide, with a jumping platform elevated 10 feet from the ground, which is hoped to be the optimal height for skiers or riders to just clear the gnashing teeth of the wild alligators. And to respect the safety of the young children that often use the Lil' Rodeo area, a three-foot wide snow bridge has been constructed to go over the moat, should any young riders choose to "bail" and not attempt an inverted McTwist over reptiles trying to eat them. 
Culture
,
Community
,
Sports
Steamboat
Steamboat Magazine
Pirate Pages
Steamboat Springs
burgess creek alligator