Yampa Lving

07/01/2009 01:00 ● Published by Anonymous
Gallery: Article Gallery [2 Images] Click any image to expand.
Summer-Fall 2009:
Yampa Lving
Reflections of Home - Mirrors reflect who we are
    In their simplest form, mirrors are reflections of who we are. They shosmiling faces, a newrinkle or sunburn. But in the art of design, mirrors become reflections of style and taste.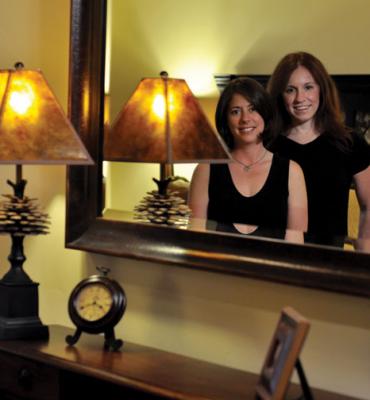 Mirror, mirror, on the Wall: Jody Gale and Christine Walsh reflect on what mirrors can add to a home. Photo by Kim Keith
    "Mirrors become decorative points," says Rob Kelly, whose bedroom is accented with a round mirror framed with protruding circular disks of heated copper. Not only does his mirror tie in the golds of various pieces of art, it also serves as a place to hang a cowboy hat or ski pass. Whether for decoration or practicality, mirrors can accent a room, create space or save embarrassment by catching an undone button.    The most common uses of mirrors are vanity tops and beveled mirrors that can be customized to individual taste. In Rob's Steamboat Springs home, two of the four bathrooms have floor-to-ceiling mirrors to "reflect light in rooms that don't have a lot of exterior windows. Even if there are windows in the bathroom, the blinds are usually pulled." Rob also has six-foothigh standing floor mirrors to make rooms look bigger.    A simple border of tile or wood can give a mirror a more custom feel. Jan Levy acquired a 4'x3' mirror when the Hampton Inn & Suites replaced its furniture. With a light wood border, the mirror has become the focal point of her bedroom. "I use it every day," Jan says. "I like the size and that I can see my whole self in it." Jan also has two smaller decorative mirrors, one with a white frame and the other a stained bamboo frame so she can check herself as she heads out the door.    Christine Walsh and her partner, Jody Gale, of Skyline Design, recently installed a mirror wrapped in caramel-colored cowhide, its rich texture offsetting the wood furnishings of the house. Antique mirrors also add a certain flavor to decorating, but antiquing can produce the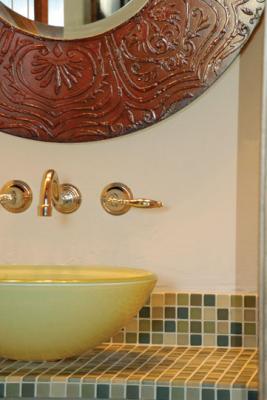 A cowhide-covered frame and beveled-edge mirror add artful ambiance to this local home. Photo by Kim Keith
same effect for a more reasonable price.     "These days mirrors come framed in all sorts of wood, metals and fabrics," says Christine, adding that they can also serve as art when placed above a sofa or in a living room. "It's easy to be creative while you're being practical.    "Thank god for mirrors," she adds. "They're the only things that tell the truth."
Culture
,
Shop+Eat+Drink
,
People
,
Community
,
In Print
,
Sports
,
Living
eat
art
ski
Photo
Ate