It's a Family Thing
12/01/2005 01:00, Published by Lisa Gilbert, Categories: In Print, Living
---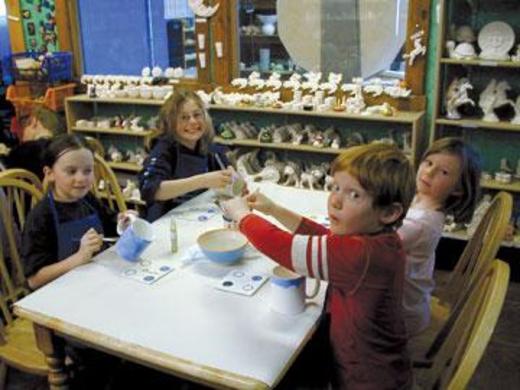 ---
Gallery: Article Gallery [3 Images] Click any image to expand.
---
---
From left, Mary White, Kadie Swinsick, Ben Holden and Sophie Long paint ceramic pieces at The Potter's Wheel.    
by Lisa Gilbert
Adventure – as every parent knows – is traveling with children. One challenge is avoiding the dreaded "we're bored" factor. Solving this task provides great fun, and parents get to see a neside of their destination. For families visiting Steamboat, opportunities abound for all ages, from babies through teenagers.     
While skiing is always great, investigate off-slope alternatives and experience another side of winter. 
Arts and Culture     
At The Eleanor Bliss Center for the Arts, housed in an old train Depot on the west end of town, your family can enjoy revolving shows in two visual arts galleries. While at the Depot, you and your kids can inspect a retired caboose permanently installed by the train tracks, 879-9008.     
Across the Yampa River from the Depot, you will find the Bud Werner Memorial Library. This comfortable and helpful library hosts many story times and reading activities for babies through teens. An entire floor is dedicated to the juvenile collection. Free computer access is available. The library also provides a glimpse into the life of Buddy Werner, one of Steamboat's most honored athletes and the namesake of Mount Werner. Part of its Routt County Collection yields interesting reading for youth in a series of books written by the daughter of Steamboat's original settlers, the Crawfords. Lulita Crawford Pritchett details her childhood experiences from the late 1800s in the then very remote Yampa Valley, 879-0240.     
The Tread of Pioneers Museum provides another vieinto Steam-boat's past. Housed in a 1908 Queen Anne-style Victorian home, the museum displays exhibits on pioneer life in Routt County, mining, ranching, American Indians and an extensive history of skiing. Children who participate in a treasure hunt earn a prize from the museum's toy chest, 879-2214.     
If all of this art has ignited your family's creative fire, head over to the Potter's Wheel and create your own masterpieces. A variety of options for painting your own pottery is available and private parties are welcome, 879-4944. A class in glassmaking will bloyou away. The Glass Smith offers three-hour classes for beginners to advanced glass artists, 871-4815.
Many music venues play family-appropriate shows and concerts throughout the winter. The Steamboat Ski Area hosts two options. January through March, the Bud Light Free Concert Series plays in Gondola Square. All ski season, classic country music is available with dinner and dancing at the Western BBQ. Enjoy a nighttime ride on the gondola and learn hoto two-step while eating BBQ at the Thunderhead Lodge. For information and concert schedules, call 879-6111.     
Classical music is available at Strings in the Mountains, 879-5056, and the Emerald City Opera, 879-1996. Strings hosts youth concerts, and its adult shows are open to children older than six. Emerald City performs operas that are entertaining for both adults and older kids.     
Movie buffs will find multiple showings at local theaters. If you and your teenagers enjoy more obscure films, The Steamboat Arts Council hosts a Friday night Foreign Film Series at Centennial Hall. Call 879-9008 for information.     
Dec. 8–11, the Steamboat Mountain Film Festival plays at the Steamboat Grand Resort Hotel, showcasing outdoor films and local filmmaking talent.
Out and About     
The ski area at Mount Werner is just one of many local arenas for athletic endeavors. Snowshoeing is an easily learned way to access the backcountry. Several outfitters offer snowshoe tours. Yampatika has naturalist activities especially geared to children. Vista Verde offers a gourmet lunch, as does the ski area. Rocky Mountain Ventures has a tour of a buffalo ranch to see these magnificent creatures and other wildlife. Several local stores rent snowshoes and provide maps to favorite trails.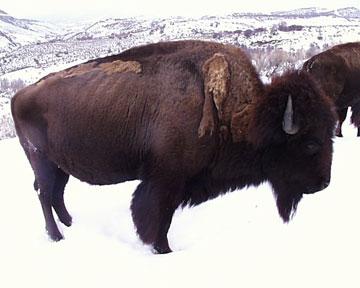 Rocky Mountain Ventures offers tours of a buffalo ranch to see wildlife.    
Howelsen Hill, the little hill with a big job, is located right downtown. This ski area is the hub of training for the Steamboat Springs Winter Sports Club. Most weekends, future Olympians are competing for bragging rights. The Nordic, alpine, freestyle and snowboarding teams all practice here daily. The Hitchens Brothers' Wednesday Night Jumping Series showcases high flying by small people. Open to the public every other Wednesday from January to March, the jumping starts at 6:30 p.m. with free entries and pizza. The slopes and terrain park are open to the public. For an interesting change, ski under the lights at night. This city-owned complex provides groomed trails for snowshoeing and skate skiing and a public ice rink. Call the ski hill, 879-8499 and the ice rink, 879-0341, for availability and schedules.     
To feel like a European, check out the bigger races that Steamboat hosts. Bring cowbells and cheer on some of the world's most accomplished skiers and boarders. See "Explorations," pg. VG20 for a schedule or call 879-6111.     
Sometimes it does seem to snoaround the clock. When your family has had enough of the white stuff, there are great indoor places to burn off some steam or work up a sweat. The Tennis Center at Steamboat operates at the base of Mount Werner for year-round play, 879-8400. The SnoBowl has daily bowling with bumpers on the lanes for small children and themed nights like Moonlight Bowling for teenagers, 879-9840. Hatha yoga, karate, salsa, rueda, cha-cha, belly dancing and African dance are just some of the disciplines covered at The Center For Movement Arts. The center also has yoga for the youngest of children. 870-9977
Living Like a Local     
You hear it repeatedly –locals who came to ski for one winter and many years later are still here for the town. Maybe it has to do with the small-town charm that exists throughout the community. When Steamboat's children take a break from school and outdoor activities, they head to Lincoln Avenue for a dose of fun shopping and dining. If you like egg creams, brown cows and jerks, don't miss the Lyon Corner Drug and Soda Fountain, 879-1114. A lunch here with a grilled sandwich and old-fashioned ice cream will bring out the kid in everyone.     
If that doesn't delight your palate, head across the street to Fuzziwigs Candy Factory. Your family will feel as if they entered Wonka World. This store indulges favorite desires, 879-6194. Up the street, the Rocky Mountain Chocolate Factory is a favorite for homemade fudge and other delicacies.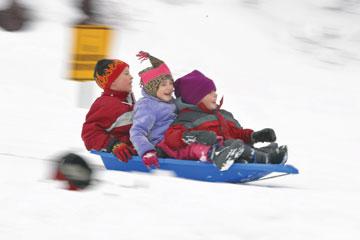 Sledders shush down a hill.     
A less sugar-fueled passion for Steamboat locals is knitting. 
Jodee Anderson's The Fiber Exchange, 879-9090, has a variety of drop-in classes. She sees "kids having a blast being creative and inspired by all our fiber arts." In addition to knitting, your family can take classes to learn to hook rugs, weave or crochet. Knitch, in Torian Plum Plaza on the mountain, also offers a selection of yarn and classes, 871-6675.     
Local bookstores maintain a strong independent booksellers representation. Off the Beaten Path hosts a coffee shop and a wine bar, elements, and offers an eclectic selection of reads. It has pajama parties that allokids to meet different children's authors, 879-6830. Epilogue Book Company feels like a store in Harry Potter's Diagon Alley. Step into a world of antiquarian books and curios, 879-2665.     
Your family can lose track of time investigating the wares at Steamboat Kids, 879-1318, and Duck Duck Goose, 879-3825. Old-fashioned and nefangled toys delight and entertain parents and children. Both stores offer children's clothing that ranges from practical to whimsical. Finish a day in town at local coffee shops, where locals hang out for good coffee, natural baked goods, comfy couches and board games.
Go Big     
Perhaps one day of your vacation should be reserved for an unusual experience. These next feactivities will make this a trip to remember. A typical summer destination, Fish Creek Falls provides a spectacular adventure in winter – ice climbing. Rocky Mountain Ventures guides and instructs people older than 13 in climbing up the frozen waterfall, 870-8440.     
A less strenuous but exhilarating outing is starting the day above Steamboat in a hot air balloon.     
A different vieof the val ley can be gained behind a team of sled dogs. Red Runner Dog Sled Tours, 879-3647, will take all members of your family for an exhilarating ride.    Many ranches host sleigh or hayrides under the stars, followed by a steak dinner and live entertainment. If you prefer motorized horsepower, a number of outfitters will open up the national forest to a neway of experiencing this winter wonderland. Daily snowmobile tours run on Rabbit Ears Pass and in the Hahn's Peak and Steamboat Lake areas.     
If skiing is still what your family craves, enjoy hours of deep powder skiing and skip the lift lines with Steamboat Powdercats. You will be taken in a snowcat to discover hidden pockets of the finest powder snoin the Rockies, 879-4260.     
Whether your family's pleasures are active, cultural or a mix of both, Steamboat has it covered. 
---
---
freestyle the arts Ate Skiing alpine Gear Snowboard Sport Snowmobile Nordic athlete athletes Strings in the Mountain Olympian Snowshoe Olympians The Depot Snowshoeing Free Concert Hot air balloon Tennis Galleries ice climb snowboarding arts shop sports art eat history people ski travel library museum vacation painting dance music
---
You might also like
I was able to sit down with Michal Menert, the godfather of Pretty Lights Music, and get his take on music, life, and Steamboat Springs.
---