What to do in Steamboat if you have...
07/01/2005 01:00, Published by Anonymous, Categories: In Print, Shop+Eat+Drink, Living
---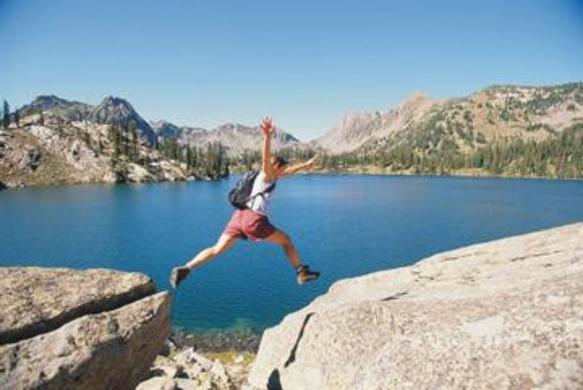 ---
Gallery: Article Gallery [2 Images] Click any image to expand.
---
---
Alexandra Pallut leaps between rocks while hiking in the Mount Zirkel Wilderness. Photo by David Epperson
Two Hours or Less•
Travel back in time and take a historic tour of downtown Steamboat Springs. Lose yourself in the old West by following our historic self-guided walking tour. 
Visit the Tread of Pioneers Museum at 800 Oak St., downtown for a detailed account of Yampa Valley history, 879-2214.• 
Dive right into the pools of the Steamboat Springs Health and Recreation Center at 136 Lincoln Ave., downtown. Three hot pools drawn from natural mineral springs, a recreational pool, drop-in exercise classes and a fully equipped fitness center. That's not all… feel like a kid again sliding down the hydrotube, 879-1828.•
Catch some serious air while floating above the Yampa Valley in a hot air balloon. 
Step out of the fast lane and into a horse-drawn carriage. See the town at a slower pace while relaxing to the clopping sound of horses' hooves. Contact Anderson's Carriage Co., 824-9536 or Blast from the Past Carriages, 638-4696.•
Get lost in a giant maze at Amaze'n Steamboat, or have a ball on the miniature golf course located behind the Steamboat Springs Chamber Resort Association Visitors' Center, 870-8682.•
Tear it up at the Howelsen Hill Skate Park. This up-and-coming skate park offers various street ramps, 1/4 pipes, roll-ins, a giant pyramid, grind rails, grind boxes and a brand nemini ramp. The park is open to skateboards, in-line skates and bikes, 879-4300.•
Cruise the slopes on "The Howler" Alpine Slide, open June, 871-1104.•
Jog, walk, bike or skate along the Yampa River Core Trail. Bicycles and in-line skates are available for rent or purchase at sporting goods stores throughout town. Need help finding the trail?
A Half-Day•
Improve your photography skills. Enjoy a tour of some of the area's most scenic locations. Call Focus Adventures for a picturesque tour with one-on-one photography instruction, 879-2244.•
Play tennis, indoors or out, at the Steamboat Springs Tennis Center. 2500 Pine Grove Road. Open daily, 879-8400.•
Soak the day away in the natural Strawberry Park Hot Springs. These springs are well worth a visit, but not easily accessed. The best way to reach the hot springs is to call Sweet Pea Tours at 879-5820, Wind Walker Tours at 879-8065, or Alpine Taxi at 879-TAXI. Some lodging properties also offer shuttle service.
Hit the trail on horseback with a local guide and explore the scenic backcountry of Routt County. 
•Learn to kayak the easy way, moving from the pool or the calm waters of Bucci Pond into the Yampa River. 
•Tube the Yampa! Rent an inner-tube at one of several local spots and float down the mellow waters of the Yampa River. 
•Play a round at one of Steamboat's golf courses. Reserve a tee-time and play up to 18 holes at the links-style Haymaker Golf Course, 870-1846; the Robert Trent Jones Sheraton Golf Course, 879-2220; the Tom Weiskopf course at Catamount Ranch & Club, 871-9200; or the Yampa Valley Golf Association in Craig, 824-3673. For a shorter game, contact the nine-hole Steamboat Golf Club, 879-4295.•
Catch a fish in any of the area's allocated fishing sites. Colorado requires a fishing license that can be purchased at many local spots, or call the Division of Wildlife, 870-2197, for information on where to obtain a license.
•Head to the Steamboat Ski Area and explore. Ride the gondola up to Thunderhead and hike or bike on Mount Werner trails. 
Enjoy a picnic or a Sunday brunch with an incredible view. The base area offers bike rentals, a "Slingshot Trampoline Bungee Jump," climbing wall, disc golf, miniature golf, and even a "Mini Bounce" for the youngest members of your group. That's not all…the base area is a venue for many events and festivals throughout the summer. See the calendar on pg. VG81, or call 879-6111
.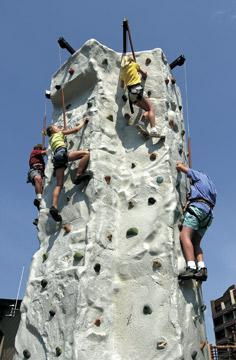 The ski area base offers many activities, such as a climbing wall. Photo By Larry Pierce
A Full Day•
Take a hike into the Routt National Forest. Enjoy the views, fresh air and even a picnic. 
•Sleep under the stars on an overnight camping or pack trip. 
Go rock climbing. No experience is necessary and transportation and equipment are provided. Call Rocky Mountain Ventures at 870-8440.•
Have a need for speed? Rent an ATV or a dirt bike and cruise trails throughout the Routt National Forest. Several local businesses provide guided tours of all ability levels. 
•Enjoy water sports from wake-boarding, water skiing or cruising in a pontoon boat on area reservoirs to rafting, kayaking or canoeing down the Yampa or Colorado rivers. Steamboat Lake and Stagecoach Reservoir have full-service marinas, state park offices, camping and fishing. 
Observe the wild West. Take an all-wheel drive Suburban across the Colorado border and into an area where wild horses and other wildlife run free. Contact Wildhorse Country Tours for reservations, 307-383-6865.•
Cowboy up and join a cattle drive. Several working cattle ranches in the area provide visitors with an unforgettable experience of working with a herd, while gaining a sense of what it takes to be a real cowboy or cowgirl. 
A Rainy Day•
Shop 'til you drop and check out the variety of treasures at local shops. •Treat yourself to a massage or facial at Steamboat's spas. Nothing says vacation like a true sense of relaxation. Steamboat spas specialize in everything from aromatherapy to deep tissue massage. 
•Go ice skating at Howelsen Hill Ice Arena. The rink is next to the rodeo downtown. Public skating and rentals are offered daily, 879-0341.•
Browse the stacks at Bud Werner Memorial Library at 13th Street and Lincoln Avenue. The library offers free Internet access, more than 200 magazines and newspapers, and "Story Time" on Tuesdays and Wednesdays at 10 and 11 a.m., 879-0240.•
Relax with a latte and delicious baked goodies in one of Steamboat's favorite local coffeehouses. 
•Create a masterpiece. The Potter's Wheel is a paint-your-own pottery studio filled with more than 200 ceramics, 70 colors of paint and all the tools you need to decorate. Open daily except Mondays, 879-4944.
---
---
Photo Ate Skiing alpine Sport slide hot springs Walking Tour Hot air balloon Tennis alpine slide rock climb howler shop sports eat history ski travel wildlife bike exercise library museum golf vacation rodeo wedding kayaking rafting wedding guide
---
You might also like
---